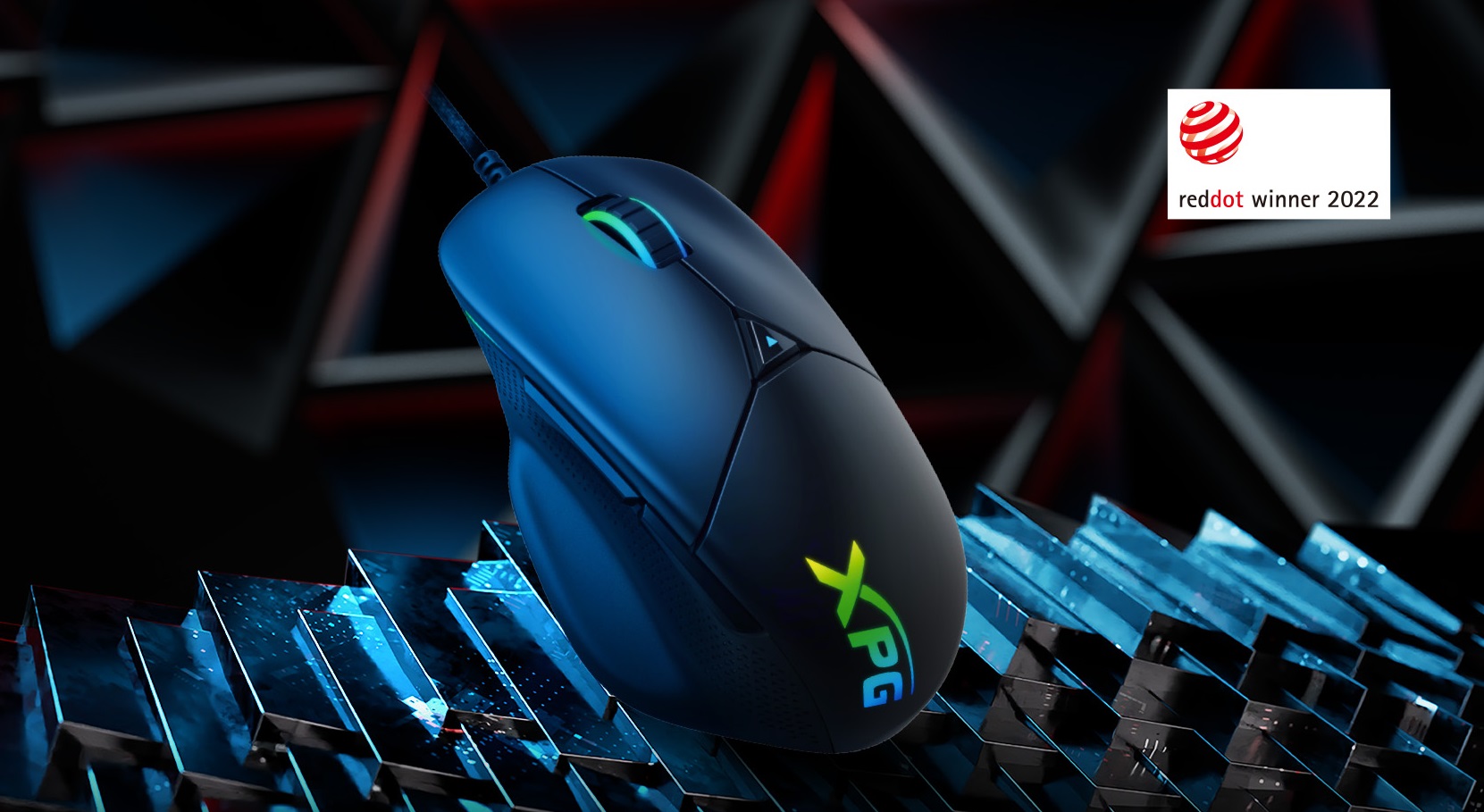 Overview :
EXTEND YOUR GAMING FIELD
XPG ALPHA is an all-around gaming mouse offering a combination of high performance and gamer-tailored customization via XPG PRIME software. It's ergonomically designed for long lasting gaming session, and its PIXART PAW 3335 sensor offers up to 16,000 DPI and 400 IPS speed. And more for gamers to optimize when synchronized with XPG PRIME software.
AWARD-WINNING ERGONOMIC DESIGN for GAMING
Designed to offer the best user experience for gaming, the XPG ALPHA's ergonomic curve for the palm to rest upon, and the iconic triangular textured surface assures a firm grip at any moment and to all grip preferences.
XPG's :Exoskeleton design language aims to synergize the strengths of both performance and function with aesthetics.
As such, the XPG ALPHA design concept was recognized as a winner of 2022 Red Dot Design Award.
XPG :EXOSKELETON DESIGN LANGUAGE
The first feature that clearly sets XPG ALPHA gaming mouse apart from the pack is the simple and elegant aesthetic curve line.
Over the last few years, XPG has been investing in building its own industrial design language, called ":Exoskeleton" to focus on a balance between form and function, an ergonomically comfortable gaming experience and enjoyable sessions without foregoing a pleasant glance on your desktop.
XPG PRIME SOFTWARE
XPG ALPHA is a software-programmable gaming mouse, offers buttons, DPI settings and lighting effects to be customized and tailored to gamer's needs.
-Up to 6 programmable buttons for gaming customization.
-Button assignments and Macros setting can be programmed and saved to user profiles.
-User profile-saved device can seamlessly switch between computers.
PREMIUM OMRON SWITCHES
The brand new XPG ALPHA is built to be carried with you often and for a long time to come.
With the use of high quality OMRON switches, the XPG ALPHA boasts a switch MTBF of over 60 million clicks.
HIGH PERFORMANCE PIXART PAW 3335 SENSOR
XPG ALPHA equips PIXART PAW 3335 sensor to deliver both high performance and high precision.
XPG ALPHA offers up to 6 preset DPI settings baked into the mouse that can be easily shuffled with the DPI button at the top of the mouse.
The sensor supports DPI range from 100 to 16,000 (via XPG PRIME), ideal for MMORPG games to FPS shooting games.
Customize Everything
Get the most out of your XPG device and elevate your gaming experience to the next level with XPG PRIME.
GRIT
Come for the training, stay for the community, GRIT is the best place to connect with the XPG gaming community.
Specifications :
| | |
| --- | --- |
| Interface | USB Type-C |
| Connection | Wired |
| Battery Life | – |
| Sensor | PAW 3335 |
| Resolution | 100-16,000 (via PRIME) |
| IPS | 400 |
| Max. Acceleration | 40 G |
| Polling Rate | 250 / 500 / 1000 Hz (via PRIME) |
| Switch | OMRON with 60-million clicks rating |
| Lighting Effect | RGB (PRIME Support) |
| Voltage | 5 V |
| Current | 100 mA |
| Material | PC + ABS |
| Buttons | 6 |
| Dimension | 128 x 78 x 40mm (5.04 x 3.07 x 1.57 in) |
| Weight | 78 ±5g (without cable) |
| Cable Length | 1.8 m (5.9 ft) |
| Certification | CE/FCCIC/BSMI/VCCI |
| OS Compatibility | Windows |
| PRIME Support | v |
| Warranty | 2 Years |