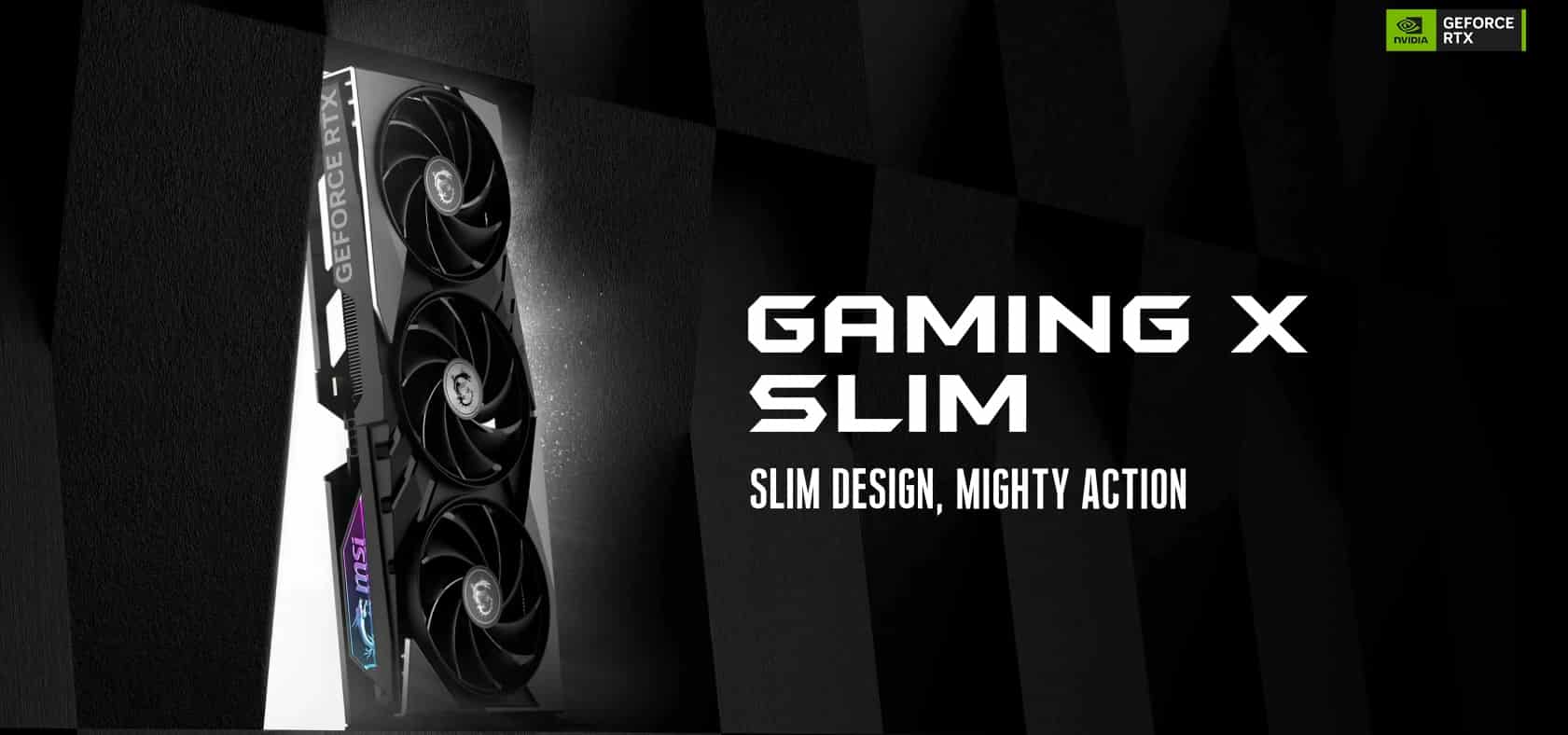 Features of MSI RTX 4060 Ti Gaming X Slim 16GB Graphics Card :
Game, stream, create. The MSI RTX 4060 Ti Gaming X Slim 16GB Graphics Card lets you take on the latest games and apps with the ultra-efficient NVIDIA Ada Lovelace architecture. Experience immersive, AI-accelerated gaming with ray tracing and DLSS 3, and supercharge your creative process and productivity with NVIDIA Studio.
Boost Clock / Memory Speed
2670 MHz / 18 Gbps
16GB GDDR6
DisplayPort x 3 (v1.4a)
HDMI™ x 1 (Supports 4K@120Hz HDR, 8K@60Hz HDR, and Variable Refresh Rate as specified in HDMI™ 2.1a)
TRI FROZR 3 Thermal Design
TORX Fan 5.0: Fan blades linked by ring arcs and a fan cowl work together to stabilize and maintain high-pressure airflow.
Copper Baseplate: Heat from the GPU and memory modules is captured by a copper baseplate and then rapidly transferred to Core Pipes.
Core Pipe: A section of square-shape heat pipes make maximum contact over the GPU, then spread the heat to the heatsink.
Airflow Control: Don't sweat it, Airflow Control guides the air to exactly where it needs to be for maximum cooling.
Afterburner
Take full control with the most recognized and widely used graphics card overclocking software in the world.
MSI Center
The exclusive MSI Center software lets you monitor, tweak and optimize MSI products in real-time.
Overview of MSI RTX 4060 Ti Gaming X Slim 16GB Graphics Card:
Gaming Unbound
MSI RTX 4060 Ti Gaming X Slim 16GB Graphics Card series is a thinner variant of GAMING series while maintaining high performance capabilities and aggressive looks.
HASSLE-FREE COMPATIBILITY
Lightened design is made for those building a gaming rig with space constraints.
STRENGTH AND MASTERY
Elevate performance with TRI FROZR 3 cooling and its key features – TORX FAN 5.0, Core Pipe, and Airflow Control.
TRI FROZR 3 THERMAL DESIGN
Stay cool and quiet. MSI's TRI FROZR 3 thermal design enhances heat dissipation all around the graphics card.
TORX FAN 5.0
TORX FAN 5.0 is a culmination of fan design improvements to increase the air pressure and flow into the heatsink. Ring arcs link three sets of fan blades that tilt 22 degrees together to maintain high-pressure airflow even at slower rotational speeds. The resulting increased airflow is +23% compared to an axial fan.
COPPER BASEPLATE
FACING THE HEAT HEAD-ON
Heat from the GPU and memory modules is immediately captured by a solid nickel-plated copper baseplate and then rapidly transferred to an array of heat pipes. This widening of the thermal transfer systems with highly efficient mechanisms improves overall efficiency.
KEEPING THE CORE COOL
Core Pipes are precision-crafted to make maximum use of the available space. A squared section of heat pipes fully touch the GPU baseplate and spread the heat along the full length of the heatsink.
AIRFLOW CONTROL
Airflow Control improves airflow dynamics through the Wave Curved 2.0 and updated deflectors design for optimizing the balance between cooling and quieter acoustics.
UNRESTRICTED COOLING
A large airflow vent on the backplate allows exhaust air to pass through directly.
ZERO FROZR
The fans completely stop when temperatures are relatively low, eliminating all noise.
Specifications of MSI RTX 4060 Ti Gaming X Slim 16GB Graphics Card :
MODEL NAME
GeForce RTX™ 4060 Ti GAMING X SLIM 16G
GRAPHICS PROCESSING UNIT
NVIDIA® GeForce RTX™ 4060 Ti
INTERFACE
PCI Express® Gen 4 x16 (uses x8)
CORE CLOCKS
Extreme Performance: 2685 MHz (MSI Center)
Boost: 2670 MHz
CUDA® CORES
4352 Units
MEMORY SPEED
18 Gbps
MEMORY
16GB GDDR6
MEMORY BUS
128-bit
OUTPUT
DisplayPort x 3 (v1.4a)
HDMI™ x 1 (Supports 4K@120Hz HDR and 8K@60Hz HDR and Variable Refresh Rate (VRR) as specified in HDMI™ 2.1a)
HDCP SUPPORT
Y
POWER CONSUMPTION
165 W
POWER CONNECTORS
8-pin x 1
RECOMMENDED PSU
550 W
CARD DIMENSION (MM)
307 x 125 x 46 mm
WEIGHT (CARD / PACKAGE)
919 g / 1636 g
DIRECTX VERSION SUPPORT
12 Ultimate
OPENGL VERSION SUPPORT
4.6
MAXIMUM DISPLAYS
4
G-SYNC® TECHNOLOGY
Y
DIGITAL MAXIMUM RESOLUTION
7680 x 4320
WARRANTY
3 Years