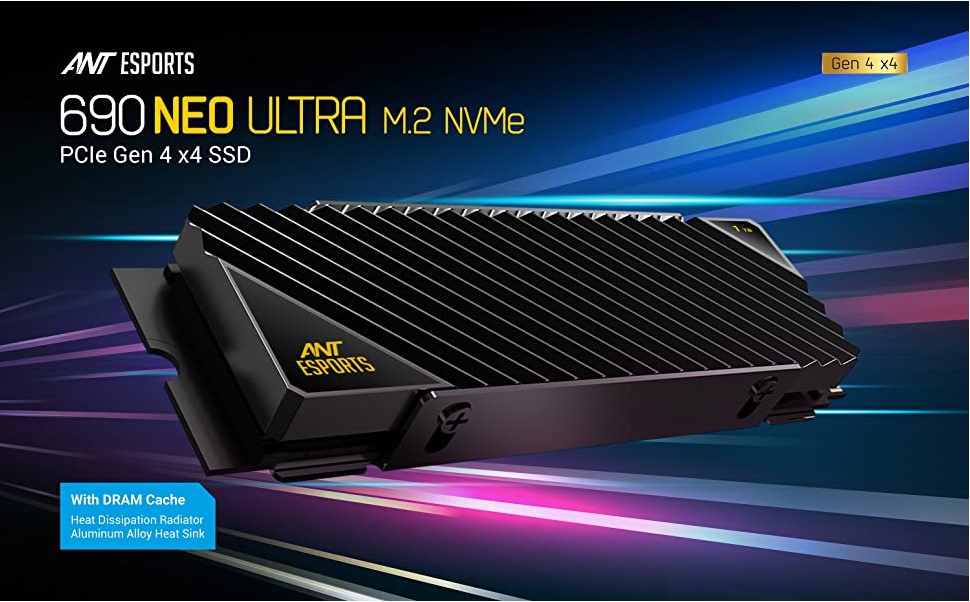 Features:
Made for Professionals – Designed for hardcore gamers and tech-savvy users, the 690 Neo offers high-performance bandwidth for heavy-duty applications in gaming, graphics, data analytics, and more.
High-speed PCIe Gen 4.0 Standards – Using PCIe Gen 4.0 NVMe 1.4 interface technology for maximum bandwidth, the Ant Esports 690 Neo Ultra delivers incredible storage performance.
Pre-Installed Low-Profile Aluminum Heatspreader – Compatible with PS5 standards, the heatsink helps disperse heat and reduce throttling, so your SSD maintains sustained high performance right out of the box.
Efficient M.2 SSD – The 690 Neo Ultra comes in a compact M.2 2280 form factor, thus optimizing power efficiency, making it ideal for building high-performance computing systems
Long Warranty – Backed up by a massive 3 years warranty you can enjoy the buy and forget the experience with the 690 Neo for hassle-free usage.
Overview:
The Ant Esports 690 Neo Ultra 1TB PCIe Gen 4.0×4 NVMe 1.4 M.2 SSD provides high-performance storage expansion optimized not only for PC and Laptops but also for PS5 so you can take your gaming and productivity to the next level without being restricted to a single platform.
Get ready to game even faster with the Ant Esports 690 Neo Ultra 1TB NVMe SSD. Zoom past load times and get into the action now with a purpose-built gaming drive that boasts up to 40% faster performance and up to 20% more power efficiency at maximum speed over the older PCIe 3.0 standards.
Pre-installed with a low-profile aluminum heat spreader for efficient heat dissipation the SSD not only stays cool under high loads to deliver rated speeds but also fits in with Sony PS5 SSD's specifications for hassle free installation. Loaded with 3D TLC NAND and features such as TRIM, the Ant Esports 690 Neo Ultra 1TB Ultra delivers consistent speeds across all loads types and ensures a long lifespan. Whether you need a boost for gaming or a seamless workflow for heavy graphics, the Ant Esports 690 Neo Ultra 1TB is a smart choice for outstanding SSD performance.
Specifications: 
| | |
| --- | --- |
| Series | 690 Neo Ultra |
| Type | M.2 NVMe PCIe 4.0 x4 |
| Capacity | 1 TB |
| NAND Type | 3D NCQ |
| MTBF | 10,00,000 hours |
| Speed | Max Read: Upto 7400 MB/s |
| | Max Write: Upto 5500 MB/s |
| OS | Windows, MAC, Unix, Linux, PS5 |
| Warranty | 3 Years |