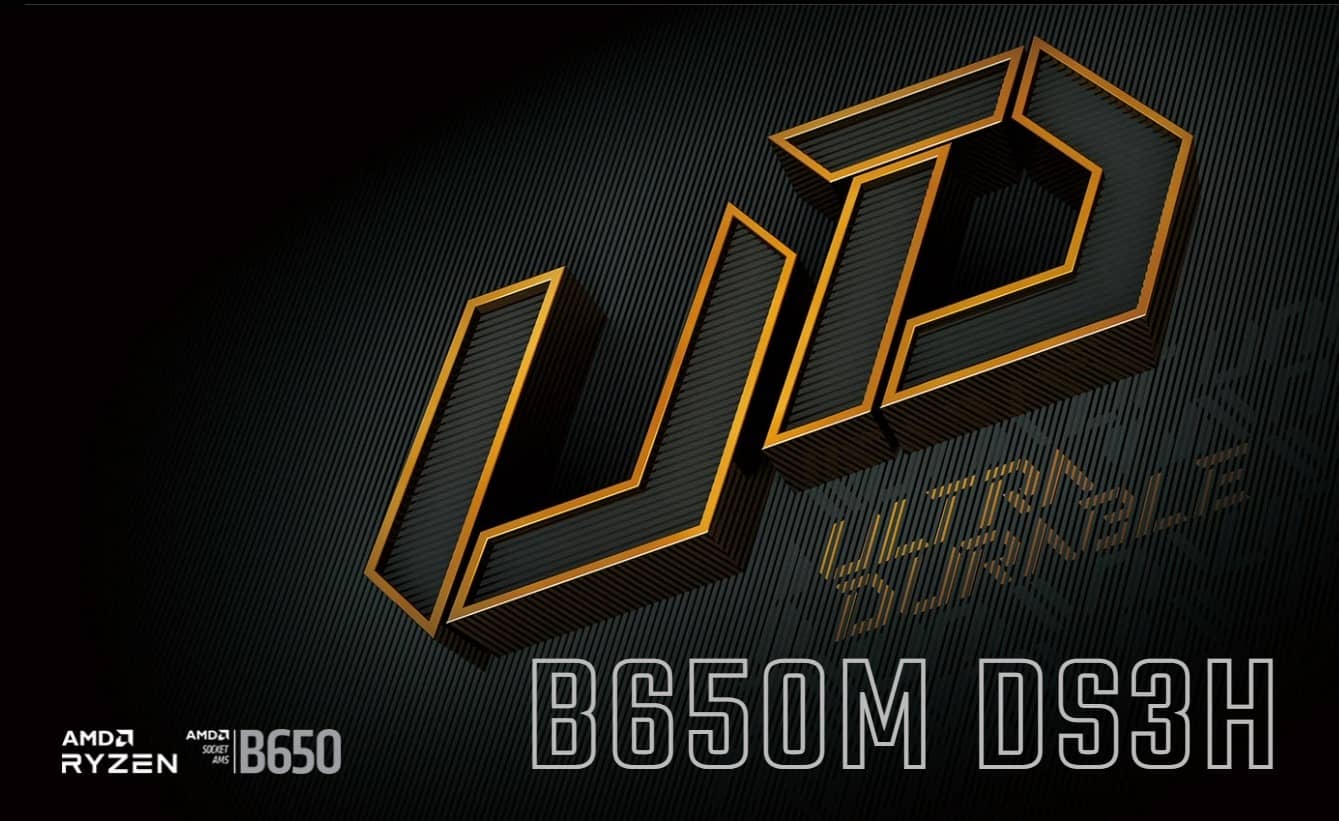 Features:
AMD Socket AM5:Supports AMD Ryzen™ 7000 Series Processors
Unparalleled Performance:Direct 6+2+1 Phases Digital VRM Solution
Dual Channel DDR5:4*SMD DIMMs with AMD EXPO™ & Intel® XMP Memory Module Support
SuperSpeed Storage:2*PCIe 4.0 x4 M.2 Connectors
Advanced Thermal Design & M.2 Thermal Guard:To Ensure VRM Power Stability & 25110 M.2 SSD Performance
PCIe x16 EZ-Latch with Quick Release & Screwless Design
Fast Networks:2.5GbE LAN
Extended Connectivity:2*DP, HDMI, 2*USB-C® 10Gb/s
Smart Fan 6:Features Multiple Temperature Sensors, Hybrid Fan Headers with FAN STOP
Q-Flash Plus:Update BIOS Without Installing the CPU, Memory and Graphics Card
Overview:
UNPARALLELED PERFORMANCE
With the fast-moving technology changes, GIGABYTE always follows the latest trends and provides customers with advanced features and latest technologies. Gigabyte B650M DS3H Motherboards are equipped with upgraded power solution, latest storage standards and outstanding connectivity to enable optimized performance for gaming.
THERMAL DESIGN
Gigabyte B650M DS3H Motherboards' unparalleled performance is guaranteed by innovative and optimized thermal design to ensure the best CPU, Chipset, SSD stability and low temperatures under full load application and gaming performance.
CONNECTIVITY
Gigabyte B650M DS3H Motherboards enable the ultimate connection experience with blazing data-transfer speeds through the next generation network, storage.
PERSONALIZATION
Gigabyte B650M DS3H Motherboards bundle several useful and intuitive software to help users to control every aspect of motherboard and provide customizable lighting effect with outstanding aesthetics to fit your unique personality.
ULTRA DURABLE
Gigabyte B650M DS3H Motherboards Ultra Durable™ design provides product durability and high-quality manufacturing process. Gigabyte B650M DS3H Motherboards use the best components and reinforce every slots to make each of them solid and durable.
Specifications:
AMD Socket AM5, support for: AMD Ryzen™ 7000 Series Processors

(Please refer "CPU Support List" for more information.)

Support for DDR5 6400(OC) / 6200(OC) / 6000(OC) / 5600(OC) / 5200 / 4800 / MT/s memory modules
4 x DDR5 DIMM sockets supporting up to 128 GB (32 GB single DIMM capacity) of system memory
Dual channel memory architecture
Support for non-ECC Un-buffered DIMM 1Rx8/2Rx8/1Rx16 memory modules
Support for AMD EXtended Profiles for Overclocking (AMD EXPO™) and Extreme Memory Profile (XMP) memory modules

(Please refer "Memory Support List" for more information.)

Integrated Graphics Processor:

2 x DisplayPorts, supporting a maximum resolution of 3840×2160@144 Hz
* Support for DisplayPort 1.4 version and HDR.
1 x HDMI port, supporting a maximum resolution of 4096×2160@60 Hz
* Support for HDMI 2.1 version and HDCP 2.3.
** Support native HDMI 2.1 TMDS compatible ports.

(Graphics specifications may vary depending on CPU support.)

Support for up to 3 displays at the same time

Realtek® Audio CODEC
High Definition Audio
2/4/5.1/7.1-channel
* You can change the functionality of an audio jack using the audio software. To configure 7.1-channel audio, access the audio software for audio settings.

Realtek® 2.5GbE LAN chip (2.5 Gbps/1 Gbps/100 Mbps)

CPU:

1 x PCI Express x16 slot, supporting PCIe 4.0 and running at x16 (PCIEX16)

Chipset:

1 x PCI Express x1 slot, supporting PCIe 3.0 and running at x1 (PCIEX1)

CPU:

2 x M.2 connectors (Socket 3, M key, type 25110/2280 PCIe 4.0 x4/x2 SSD support)

Chipset:

4 x SATA 6Gb/s connectors

RAID 0, RAID 1, and RAID 10 support for NVMe SSD storage devices
RAID 0, RAID 1, and RAID 10 support for SATA storage devices

CPU:

1 x USB Type-C® port on the back panel, with USB 3.2 Gen 2 support
1 x USB 3.2 Gen 2 Type-A port (red) on the back panel

CPU + USB 2.0 Hub:

4 x USB 2.0/1.1 ports on the back panel

Chipset:

1 x USB Type-C® port with USB 3.2 Gen 2 support, available through the internal USB header
4 x USB 3.2 Gen 1 ports (2 ports on the back panel, 2 ports available through the internal USB header)
4 x USB 2.0/1.1 ports available through the internal USB headers

1 x 24-pin ATX main power connector
1 x 8-pin ATX 12V power connector
1 x CPU fan header
3 x system fan headers
1 x addressable LED strip header
1 x RGB LED strip header
2 x M.2 Socket 3 connectors
4 x SATA 6Gb/s connectors
1 x front panel header
1 x front panel audio header
1 x USB Type-C® header, with USB 3.2 Gen 2 support
1 x USB 3.2 Gen 1 header
2 x USB 2.0/1.1 headers
1 x Trusted Platform Module header (For the GC-TPM2.0 SPI/GC-TPM2.0 SPI 2.0 module only)
1 x serial port header
1 x reset button
1 x reset jumper
1 x Clear CMOS jumper

4 x USB 2.0/1.1 ports
1 x PS/2 keyboard/mouse port
2 x DisplayPorts
1 x HDMI port
1 x USB 3.2 Gen 2 Type-A port (red)
1 x USB Type-C® port, with USB 3.2 Gen 2 support
1 x Q-Flash Plus button
1 x RJ-45 port
2 x USB 3.2 Gen 1 ports
3 x audio jacks

Voltage detection
Temperature detection
Fan speed detection
Fan fail warning
Fan speed control
* Whether the fan speed control function is supported will depend on the cooler you install.

1 x 256 Mbit flash
Use of licensed AMI UEFI BIOS
PnP 1.0a, DMI 2.7, WfM 2.0, SM BIOS 2.7, ACPI 5.0

Support for GIGABYTE Control Center (GCC)
* Available applications in GCC may vary by motherboard model. Supported functions of each application may also vary depending on motherboard specifications.
Support for Q-Flash
Support for Q-Flash Plus

Norton® Internet Security (OEM version)
LAN bandwidth management software

Support for Windows 11 64-bit
Support for Windows 10 64-bit

Micro ATX Form Factor; 24.4cm x 24.4cm