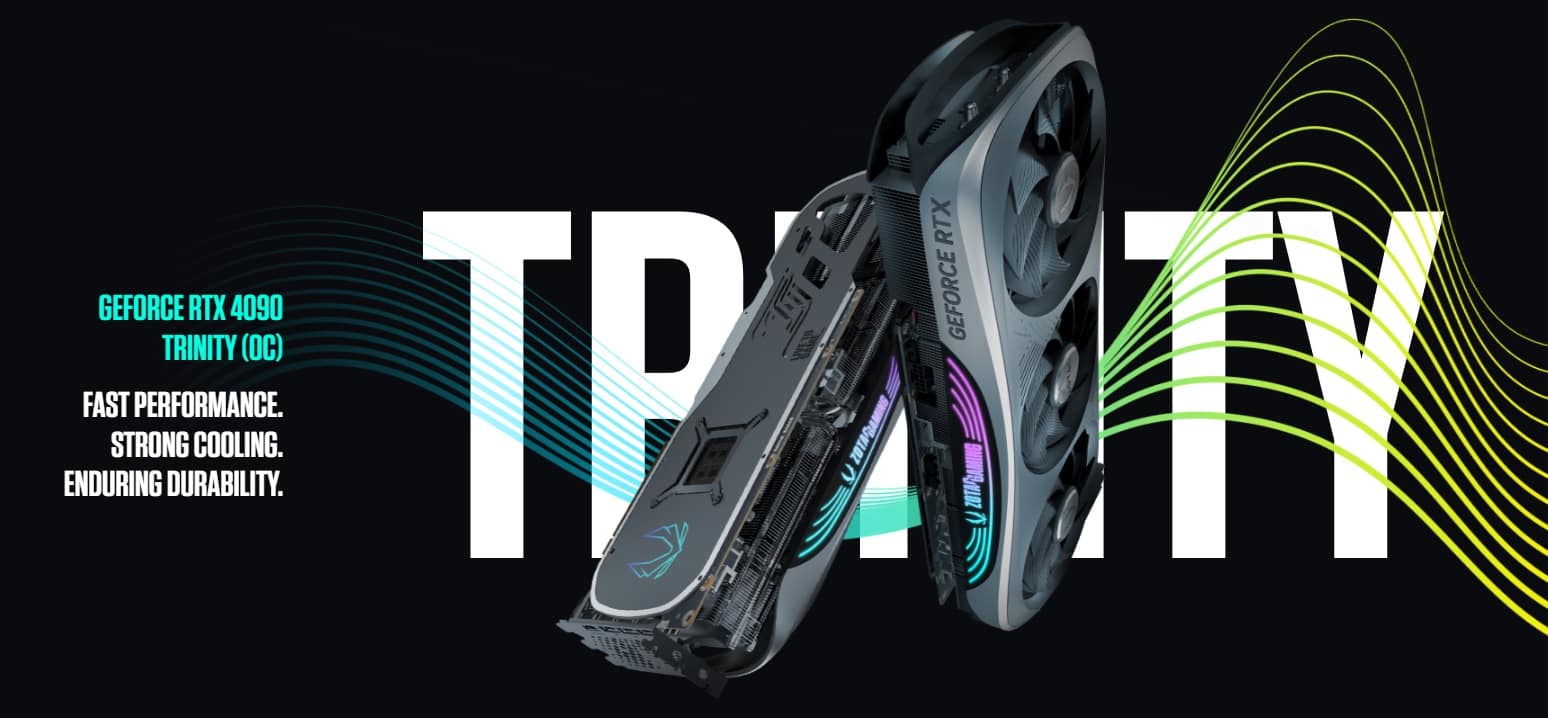 Features:
Powered by NVIDIA DLSS 3, ultra-efficient Ada Lovelace arch, and full ray tracing
Strong Performance
 IceStorm 3.0 Advanced Cooling
FREEZE Fan Stop, Active Fan Control, Dual BIOS
SPECTRA 2.0 RGB Lighting (compatible with external LED strip)
Metal Backplate
Bundled with GPU Support Bracket
All-new FireStorm Utility
3 years standard warranty + 2 years after registration
Overview :
THE AIRO EVOLUTION
Inspired by aerodynamic concepts, the Zotac RTX 4090 Trinity OC White Edition 24GB Graphics Card utilizes an AIR-Optimized design to bring out the best in the world's most advanced gaming GPU powered by the NVIDIA Ada Lovelace architecture. For gamers and enthusiasts who desire the ultimate performance, the AMP Extreme AIRO graphics card has everything to offer – from unrivaled power to outstanding thermal and noise performance.
THE COOLEST ICESTORM
Refined in every aspect, IceStorm 3.0 is our most powerful cooling system that pushes the limit of Zotac RTX 4090 Trinity OC White Edition 24GB Graphics Card GPU performance in the most graphically demanding PC games.
CUT THROUGH THE AIR
Zotac RTX 4090 Trinity OC White Edition 24GB Graphics Card is Mounted with triple 110mm large fans featuring wide curved blades that have twice the blade size of the previous generation. Each curvature and stripe on the blade is meticulously designed to maximize airflow and air pressure.
*Available on select models
IMPROVED AIRFLOW DYNAMICS
The fan height is significantly increased to ensure optimal airflow. Zotac RTX 4090 Trinity OC White Edition 24GB Graphics Card is Backed by a deeper fan shroud design to help generate a more focused airstream intake, each fan rotation pushes more cool air down and keeps it onto the heat spreader longer for improved temperatures.
UP TO 60% TALLER FAN
compared to last generation
*Available on select models
DEEPER FAN SHROUD
enabling more focused and stable airflow
MORE POWERFUL HEATSINK
Filling the massive 3.5-slot footprint is a colossal aluminum fin stack ready for the most intense thermal challenges.
UP TO 30% THICKER HEATSINK
compared to last generation
OPTIMIZED DISTRIBUTION
9 precision-machined copper heatpipes are shifted into a vertical layout for increased surface contact with the Zotac RTX 4090 Trinity OC White Edition 24GB Graphics Card GPU, extracting more heat to disperse along the full length of the heatsink.
COMPOSITE HEATPIPES
Made of composite layers consisting of a thicker envelope and a grooved wick with a multi-channel working fluid, each heatpipe is more efficient at transferring heat.
MAXIMUM EXTRACTION
A custom vapor chamber, one of the best heat spreading options available, is hovering over the base of the heatsink. The nickel-plated copper plate can spread heat more evenly across the entire surface area to boost cooling performance.
360° PASS-THROUGH
With ample designed ventilation paths, airflow can maneuver and exhaust from every side to reduce trapped heat.
NOISE REFINED
ZOTAC GAMING brings new noise-reducing features to the Zotac RTX 4090 Trinity OC White Edition 24GB Graphics Card to enhance immersion when gaming.
CALMING THE STORM
A counter-rotating center fan helps reduce air turbulence, minimizing noise with a smoother airflow. Further noise refinement comes with the assistance of mounted anti-vibration pads
COUNTER-ROTATING CENTER FAN
*Available on select models
DESIGNED FOR DURABILITY
Built to last and perform, the Zotac RTX 4090 Trinity OC White Edition 24GB Graphics Card boasts a strong foundation for peak performance.
STRONG BACKSIDE
Overall rigidity is backed with a solid die-cast metal backplate with further enhancement of a rear retention bracket mounted on AMP Extreme AIRO models.
RETENTION BRACKET
*Available on select models
DIE-CAST METAL BACKPLATE
*Available on select models
LESS FRICTION
The new cooling fans in Zotac RTX 4090 Trinity OC White Edition 24GB Graphics Card feature a dual ball bearing design that reduces rotational friction and further prolongs fan lifespan.
EXTRA SUPPORT
Take advantage of a bundled metal support stand for additional Zotac RTX 4090 Trinity OC White Edition 24GB Graphics Card GPU reinforcement.
SPECTRA ALL AROUND
ZOTAC GAMING's dedicated lighting system, SPECTRA 2.0, enables vibrant LED light colors and unique animated options powered by Addressable RGB LEDs.
5-ZONE RGB LIGHTING
Customize different modes and colors for the 5 lighting zones at the front, sides and rear of the graphics card, or synchronize the whole.
*Available on select models
HOLOGRAPHIC FRAME
The surreal beauty of the large RGB presence on top is enhanced by an iridescent and translucent finish that allows lighting paths underneath to shine through.
*Available on select models
**White color lighting may not be accurately displayed
EXPAND THE AMBIANCE
The featured 3-pin RGB header empowers your Zotac RTX 4090 Trinity OC White Edition 24GB Graphics Card graphics card to synchronize lighting with a compatible RGB LED strip for added aesthetics and customization.
*RGB LED strip not included
NEW. SIMPLE. INTUITIVE.
The all-new ZOTAC GAMING FireStorm Utility for 40 Series features an entirely re-designed interface that makes complex fine-tuning tasks easier to do. The new software comes with a host of tuning and monitoring options that include clock speeds, GPU memory frequencies, voltage, fan speed, fan curve settings, SPECTRA RGB lighting effects, and one-click BIOS switching.
Specifications :
GPU
GeForce RTX 4090
CUDA cores
16384
Video Memory
24GB GDDR6X
Memory Bus
384-bit
Engine Clock
Boost: 2535 MHz
Memory Clock
21 Gbps
PCI Express
4.0 16x
Display Outputs
3 x DisplayPort 1.4a (up to 7680×4320@60Hz)
1 x HDMI® Connector*
*Supports 4K 120Hz HDR, 8K 60Hz HDR, and Variable Refresh Rate as specified in the HDMI 2.1 Specification
HDCP Support
2.3
Multi Display Capability
Quad Display
Recommended Power Supply
1000W
Power Consumption
450W
Power Input
1 x 12VHPWR
DirectX
12 Ultimate
OpenGL
4.6
Cooling
IceStorm 3.0
Slot Size
3.5
SLI
N/A
Supported OS
Windows 11 / 10 (64-bit, April 2018 update or later)
Card Length
356.1mm x 150.1mm x 71.4mm / 14″ x 5.9″ x 2.8″
Accessories
GPU Support Stand
3-pin RGB Header Cable
4x 8-pin-to-12VHPWR cable
Manual
Warranty
3 Years + 2 Years Extended (On Registration)
Register your Warranty Here!