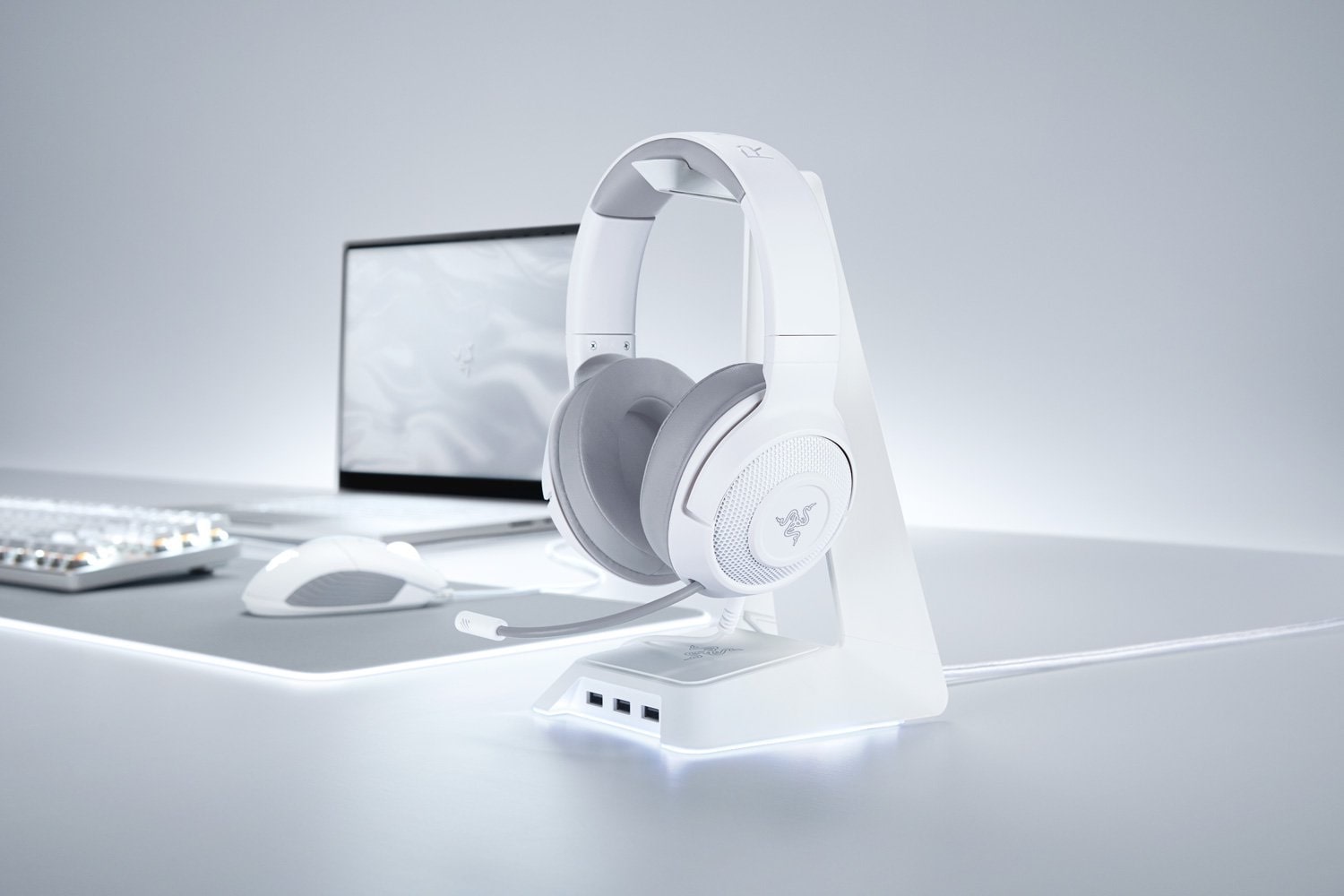 Overview:
AVAILABLE IN THESE COLOURS
Classic Black | Console | Mercury
ULTRA-LIGHT COMFORT
What if we told you it's possible to experience complete gaming immersion without feeling like you've got a headset on? Enter the Razer Kraken X Mercury.
Ultra-light at just 250g and ultra-immersive with 7.1 surround sound. Sit tight and play for hours—your gaming marathons are about to be a breeze.
CLEAR & ACCURATE POSITIONAL AUDIO
Equipped with 7.1 surround sound software so you can experience accurate positional audio when gaming—you'll be able to pick up the direction of where the action is coming from so you're ready to pounce into a gunfight.
Featuring custom-tuned 40mm drivers, the Razer Kraken X Mercury produces clear and balanced sound from thundering explosions in all-out wars to subtle footsteps in stealthy covert operations.
ULTRA-LIGHT ERGONOMIC BUILD AT 250G
Engineered with a lightweight form factor for a near-weightless feel on your head.
Plush Memory Foam Cushions
Ideal comfort and sound isolation throughout gaming marathons.
Soft Headband Padding
Relieves pressure on your head to prevent strain.
Clamping Force
Creates a firm grip on your head to provide a comfortable and measured fit.
CRYSTAL CLEAR COMMUNICATION
The flexible and bendable microphone in Razer Kraken X Mercury utilizes a cardioid pattern that records sound from an area that focuses on your mouth.
This helps to capture your voice with clarity while suppressing background noise from the back and sides
CONVENIENT AUDIO CONTROL
The microphone mute button and volume slider is easily accessed underneath the left earcup for convenient control.
EXPLORE THE RAZER KRAKEN FAMILY
With the different Razer Krakens available, find out more about their differences so you can choose the one that's right for you.
CROSS-PLATFORM COMPATIBILITY
The Razer Kraken X Mercury is compatible with PC, Mac, Xbox One*, PS4, Nintendo Switch and mobile devices with a 3.5mm audio jack.
Specifications:
FREQUENCY RESPONSE
12 Hz – 28 kHz
IMPEDANCE
32 Ω (1 kHz)
SENSITIVITY
109 dB (1 kHz)
DRIVER SIZE – DIAMETERS (MM)
40 mm
DRIVER TYPE
Custom Tuned
EARCUPS
Oval Ear Cushions
INNER EARCUP DIAMETER
Major Diameter 65 mm, Minor Diameter 44 mm
EARPADS MATERIAL
Leatherette / Foam
NOISE CANCELLING
None
CONNECTION TYPE
Analog 3.5 mm
CABLE LENGTH
4.27 ft. / 1.3 m
WEIGHT
0.55 lbs / 250 g
MICROPHONE STYLE
Bendable cardioid microphone
PICK-UP PATTERN
Unidirectional ECM boom
MICROPHONE FREQUENCY RESPONSE
100 Hz – 10 kHz
MICROPHONE SENSITIVITY (@1KHZ)
-45 ± 3 dB
VIRTUAL SURROUND ENCODING
None
VOLUME CONTROL
On-earcup: Volume Up/Down
OTHER CONTROLS

On-earcup Mute Function: Click-to-mute
On-earcup: Volume Up/Down

BATTERY LIFE
None
LIGHTING
None
COMPATIBILITY
Cross-Platform