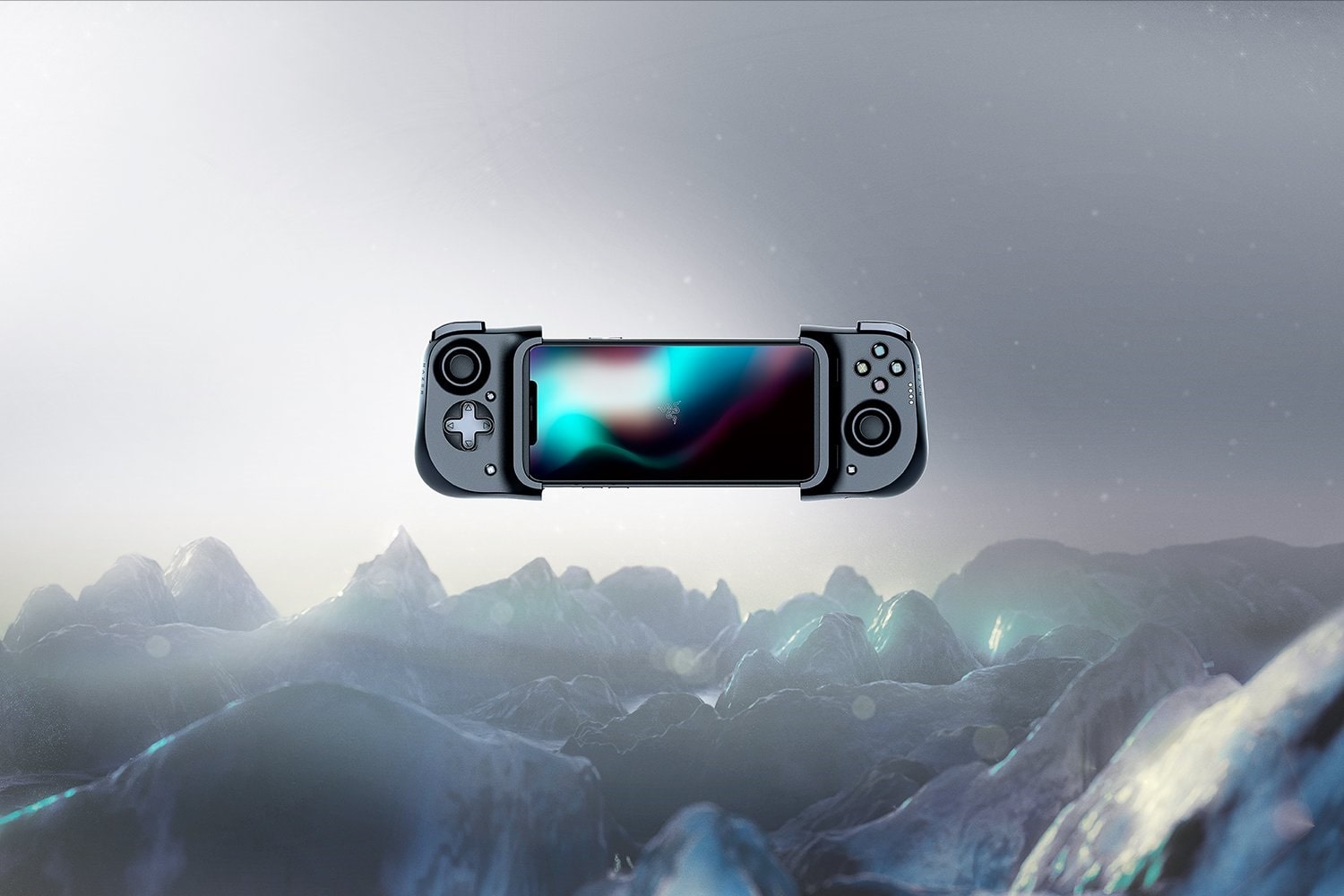 Overview:
MAKE YOUR MOVE
Bring your A-game anytime, anywhere. Introducing a universal mobile gaming Razer Kishi for iPhone controller that fits most smartphone devices, designed to bring console-level control to your on-the-go gaming. With this controller by your side, wherever you go, victory will follow.
CLICKABLE ANALOG THUMBSTICKS
Refine your aim and execution with a familiar console controller experience that provides tactile feedback, supported by an array of face and bumper buttons, as well as a D-pad for extra inputs.
UNIVERSAL FIT
The universal mobile controller's flexible design allows it to be stretched and clamped on most phones, providing a secure hold that'll never come loose while you game.
ULTRA-LOW LATENCY GAMEPLAY
Because it connects directly to your device's charging port, Razer Kishi for iPhone mobile controller is able to provide instant button response for smooth, seamless control.
A Clickable analog thumbsticks
B Function buttons
C 8-Way D-pad
D Special function button
E Type C Connector
F Speaker ports
G Face buttons
H Status indicator
I Type C Connector
J Triggers (L2/R2)
K Bumpers (L1/R1)
L Release latches
M Retaining plate
N Stretchable Support Band
PASS THROUGH CHARGING
If your phone starts running low while you're gaming with the controller still attached, simply hook up a charging cable to the controller itself to get the device charging.
ERGONOMIC DESIGN
Designed for long gaming sessions, the mobile controller's comfortable handheld grip has optimized button placements to make sure each button press feels natural and intuitive.
CLOUD GAMING COMPATIBLE
With the reality of playing AAA releases on any screen, having Razer Kishi for iPhone controller attached to your device provides a form factor convenient and portable enough to truly game anywhere.
Specifications:
CONNECTIVITY
Lightning
CHARGING
No charging required
BATTERY LIFE
None
CLICKABLE THUMBSTICK
Yes
THUMBSTICK SENSITIVTY ADJUSTMENT
None
MULTI-FUNCTION BUTTONS
3
MECHA-TACTILE ACTION BUTTONS
None
TRIGGER STOPS
None
SUPPORTED PHONE DIMENSIONS

iPhone 12, 12 Pro, 12 Pro Max
iPhone 11, 11 Pro, 11 Pro Max
iPhone X, XR, XS, XS Max
iPhone 6+, 6s+, 7+, 8+

SIZES

Length x Width x Height (collapsed)
3.71″ x 5.28″ x 1.47″
94.3mm x 134.1mm x 37.3mm

WEIGHT
0.36 lbs / 163 g
MOBILE APP
Yes