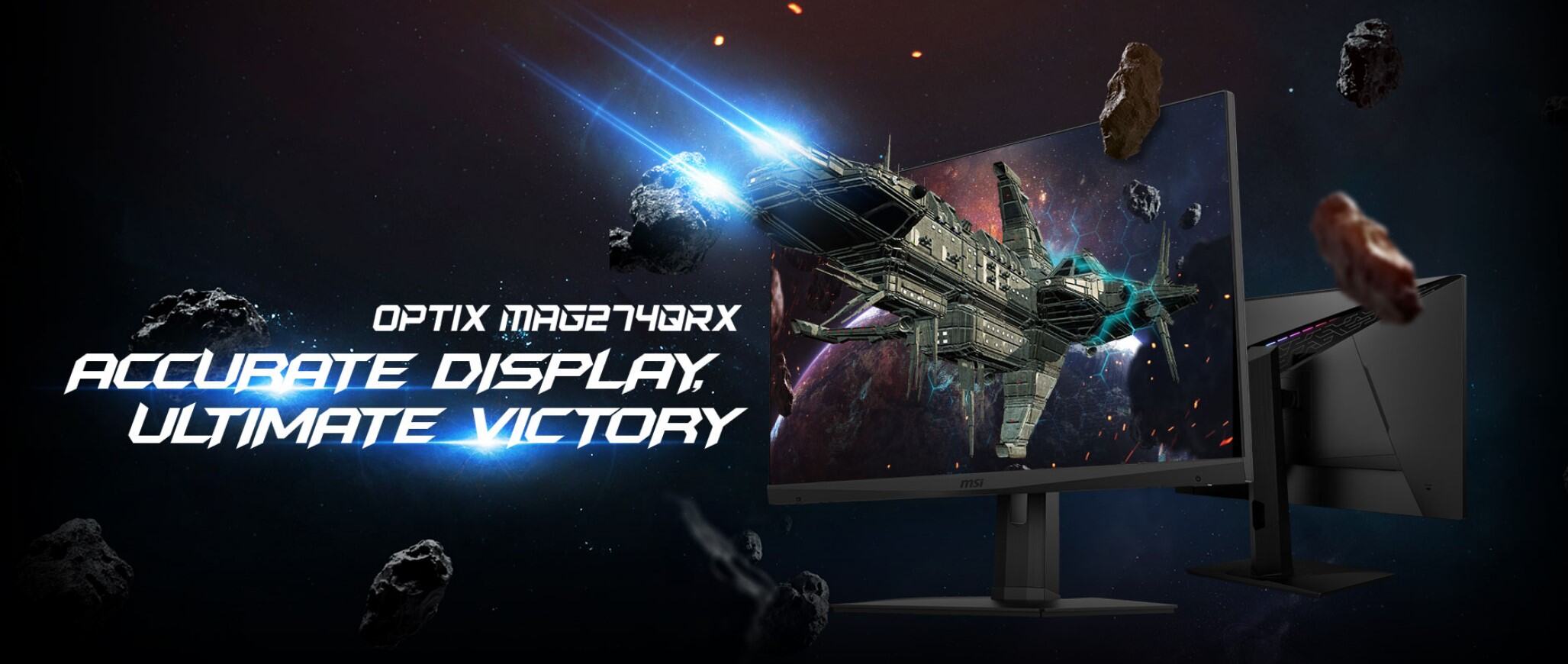 Features :
WQHD High Resolution – Games will look even better, displaying more details.
240Hz Refresh Rate – Lighting-fast refresh rate for smoothest gaming experience.
Rapid IPS – Provides 1ms GTG fast response time, optimizes screen colors and brightness.
KVM 2.0 – Control and transfer files between multiple devices via one set of keyboard, mouse, and MSI gaming monitor.
NVIDIA G-Sync Compatible – Prevent screen tearing or stuttering, producing ultra-smooth lag-free gameplay.
Smart Gaming – Pair with AI to Create A New Way of Gaming.
HDR400 – It has passed the VESA HDR Display 400 Certification, meaning it can provide a display with the most realistic colors.
Night Vision – Get the jump on enemies before they even notice you.
Gaming OSD App – Create the ultimate viewing settings for your game.
Console mode – Best solution for console users: FHD@120Hz, 2K Resolution PS5™ Optimization.
Overview :
CONQUER THE BATTLEFIELD
The MSI Optix MAG274QRX was born through rigorous quality testing and designed to be a symbol of sturdiness and durability. Focused on providing the best user experience, the MSI Optix MAG274QRX has a simple installation process coupled with a friendly user interface making it the best choice for entry level gamers.
SEE EVERY MOMENT AT ITS CLEAREST
Rapid IPS display provides gamers with an ultra-fast 1ms GTG response time, which will significantly reduce monitor blur occurrence. The crystal clear image will certainly give you a competitive edge for precise decisions in fast-moving games.
240HZ REFRESH RATE + 1MS RESPONSE TIME
MSI Optix MAG274QRX monitors are equipped with a 240Hz refresh rate and 1ms response time rapid IPS panel which has the most benefit in fast moving game genres such as first person shooters, fighters, racing sims, real-time strategy, and sports. These type of games require very fast and precise movements, which an ultra-high refresh rate and fast response time monitor will put you ahead of your competition.
SEE EVERY MOMENT AT ITS CLEAREST
MSI Optix MAG274QRX gaming monitor has a high-speed refresh rate of 240Hz, eliminating screen delay time and presenting an extremely smooth screen presentation. With a 1ms response time, users can respond accordingly in games such as first-person shooters and racing games and quickly win with one click.
VIEW WIDER, FIGHT BETTER
The MSI Optix MAG274QRX eSports gaming monitor feature a WQHD panel that supports resolution up to 2560×1440. This 16:9 panel allows gamers to examine bigger game scenes compared to other traditional FHD panels, and put them ahead of other competitors.
KVM 2.0
Control and transfer files between multiple connected devices with one set of mouse, keyboard, and MSI gaming monitor.
THE MOST VIVID DISPLAY
MSI Optix MAG274QRX gaming monitor is equipped with HDR technology that can produce images with more details, wider range of colors, and look more similar to what is seen by the human eye when compared to traditional monitor.
Windows 11 Auto HDR supported, please check below link to learn more about Auto HDR and how to enable.
OPTIX SCOPE
Snipe and kill your opponents before they can react. The built-in aim magnifier provides multi-stage zooming with shortcut keys to quickly switch the magnification. The screen can maintain the operation so that no matter what weapon is used, it can become a sniper rifle and attack enemies from miles away.
SMART CROSS HAIR
The aim dot automatically changes color, making it visible at any time. If the color of the aim dot overlaps with the background color, it will be problematic for aiming.
PERSONALIZE YOUR GAMING RIG
With MSI Mystic Light, the Optix MAG series gaming monitor lights provide a soft ambient light that can easily be synced with any other Mystic Light enabled gaming product. Select any of the colors from the palette using your smartphone or the Mystic Light App to match your system style to your taste. Or just turn on gaming echo, letting your monitor back light dance to music you play on the computer.
FIRMWARE UPDATE
MSI Optix MAG274QRX can update the firmware through a USB connector, which is simple and easy to use. This allows users to update the firmware on their own at any time when the latest version is released by MSI. This ensures that the screen is always in the best-optimized state.
WE HEARD YOU LIKE WORKSPACE
The MSI Optix MAG274QRX Gaming monitor supports Picture by Picture (PBP) to create a variety of different layouts tailored to maximize your workflow or gaming setup.
UNIVERSAL TYPE-C CONNECTION
This MSI Optix MAG274QRX gaming monitor supports USB Type-C connection,
allowing you to power your devices (up to 15W) and effortlessly connect to any
device.
GAMING OSD APP 2.0
With the Gaming OSD app it is very easy to setup your gaming monitor. Just use your Keyboard and Mouse to configure your monitor. The app even gives you hotkey options so you can switch settings between different games in a ease.
Specification :
Panel Size
27″ (69 cm)
Panel Resolution
2560×1440 (WQHD)
Refresh Rate
240Hz
Response time
1ms (GTG)
Panel Type
Rapid IPS
Brightness (nits)
350 (typ.) / 400 (HDR Peak)
Viewing Angle
178° (H) / 178° (V)
Aspect Ratio
16:9
Curvature
Flat
Contrast Ratio
1000:1
Active Display Area (mm)
596.736 (H) x 335.664 (V) mm
Pixel Pitch (H x V)
0.2331(H)x0.2331(V)
Surface Treatment
Anti-glare
Display Colors
1.07B (8 bits + FRC)
Adobe RGB / DCI-P3 / sRGB
97%/92%/126%
Video ports
1x Display Port (1.4a)
2x HDMI (2.0)
1x Type C (DP alt.) with PD charging 15W
USB ports
2x USB 2.0 Type A
1x USB 2.0 Type B
Audio ports
1x Headphone out
Kensington Lock
Yes
VESA Mounting
100 x 100 mm
Control
5-way OSD navigation joystick
Power Type
External Adaptor 19V 4.74A
Power Input
100~240V, 50/60Hz
DYNAMIC REFRESH RATE TECHNOLOGY
G-SYNC Compatible
ACTIVATED RANGE
48 ~ 240Hz
DCR
100000000:1
HDR Support
HDR 400
Power consumption
26W
Signal Frequency
91.2~370.4 KHz(H), 48~240 KHz(V)
Adjustment (Tilt)
-5° ~ 20°
Adjustment (Swivel)
-45° ~ 45°
Adjustment (Pivot)
-90° ~ 90°
Adjustment (Height)
0 ~ 130 mm
Dimension (W x H x D)
614.9 x 544 x 233.68 mm
614.9 x 369.3 x 47.4 mm (without stand)
Carton Dimension (W X H X D)
WW carton: 845 x 470 x 158mm
Outer: 855 x 490 x 168mm
Weight (NW / GW)
6.43kg / 9.09kg
without Stand: 3.61kg
Frameless Design
Yes
Console Mode
Yes
PIP / PBP Function
YES
Special Note
Display Port: 2560 x 1440 (Up to 240Hz)
Type C (DP alt.): 2560 x 1440 (Up to 240Hz)
HDMI: 2560 x 1440 (Up to 144Hz)
Adobe RGB, DCI-P3 and sRGB follow CIE1976 Standard
Warranty
3 Years