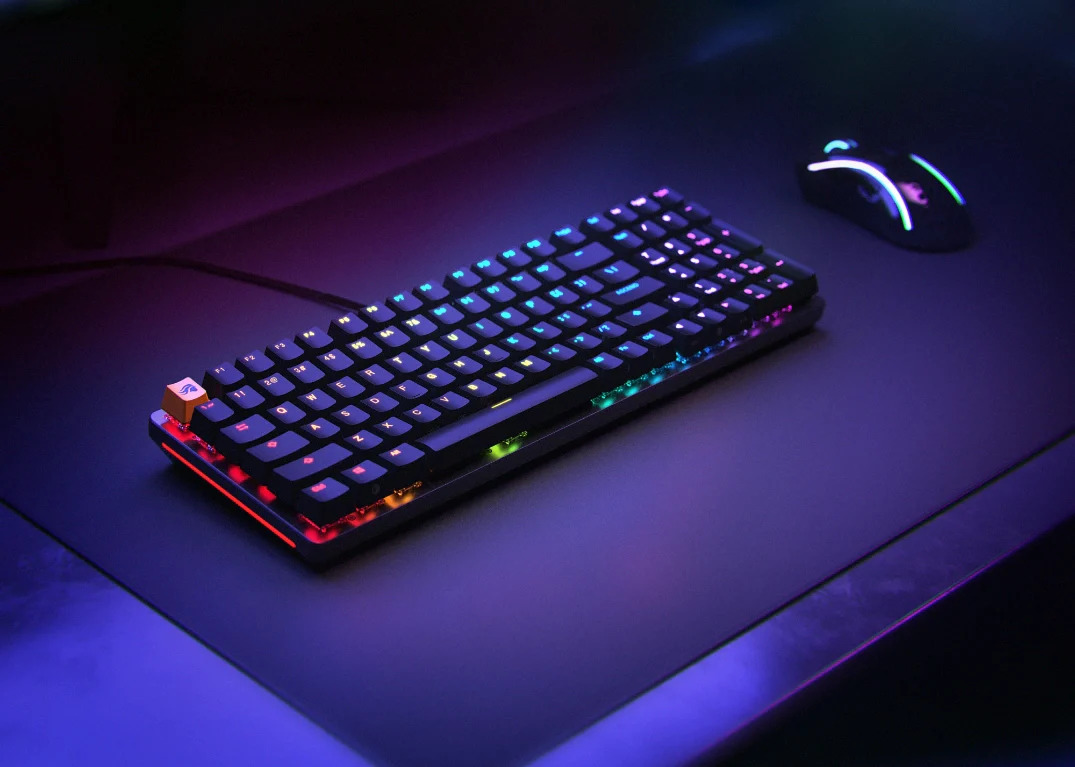 Overview :
ALUMINUM TOP FRAME
Provides superior strength with a satisfying weight. Minimal design with a smooth and uniform finish in in Glorious GMMK2 96% Pre-Built Black.
DOUBLESHOT KEYCAPS
Aesthetic and practical. custom transparent font designed to never fade. Textured for best grip
CUSTOM COMPACT LAYOUT
The Portable Powerhouse. Saves valuable desk space without sacrificing dedicated arrow keys.
GLORIOUS FOX LINEAR SWITCHES
Lubricated for a smooth and silent operation. Transparent housings for bright illumination.
VIBRANT RGB LIGHTING
18 pre-installed effects. Fully customizable to match your setup. Sleek sidelights for a unique look.
5-PIN HOTSWAP SUPPORT
Plug in your favorite switch type. No tools are needed. Metal switch plate keeps them in place.
DESIGNED TO BE REDESIGNED
Personalize the Glorious GMMK2 96% Pre-Built Black to your needs. Choose from a variety of layouts and colors, change components, and plug in any switch you want.
MADE TO STAND OUT
Vibrant light shines through clear switches, reflecting off the metal plate. Radically customizable lighting effects are just the cherry on top.
BUILT TO PERFORM
Linear Glorious Fox switches for speed and precision. Compact design saves valuable desk space in Glorious GMMK2 96% Pre-Built Black.
POWERFUL SOFTWARE
The Glorious GMMK2 96% Pre-Built Black's versatility extends to its software compatibility. Easily adjust performance, lighting, macros, and more via the Glorious CORE software. For more in-depth customization, flash QMK open-source firmware onto the board in Glorious GMMK2 96% Pre-Built Black.
ADDICTIVE ACOUSTICS
The Glorious GMMK2 96% Pre-Built Black's quality materials, strict build requirements, and tray mounting system eliminate the potential for creaks or squeaks. Thick dampening foam absorbs typing vibrations to produce a full-bodied sound. Lubricated switches and stabilizers fight any pinging or rattling, producing satisfying thock.
GLORIOUS FOX SWITCHES
Lightweight and linear, Glorious Fox switches are custom-designed with tight manufacturing tolerances to deliver superior performance. Pre-lubed parts give the switches a satisfyingly smooth sound and feel in in Glorious GMMK2 96% Pre-Built Black.
45 g Operating Force
Fast Linear Style
Pre-Lubed Parts
Clear Housings for Bright RGB
3.9 mm Travel Distance
60 g Bottom Out
Specifications :
LAYOUT
96%; 99 Keys
KEYCAPS
ABS Doubleshot Keycaps (OEM Profile)
SWITCHES
Glorious Fox Linear Switches (Pre-Lubed)
BODY
CNC Machined Aluminum Top Frame; Polymer Bottom
DIMENSIONS
14.8" x 4.9" x 1.5" (375 x 125 x 37.5 mm)
WEIGHT
2.76 lbs (1.25 kg)
ANGLE
6°; 11° (Feet Extended)
MOUNTING STYLE
Tray Mount
STABILIZERS
Clip-On Stabilizers (Pre-Lubed); Supports GSV2 Screw-In Stabilizers
RGB
16.8 Million Color Per-Key LED Backlighting; Diffused Side Lights
SWITCH SOCKETS
5-Pin Hotswap Support; North-Facing
INTERFACE
USB-C 2.0
CABLE
6 ft (2 m); Braided; Removable
FIRMWARE COMPATIBILITY
Glorious CORE & QMK