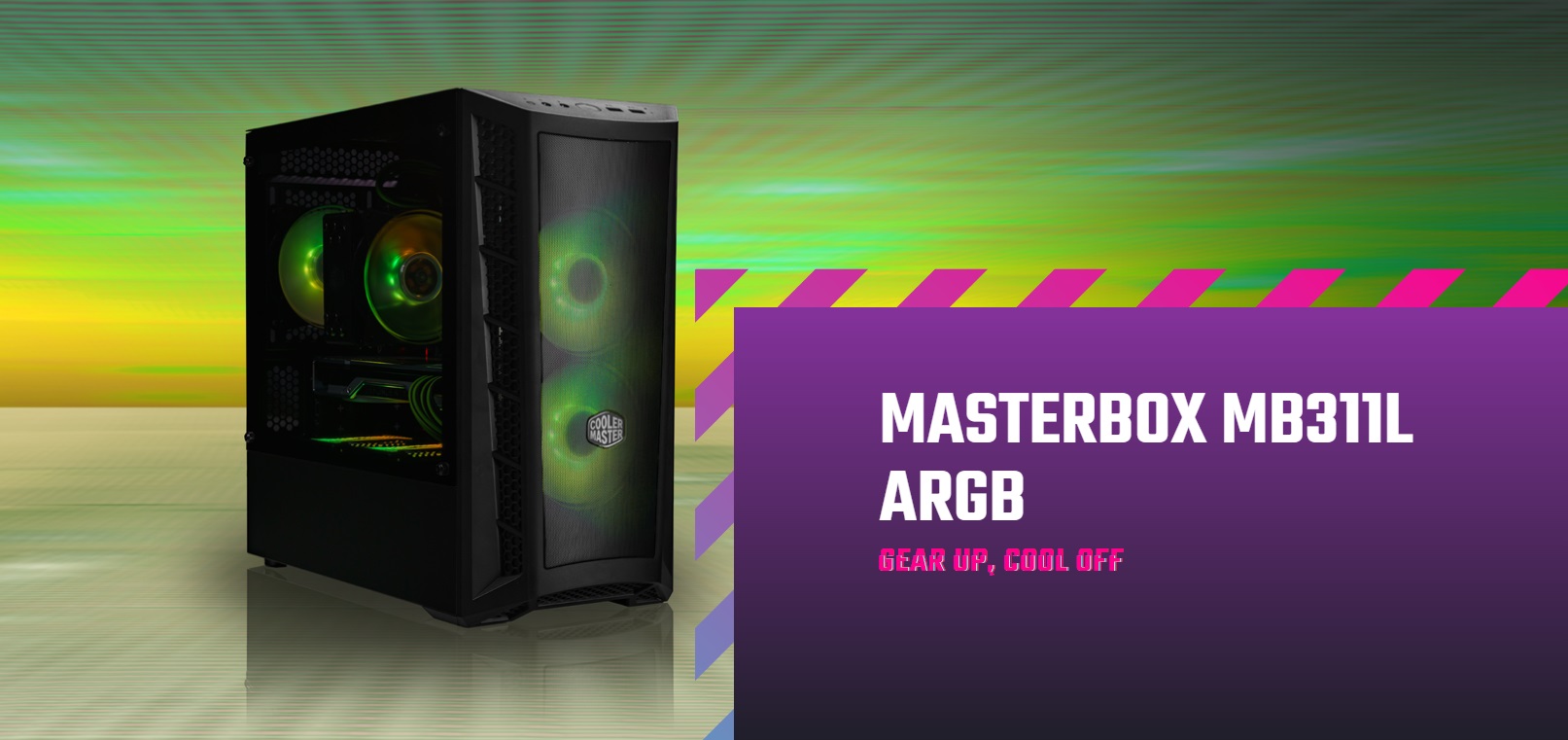 Features :
Fine Mesh Front Panel
Mesh Intakes
Dual ARGB Fans
Optimized Airflow
Tempered Glass Side Panel
Adaptable Drive Cage
Versatile Cooling Options
Room For Upgrades
Overview :
GAMING ON WIDE-OPEN THROTTLE
The Cooler Master MB311L ARGB is a Micro-ATX airflow PC case pre-installed with two ARGB fans and made to be built with the latest gaming hardware.  The front panel's façade is made entirely of Fine Mesh, placed between two honeycomb vents on either side to maximize airflow. Since running the latest games, smoothly, means keeping the latest hardware efficiently cooled, top panel ventilation offers the option to add even more cooling hardware—if nothing is mounted, the top panel acts as passive ventilation.
The internal layout was engineered for a high compatibility for the latest gaming hardware while also accounting for future upgrades. Following in the principles of the award-winning MB Series, versatility is paired with presentation to ensure that any gaming system built inside the Cooler Master MB311L ARGB looks as good as it performs.
FINE MESH FRONT PANEL
Cooler Master MB311L ARGB have Mesh design on the front panel is proven to provide proficient airflow while filtering out dust.
MESH INTAKES
Large, mesh intakes span each side of the front panel to provide additional airflow to system.
DUAL ARGB FANS
Two pre-installed 120mm ARGB fans can be managed by the motherboard, and connected by the included splitter, to create a comprehensive ARGB lighting system.
OPTIMIZED AIRFLOW
Airflow is optimized by a collaboration between the Fine Mesh front panel, additional mesh intakes, top panel ventilation, and rear exhaust.
TEMPERED GLASS SIDE PANEL
Hardware, custom-loop cooling, and the pure pride of the builder is shown in panoramic view through an edge-to-edge tempered glass side panel.
ADAPTABLE DRIVE CAGE
The drive cage is able to shift toward the front to accommodate for PSU space, backwards to provide additional radiator space, or even completely removed.
VERSATILE COOLING OPTIONS
Support for up to six fans and front, top, and rear radiator support ensure that performance is not compromised.
Fans
Radiators
ROOM FOR UPGRADES
Support for up to a 344mm graphics card, a 166mm CPU cooler, and up to a 325mm PSU in length provides room for upgrades to stay ahead of the game.
ARGB CONTROLLER​
​The small ARGB Controller is a mini-sized controller that allows your Addressable RGB such as fans and LED strips to be powered and controlled even in PC systems without an A-RGB capable motherboard.​
The controller comes with 14 lighting presets to make full use of the Addressable LEDs in the system and also allows to be completely switched off by long pressing its button.​
It is also possible to attach any external 2pin button to it to be able to switch presets without having to open the system. For ease of use, Cooler Master allows the RESET button to be optionally connected to the controller and used as an external ARGB preset switch button.
Specifications :
| | |
| --- | --- |
| Model Number | MCB-B311L-KGNN-S01 |
| Color | Black |
| Materials | Steel, Mesh, Plastic, Tempered Glass |
| Dimensions | 435.5 x 217.5 x 410mm |
| Motherboard Support | Micro ATX, Mini ITX |
| Expansion Slots | 4 |
| 5.25″ Drive Bays | 0 |
| 2.5″ / 3.5″ Drive Bays (combo) | 2 |
| 2.5″ Drive Bays | 2 |
| I/O Panel | 2x USB 3.2 Gen 1 (formerly USB 3.0), 1x 3.5mm Audio Jack, 1x 3.5mm Mic Jack, 1x ARGB 2-to-3 splitter, 1x ARGB Controller (only for the S02 versions) |
| Pre-installed Fans – Top | N/A |
| Pre-installed Fans – Front | 2x 120mm ARGB Fan |
| Pre-installed Fans – Rear | N/A |
| Fan Support – Top | 2x 120/140mm |
| Fan Support – Front | 3x 120mm, 2x 140mm |
| Fan Support – Rear | 1x 120mm |
| Fan Support – Bottom | N/A |
| Radiator Support – Top | 120mm, 240mm |
| Radiator Support – Front | 120mm, 140mm, 240mm, 280mm |
| Radiator Support – Rear | 120mm |
| Clearance – CPU Cooler | 165mm/6.54″ |
| Clearance – PSU | 140mm (HDD cage in backmost position), 325mm (w/o front radiator & HDD cage) |
| Clearance – GFX | 344mm |
| Cable Routing | 18-22mm |
| Dust Filters | Top, Front, Bottom |
| Power Supply Support | Bottom mount, ATX |
| Warranty | 2 Years |