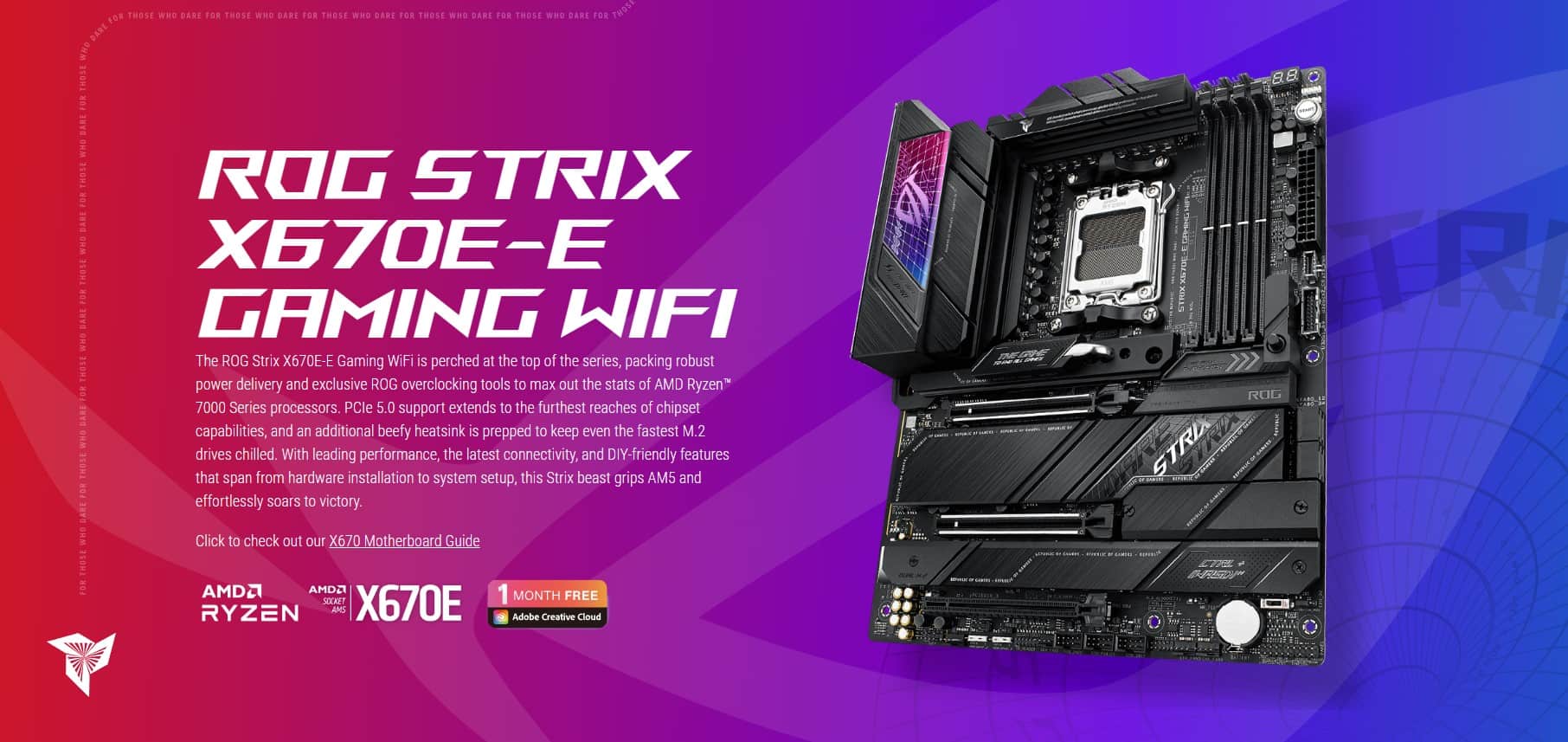 Features :
Robust Power Solution: 18 + 2 teamed power stages with 8+8 pin ProCool II power connectors, high-quality alloy chokes and durable capacitors to support multi-core processors
Optimized Thermal Design: Massive VRM heatsinks plus integrated aluminum I/O cover, high-conductivity thermal pad, L-shaped heatpipe, M.2 Combo-sink and M.2 backplate for the PCIe® 5.0 M.2_1 slot, three onboard M.2 heatsinks, plus a massive M.2 heatsink as an accessory
Overclocking technologies: Dynamic OC Switcher, Ryzen Core Flex, Asynchronous Clock and PBO Enhancement
High-Performance Networking: Onboard WiFi 6E, Intel® 2.5 Gb Ethernet and ASUS LANGuard
Fastest Gaming Connectivity: Two PCIe 5.0 expansion slots, three onboard PCIe 5.0 M.2 slots, USB 3.2 Gen 2×2 front-panel connector and Thunderbolt™ header
Industry-Leading Audio: ROG SupremeFX ALC4080 with Savitech SV3H712 amplifier, along with DTS® Sound Unbound and Sonic Studio III
Unmatched Personalization: ASUS-exclusive Aura Sync RGB lighting, including one RGB header and three addressable Gen 2 RGB headers
DIY-Friendly Design: Power button, Pre-mounted I/O shield, PCIe Slot Q-Release, M.2 Q-Latch, Q-Code, Q-LED, BIOS FlashBack™, Clr CMOS Button, FlexKey, SafeSlot and SafeDIMM
Intelligent Control: ASUS-exclusive tools including AI Cooling II, Two-Way AI Noise-Cancelation and AI Networking for easy configuration
Renowned Software: Bundled 60-day free trial of AIDA64 Extreme, and intuitive UEFI BIOS dashboard
Overview :
PCIE® SLOT Q-RELEASE
ASUS ROG Strix X670E-E Gaming WiFi DDR5 has a physical button unlocks the first PCIe slot's security latch with a simple press, greatly simplifying the process of removing a PCIe card from the motherboard when it's time to upgrade to a new GPU or add-in card.
M.2 Q-LATCH
ASUS ROG Strix X670E-E Gaming WiFi DDR5 has the innovative Q-Latch makes it easy to install or remove an SSD from an M.2 slot. The design employs a simple locking mechanism to secure the drive, eliminating the need for a traditional screw.
CLR CMOS BUTTON
The Clr CMOS button quickly resets BIOS settings to factory default. It can also be used to reboot the PC if incorrect BIOS settings have been selected.
BIOS FLASHBACK™
BIOS FlashBack™ is a safe and simple way to update BIOS. Just drop the (UEFI) BIOS file onto a FAT32-formatted USB stick, plug it into the USB BIOS FlashBack port, and press the button. Updates can even be performed without having memory or a CPU installed.
Q-CODE
An on-board display shows diagnostic codes, providing a valuable reference for troubleshooting common boot problems and hardware issues.
START BUTTON
This convenient button removes the need to manually jump hard-to-reach pins during testing and troubleshooting.
ALL-ROUND PERFORMANCE
From power delivery, to PCIe 5.0 support, I/O, and on-board cooling, the ASUS ROG Strix X670E-E Gaming WiFi DDR5 fully flexes AM5 and infuses AMD Ryzen™ 7000 Series processors with additional agility to plough through every task.
PCIE 5.0
Blazing fast storage is at your command with three PCIE 5.0 M.2 slots and one PCIE 4.0 M.2 slot. Push speeds even further, create a mirrored backup, or both; NVMe and SATA RAID configurations (0/1/10) are available through AMD RAID Xpert2. PCIe 5.0 support also extends to two x16 extension slots, which include SafeSlot to support heavy graphics cards and Q-release (top slot only) for easy upgrades.
AI OVERCLOCKING
Tuning is now faster and smarter than ever before. ASUS AI Overclocking profiles the CPU and cooling to predict the optimal configuration and push the system to its limits. Predicted values can be engaged automatically or used as a launching ground for further experimentation.
TEAMED POWER ARCHITECTURE
18 + 2 power stages, strategically teamed to rapidly respond to load changes and drive Ryzen™ 7000 through any workload.
DDR5 STRENGTH
For those who want to fly past stock DDR5 speeds, the ASUS ROG Strix X670E-E Gaming WiFi DDR5 is primed and ready for enthusiast-grade kits courtesy of vast AMD EXtended Profiles for Overclocking (EXPO) support. Seasoned veterans can further tweak performance via the extensive array of settings in the UEFI.
VRM HEATSINK ARRAY
Two thick VRM heatsinks are connected by a heatpipe, sharing cooling capacity across VRMs and providing ample surface area and mass to handle the power needs of high-performance AMD Ryzen™ 7000 Series processors.
HIGH-CONDUCTIVITY THERMAL PADS
High-quality thermal pads are utilized between power stages and heatsinks, helping to improve heat transfer and reduce VRM operating temperatures.
LEADING CONNECTIVITY
The ASUS ROG Strix X670E-E Gaming WiFi DDR5 delivers a plethora of internal and external connectivity for low-latency networking and ultrafast data transfers. Those perks are joined by an advanced audio solution that allows you to pick out the smallest cues and home in on your opponents.
WIFI 6E
Onboard WiFi 6E technology takes advantage of newly available spectrum in the 6 GHz band to provide up to seven 160 MHz channels for ultrafast throughput and better performance in dense wireless environments.
*WiFi 6E availability and features are dependent on regulatory limitations and co-existence with 5 GHz WiFi.
Intel 2.5G Ethernet
Onboard Intel® 2.5 Gbps Ethernet gives your wired connection a boost, with speeds that are 2.5 times faster than standard Ethernet connections for speedy file transfers, low-latency gaming, and high-res video streaming.
SUPREMEFX
ROG SupremeFX is a unique blend of hardware and software that provides superior audio. The ASUS ROG Strix X670E-E Gaming WiFi DDR5's SupremeFX implementation features the ALC4080 codec to increase playback resolution from 192 kHz to 384 kHz across all channels. The front-panel output is streamed through a highly integrated Savitech amplifier that's capable of driving of a wide variety of gaming headsets and high-fidelity headphones.
PLAY IN STYLE
A bold and balanced aesthetic ties together elements from the ROG Strix lineup and then subtly increases contrast with bright accents, visible silver components, and a splash of RGB. Pair the ASUS ROG Strix X670E-E Gaming WiFi DDR5 with other products from the diverse ROG ecosystem to create a fully customized gaming setup that reflects your personal style.
UNDENIABLY ROG STRIX
The ASUS ROG Strix X670E-E Gaming WiFi DDR5 makes quite a statement compared to its slightly more subdued brethren. A high-contrast monochromatic colorway includes silver metal components and white design accents on top of a black PCB and dark metallic heatsinks. Aggressive angles and a splash of customizable RGB on the I/O shroud help it stand out even further from the crowd.
OUTSHINE THE COMPETITION
ASUS ROG Strix X670E-E Gaming WiFi DDR5 motherboards feature ASUS Aura technology, enabling full lighting control and a variety of presets for both onboard RGB LEDs and third-party accessories. Effects can be easily synced across compatible ROG graphics cards, monitors, keyboards, and mice to give your setup a unified look.
THE ROG STRIX ECOSYSTEM AWAITS
Level up your game with ASUS ROG Strix X670E-E Gaming WiFi DDR5. Enjoy complementary aesthetics, control, and compatibility across AIO coolers, cases, peripherals, and much more. ROG offers more choices than any other brand.
SOFTWARE UTILITIES
ROG-exclusive software delivers intuitive audio tuning and gaming enhancements so you can configure your gaming build the way you want.
THIS CHANGES EVERYTHING.
FROM THIS NEW PLATFORM, YOU CAN SEE THE FUTURE
Build your next rig with an AMD Ryzen™ 7000 Series processor and ASUS ROG Strix X670E-E Gaming WiFi DDR5 to experience advanced performance. With up to 16 "Zen 4" cores and 32 threads, boost clocks of up to 5.7GHz, and 80MB cache, the AMD Ryzen™ 7000 Series keeps you ahead of the game.1
You'll also gain access to new features for gamers with AMD Socket AM5, from the speed of DDR5 memory to the increased bandwidth of PCIe® 5.0. AMD Ryzen™ 7000 Series processors and AMD socket AM5 motherboards are unlocked for overclocking to personalize your experience. Gain even more performance when you overclock your DDR5 memory with AMD EXPO™ technology.2
Specifications :
CPU
AMD Socket AM5 for AMD Ryzen™ 7000 Series Desktop Processors*
* Refer to www.asus.com for CPU support list.
Chipset
AMD X670
Memory
4 x DIMM, Max. 128GB,  DDR5
6400+(OC)/ 6200(OC)/ 6000(OC)/ 5800(OC)/ 5600(OC)/ 5400(OC)/ 5200/ 5000/ 4800 ECC and Non-ECC, Un-buffered Memory*
Dual Channel Memory Architecture
Supports AMD EXTended Profiles for Overclocking (EXPO™)
OptiMem II
* Supported memory types, data rate(Speed), and number of DRAM module vary depending on the CPU and memory configuration, for more information refer to www.asus.com for memory support list.
* Non-ECC, Un-buffered DDR5 Memory supports On-Die ECC function
Graphics
1 x DisplayPort**
1 x HDMI® port***
**Supports max. 8K@60Hz as specified in DisplayPort 1.4.
***Supports 4K@60Hz as specified in HDMI 2.1.
Expansion Slots
AMD Ryzen™ 7000 Series Desktop Processors*
2 x PCIe 5.0 x16 slots (supports x16 or x8/x4 modes)
AMD X670 Chipset
1 x PCIe 4.0 x16 slot (supports x4 mode)
Storage
Total supports 4 x M.2 slots and 4 x SATA 6Gb/s ports*
AMD Ryzen™ 7000 Series Desktop Processors
M.2_1 slot (Key M), type 2242/2260/2280  (supports PCIe 5.0 x4 mode)
M.2_2 slot (Key M), type 2242/2260/2280 (supports PCIe 5.0 x4 mode)
M.2_3 slot (Key M), type 2242/2260/2280/22110 (supports PCIe 5.0 x4 mode))
AMD X670 Chipset
M.2_4 slot (Key M), type 2242/2260/2280 (supports PCIe 4.0 x4 mode)
4 x SATA 6Gb/s ports
*AMD RAIDXpert2 Technology supports both NVMe RAID 0/1/10 and SATA RAID 0/1/10.
Ethernet
1 x Intel® 2.5Gb Ethernet
ASUS LANGuard
Wireless & Bluetooth
Wi-Fi 6E
2×2 Wi-Fi 6E (802.11 a/b/g/n/ac/ax)
Supports 2.4/5/6GHz frequency band*
Bluetooth v5.2
* WiFi 6E 6GHz regulatory may vary between countries, and function will be ready in Windows 11 or later.
USB
Rear USB (Total 13 ports)
1 x USB 3.2 Gen 2×2 port (1 x USB Type-C®)
12 x USB 3.2 Gen 2 ports (10 x Type-A + 2 x USB Type-C®)
Front USB (Total 9 ports)
1 x USB 3.2 Gen 2×2  connector
1 x USB 3.2 Gen 1 header supports additional 2 USB 3.2 Gen 1 ports
3 x USB 2.0 headers support additional 6 USB 2.0 ports
Audio
ROG SupremeFX 7.1 Surround Sound High Definition Audio CODEC ALC4080
– Impedance sense for front and rear headphone outputs
– Supports: Jack-detection, Multi-streaming, Front Panel Jack-retasking
– High quality 120 dB SNR stereo playback output and 113 dB SNR recording input
– Supports up to 32-Bit/384 kHz playback
Audio Features
– Audio Shielding
– Savitech SV3H712 AMP
-Gold-plated audio jacks
– Rear optical S/PDIF out port
– Premium audio capacitors
– Audio cover
* A chassis with an HD audio module in the front panel is required to support 7.1 Surround Sound audio output.
Back Panel I/O Ports
1 x USB 3.2 Gen 2×2 port (1 x Type-C®)
12 x USB 3.2 Gen 2 ports (10 x Type-A, 2 x  USB Type-C®)
1 x DisplayPort
1 x HDMI® port
1 x Wi-Fi Module
1 x Intel® I225-V 2.5Gb Ethernet port
5 x Gold-plated audio jacks
1 x Optical S/PDIF out port
1 x BIOS FlashBack™  button
1 x Clear CMOS button
Internal I/O Connectors
Fan and Cooling related
1 x 4-pin CPU Fan header
1 x 4-pin CPU OPT Fan header
1 x 4-pin AIO Pump header
5 x 4-pin Chassis Fan header
Power related
1 x 24-pin Main Power connector
2 x 8-pin +12V Power connector
Storage related
4 x M.2 slots (Key M)
4 x SATA 6Gb/s ports
USB
1 x USB 3.2 Gen 2×2  connector (supports USB Type-C®)
1 x USB 3.2 Gen 1 header supports additional 2 USB 3.2 Gen 1 ports
3 x USB 2.0 headers support additional 6 USB 2.0 ports
Miscellaneous
3 x Addressable Gen 2 headers
1 x AURA RGB header
1 x Alteration Mode Switch
1 x CPU Over Voltage jumper
1 x Front Panel Audio header (AAFP)
1 x Start button
1 x 20-3 pin System Panel header with Chassis intrude function
1 x Thermal Sensor header
1 x Thunderbolt™  header
Special Features
Extreme Engine Digi+
– 5K Black Metallic Capacitors
ASUS Q-Design
– M.2 Q-Latch
– PCIe Slot Q-Release
– Q-Code
– Q-DIMM
– Q-LED (CPU [red], DRAM [yellow], VGA [white], Boot Device [yellow green])
– Q-Slot
ASUS Thermal Solution
– M.2 heatsink backplate
– M.2 heatsink
– VRM heatsink design
–  Massive Bundled PCIe® 5.0 M.2 Heatsink
ASUS EZ DIY
– BIOS FlashBack™ button
– BIOS FlashBack™ LED
– Clear CMOS button
– ProCool II
– Pre-mounted I/O shield
– SafeSlot
– SafeDIMM
AURA Sync
– AURA RGB header
– Addressable Gen 2 headers
Software Features
ROG Exclusive Software
– GameFirst VI
– ROG CPU-Z
– Sonic Studio III + Sonic Studio Virtual Mixer + Sonic Suite Companion
– Sonic Radar III
– DTS® Sound Unbound
– Anti-virus software
ASUS Exclusive Software
Armoury Crate
– AIDA64 Extreme (60 days free trial)
– AURA Creator
– AURA Sync
– Fan Xpert 4 (with AI Cooling II)
– Power Saving
– Two-Way AI Noise Cancellation
AI Suite 3
– TPU
– DIGI+ VRM
– Turbo app
– PC Cleaner
MyAsus
WinRAR
UEFI BIOS
ASUS EZ DIY
– ASUS CrashFree BIOS 3
– ASUS EZ Flash 3
– ASUS UEFI BIOS EZ Mode
Dynamic OC Switcher
FlexKey
BIOS
256 Mb  Flash ROM, UEFI AMI BIOS
Manageability
WOL by PME, PXE
Accessories
Cables
2x SATA 6Gb/s cables
Additional Cooling Kit
1 x Thermal pad for M.2
Miscellaneous
1 x ASUS Wi-Fi moving antennas
1 x Cable ties pack
1 x Massive Bundled PCIe® 5.0 M.2 Heatsink
1 x M.2 Q-Latch package for M.2 backplate
1 x M.2 Q-Latch package
1 x ROG Graphics card holder
2 x Rubber Packages for M.2
1 x Rubber Package for M.2 backplate
1 x ROG key chain
1 x ROG Strix sticker
1 x ROG Strix thank you card
Documentation
1 x User guide
Operating System
Windows® 11 64-bit, Windows 10 64-bit
Form Factor
ATX Form Factor
12 inch x 9.6 inch ( 30.5 cm x 24.4 cm )
Warranty
3 Years