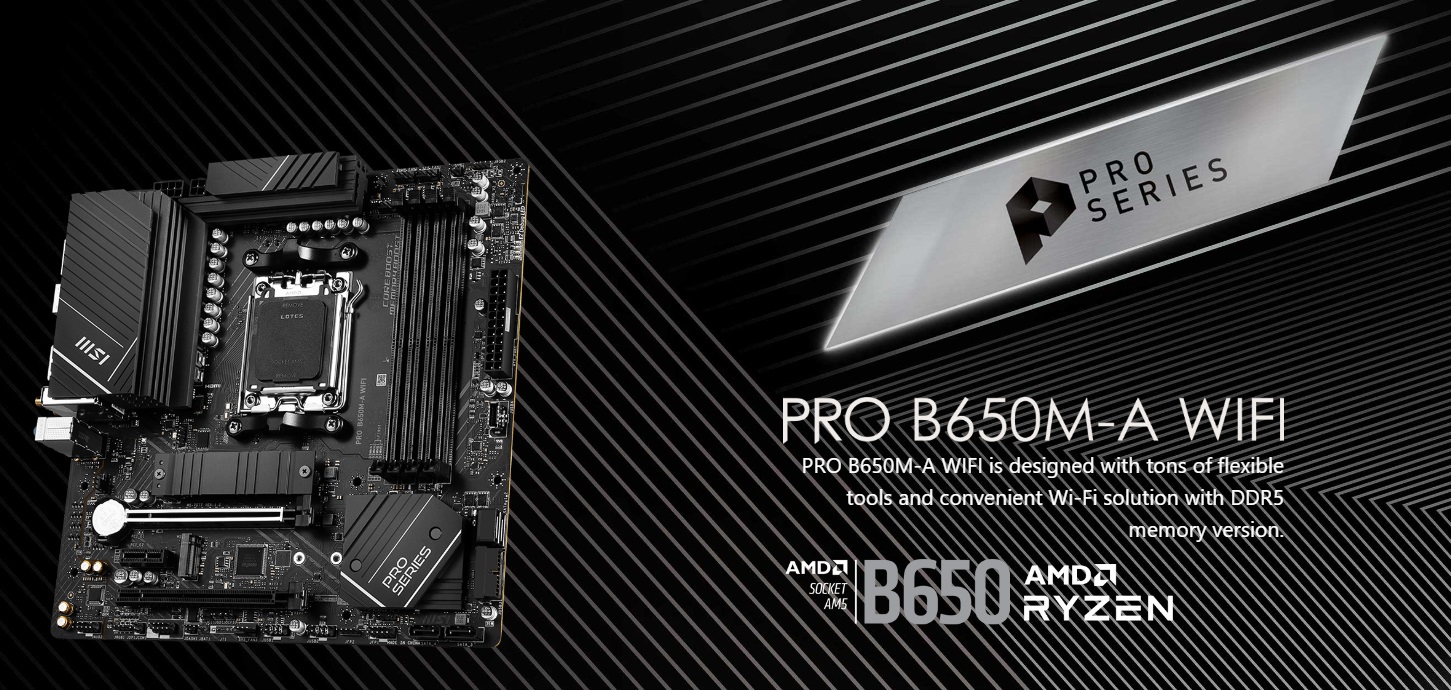 Features:
MSI Pro B650M-A Wifi Supports AMD Ryzen™ 7000 Series Desktop Processors
MSI Pro B650M-A Wifi Supports DDR5 Memory, Dual Channel DDR5 6400+MHz (OC)
Core Boost : With premium layout and digital power design to support more cores and provide better performance
Memory Boost: MSI Pro B650M-A Wifi  have Advanced technology to deliver pure data signals for the best performance, stability and compatibility
Premium Thermal Solution: 7W/mK pad, additional choke thermal pad and M.2 Shield Frozr are built for high performance system and non-stop works
High Quality PCB: 6-layer PCB made by 2oz thickened copper
Lightning Fast Game experience: PCIe 4.0 slots, Lightning Gen 4 x4 M.2 with M.2 Shield Frozr
2.5G LAN with Wi-Fi 6E Solution: Upgraded network solution for professional and multimedia use. Delivers a secure, stable and fast network connection
AUDIO BOOST: Reward your ears with studio grade sound quality for the most immersive gaming experience
Overview:
The MSI Pro B650M-A Wifi Series is tailored to professionals from all walks of life. The lineup features impressive performance and high quality, while aiming to provide users incredible experience. Users who care about productivity and efficiency can definitely count on the MSI Pro B650M-A Wifi to assist you with multitasking and increasing efficiency.
COOLING OVERVIEW
Extended Heatsink
Extended Heatsink enlarges the surface of heat dissipation and maintain the performance at heavy loads.
M.2 Shield Frozr
Strengthened M.2 thermal solution helps keep M.2 SSD safe and ensures incredible performance.
Heavy Plated VRM Heatsink
The VRM heatsink covers the upper MOS and helps dissipate the heat.
7W/mK Thermal Pad & Additional Choke Pad
High-quality 7W/mK MOSFET thermal pads and additional choke thermal pads ensure stable performance when all cores are runnging at high speed.
Chipset Heatsink
The chipset heatsink is designed to reduce dust and noise and also capable of maintaining high efficiency of PCH.
CONTROL IN ONE CLICK
MSI Pro B650M-A Wifi motherboards let you manage speeds and temperatures for all your system and CPU fans in BIOS and software with a simplified graphical interface. You can also set up to 4 temperature targets, which will adjust the fan speeds automatically.
FROZR AI COOLING
Detecting CPU & GPU temperatures and automatically adjusting fan duty of system fans to a proper value by adopting MSI AI ENGINE.
AUTO DETECT YOUR FAN
MSI Pro B650M-A Wifi fan headers automatically detect fans running in DC or PWM mode for optimal tuning of fan speeds and silence. Hysteresis also makes your fans spin up fluently to make sure your system stays silent, no matter what.
LIGHTNING GEN 4 PCI-E WITH STEEL ARMOR
MSI Pro B650M-A Wifi lightning Gen 4 PCI-E represents the bandwidth of a x16 interface to 64GB/s that has doubled compared to its previous generation.
FAST AND FUTURE-READY STORAGE
MSI Pro B650M-A Wifi series motherboards support all the latest storage standards, which allows users to connect any ultra-fast storage device. Start games faster, load levels faster and have a real advantage over your enemies.
USB FRONT TYPE-C
MSI Pro B650M-A Wifi motherboards support USB Front Type-C that allows gamers to connect with the latest USB devices. Built up a system with MSI PC case to have the most convenient experience.
Specifications:
| | |
| --- | --- |
| CHIPSET | AMD B650 |
| CPU SUPPORT | Supports AMD Ryzen™ 7000 Series Desktop Processors |
| | Socket AM5 |
| MEMORY | 4x DDR5, Maximum Memory Capacity 128GB |
| | Memory Support DDR5 6400+(OC)/6200(OC)/6000(OC)/5800(OC)/5600(OC)/5400(OC)/5200(OC)/5000(OC)/4800(JEDEC) MHz |
| ONBOARD GRAPHICS | 1x HDMI™ |
| | 1x DisplayPort |
| | Support HDMITM 2.1 with HDR, maximum resolution of 4K 60Hz* |
| | Support DP 1.4, maximum resolution of 8K 60Hz* |
| | *Available only on processors featuring integrated graphics. Graphics specifications may vary depending on the CPU installed. |
| EXPANSION SLOT | 2x PCI-E x16 slot |
| | Support x16/ x4 |
| | 1x PCI-E x1 slot |
| | PCI_E1 PCIe 4.0 supports up to x16 (From CPU) |
| | PCI_E2 PCIe 3.0 supports up to x1 (From Chipset) |
| | PCI_E3 PCIe 4.0 supports up to x4 (From Chipset) |
| STORAGE | 2x M.2 slot |
| | M.2_1 (From CPU) supports up to PCIe 4.0 x4 , supports 2280/2260 devices |
| | M.2_2 (From CPU) supports up to PCIe 4.0 x4 , supports 2280/2260 devices |
| | 6x SATA 6G port |
| RAID | Supports RAID 0, RAID 1, and RAID 10 for SATA storage devices* |
| | Supports RAID 0 and RAID 1 for M.2 NVMe storage devices |
| | * SATA_A1_A2 do not support RAID function. |
| USB | 4x USB 2.0 (Front) |
| | 4x USB 3.2 Gen1 Type A (Rear) |
| | 2x USB 3.2 Gen1 Type A (Front) |
| | 3x USB 3.2 Gen2 Type A (Rear) |
| | 1x USB 3.2 Gen2 Type C (Front) |
| | 1x USB 3.2 Gen2x2 Type C (Rear) |
| LAN | Realtek® RTL8125B 2.5Gbps LAN |
| WIRELESS / BLUETOOTH | AMD Wi-Fi 6E |
| | The Wireless module is pre-installed in the M.2 (Key-E) slot |
| | Supports MU-MIMO TX/RX |
| | Supports 20MHz, 40MHz, 80MHz,160MHz bandwidth in 2.4GHz/ 5GHz or 6GHz* bands |
| | Supports 802.11 a/ b/ g/ n/ ac/ ax |
| | Supports Bluetooth® 5.2** |
| | * Wi-Fi 6E 6GHz may depend on every country's regulations and will be ready in Windows 10 build 21H1 and Windows 11. |
| | ** Bluetooth 5.2 will be ready in Windows 10 build 21H1 and Windows 11. |
| AUDIO | Realtek® ALC4080 Codec |
| | 7.1-Channel High Performance Audio |
| | Supports S/PDIF output |
| | Supports up to 32-Bit/384 kHz playback on front panel |
| INTERNAL I/O | 1x Power Connector(ATX_PWR) |
| | 2x Power Connector(CPU_PWR) |
| | 1x CPU Fan |
| | 1x Pump Fan |
| | 3x System Fan |
| | 2x Front Panel (JFP) |
| | 1x Chassis Intrusion (JCI) |
| | 1x Front Audio (JAUD) |
| | 1x Tuning Controller connector(JDASH) |
| | 2x Addressable V2 RGB LED connector (JARGB_V2) |
| | 2x RGB LED connector(JRGB) |
| | 1x TPM pin header(Support TPM 2.0) |
| | 4x USB 2.0 |
| | 2x USB 3.2 Gen1 Type A |
| | 1x USB 3.2 Gen2 Type C |
| LED FEATURE | 4x EZ Debug LED |
| BACK PANEL PORTS | DisplayPort 1.4 |
| | 2.5G LAN Port |
| | USB 3.2 Gen 2 10Gbps Type-A |
| | USB 3.2 Gen 1 5Gbps Type-A |
| | Wi-Fi / Bluetooth Antenna |
| | HD Audio Connectors |
| | Flash BIOS Button |
| | HDMI™ 2.1 Port |
| | USB 3.2 Gen 2×2 20Gbps Type-C |
| | Optical S/PDIF OUT |
| OPERATING SYSTEM | Support for Windows® 11 64-bit, Windows® 10 64-bit |
| PCB DIMENSION | mATX |
| | 243.84mmx243.84mm |
| CHIPSET | AMD B650 |
| CPU SUPPORT | Supports AMD Ryzen™ 7000 Series Desktop Processors |
| | Socket AM5 |
| MEMORY | 4x DDR5, Maximum Memory Capacity 128GB |
| | Memory Support DDR5 6400+(OC)/6200(OC)/6000(OC)/5800(OC)/5600(OC)/5400(OC)/5200(OC)/5000(OC)/4800(JEDEC) MHz |
| | Max. overclocking frequency: |
| | • 1DPC 1R Max speed up to 6400+ MHz |
| | • 1DPC 2R Max speed up to 5800+ MHz |
| | • 2DPC 1R Max speed up to 6000+ MHz |
| | • 2DPC 2R Max speed up to 4000+ MHz |
| | Supports Dual-Channel mode |
| | Supports non-ECC, un-buffered memory |
| | Supports AMD EXPO |
| ONBOARD GRAPHICS | 1x HDMI™ |
| | 1x DisplayPort |
| | Support HDMITM 2.1, maximum resolution of 4K 60Hz* |
| | Supports DP1.4, maximum resolution of 4K 60Hz* |
| | *Available only on processors featuring integrated graphics. Graphics specifications may vary depending on the CPU installed. |
| EXPANSION SLOT | 2x PCI-E x16 slot |
| | 1x PCI-E x1 slot |
| | PCI_E1 PCIe 4.0 supports up to x16 (From CPU) |
| | PCI_E2 PCIe 3.0 supports up to x1 (From Chipset) |
| | PCI_E3 PCIe 4.0 supports up to x4 (From Chipset) |
| STORAGE | 2x M.2 slot |
| | M.2_1 (From CPU) supports up to PCIe 4.0 x4 , supports 2280/2260 devices |
| | M.2_2 (From CPU) supports up to PCIe 4.0 x4 , supports 2280/2260 devices |
| | 4x SATA 6G port |
| RAID | Supports RAID 0, RAID 1 and RAID 10 for SATA storage devices |
| | Supports RAID 0 and RAID 1 for M.2 NVMe storage devices |
| USB | 4x USB 2.0 (Front) |
| | 4x USB 3.2 Gen1 Type A (Rear) |
| | 2x USB 3.2 Gen1 Type A (Front) |
| | 4x USB 3.2 Gen2 Type A (Rear) |
| | 1x USB 3.2 Gen2 Type C (Front) |
| LAN | Realtek® 8125BG 2.5G LAN |
| WIRELESS / BLUETOOTH | AMD Wi-Fi 6E |
| | The Wireless module is pre-installed in the M.2 (Key-E) slot |
| | Supports MU-MIMO TX/RX |
| | Supports 20MHz, 40MHz, 80MHz,160MHz bandwidth in 2.4GHz/ 5GHz or 6GHz* bands |
| | Supports 802.11 a/ b/ g/ n/ ac/ ax |
| | Supports Bluetooth® 5.2** |
| | * Wi-Fi 6E 6GHz may depend on every country's regulations and will be ready in Windows 10 build 21H1 and Windows 11. |
| | ** Bluetooth 5.2 will be ready in Windows 10 build 21H1 and Windows 11. |
| AUDIO | Realtek® ALC897 Codec |
| | 7.1-Channel High Definition Audio |
| INTERNAL I/O | 1x Power Connector(ATX_PWR) |
| | 2x Power Connector(CPU_PWR) |
| | 1x CPU Fan |
| | 1x Pump Fan |
| | 3x System Fan |
| | 2x Front Panel (JFP) |
| | 1x Chassis Intrusion (JCI) |
| | 1x Front Audio (JAUD) |
| | 1x Com Port (JCOM) |
| | 1x Tuning Controller connector(JDASH) |
| | 2x Addressable V2 RGB LED connector (JARGB_V2) |
| | 2x RGB LED connector(JRGB) |
| | 1x TPM pin header(Support TPM 2.0) |
| | 4x USB 2.0 |
| | 2x USB 3.2 Gen1 Type A |
| | 1x USB 3.2 Gen2 Type C |
| LED FEATURE | 4x EZ Debug LED |
| BACK PANEL PORTS | USB 3.2 Gen 2 10Gbps (Type-A) |
| | USB 3.2 Gen 1 5Gbps (Type-A) |
| | 2.5G LAN |
| | Wi-Fi / Bluetooth |
| | Audio connectors |
| | Flash BIOS Button |
| | DisplayPort |
| | HDMI™ |
| | USB 3.2 Gen 2 10Gbps (Type-A) |
| OPERATING SYSTEM | Support for Windows® 11 64-bit, Windows® 10 64-bit |
| PCB DIMENSION | mATX |
| | 243.84mmx243.84mm |