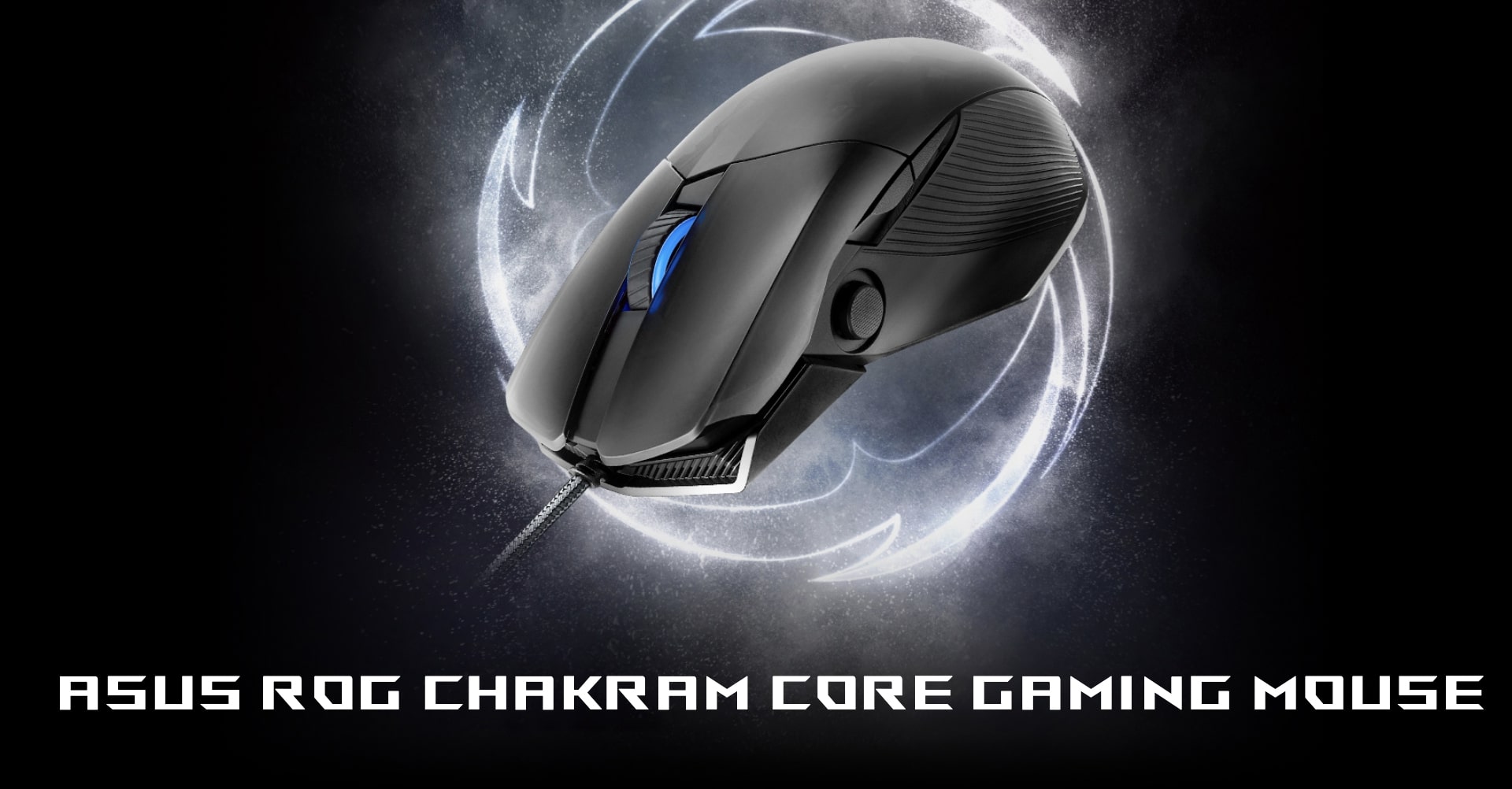 ROG Chakram Core gaming mouse featuring programmable joystick, advanced 16000 dpi sensor, push-fit switch sockets design, adjustable weight, stealth, instant screenshot and Aura Sync lighting
Features:
High-performance gaming mouse with 16,000 dpi optical sensor, 40 g acceleration, 400 ips, 1000 Hz polling rate and adjustable lift-off distance
Programmable, detachable joystick with 256-level Analog or 4-way directional Digital mode for superior in-game control
Screw-less design with magnetic buttons and cover provide easy access to ROG-exclusive push-fit switch sockets and adjustable weight
Pivoted button mechanism offers responsive mouse clicks with a tactile feel
Simply add or remove the adjustable 13.6 g weight for an overall weight of just 97 g or 111 g
DPI On-The-Scroll fine-tunes sensitivity levels without software, and a dedicated button switches between four preset levels instantly
Map the Stealth button to hide all apps and mute audio for instant privacy, or the Screenshot button to capture your moment of glory
Armoury Crate enables intuitive adjustment of joystick, buttons, mouse settings, and synchronized lighting
NVIDIA Reflex Latency Analyzer allows monitoring of mouse responsiveness in real-time
Overview:
GAME-CHANGING VERSATILITY AND CONTROL
Asus ROG Chakram Core is a 16,000 dpi, 1000 Hz wired gaming mouse with a programmable, removable joystick to put superior control right under your thumb. Featuring exclusive push-fit switch sockets, adjustable weight, and the unique DPI On-The-Scroll feature for sensitivity adjustment, Chakram Core puts everything you need right in your hand.
ULTRA PERFORMANCE
Asus ROG Chakram Core is equipped with a high-end optical sensor to give you the speed and accuracy you need. Its 100 to 16,000 dpi sensor tracks movements up to an astounding 400 inches per second (IPS) at up to 40 g acceleration. Its 1,000 Hz polling rate ensures lag-free responsiveness so the onscreen action reacts instantly.
PROGRAMMABLE JOYSTICK
Take advantage of the built-in joystick for unmatched levels of control with Asus ROG Chakram Core and your gaming keyboard. The joystick can be set to Digital or Analog modes to fit your play style. Choose between the long or the short joystick, or do away with it completely.
ANALOG MODE
The 256-level Analog mode in Asus ROG Chakram Core gives you a level of control you'd expect from a real analog joystick or gamepad joystick for much more precise control. Run-and-gun with your in-game character, drive a vehicle and fly a plane, all with Chakram Core.
DIGITAL MODE
In Digital mode, the joystick works in four directions and can be programmed for additional controls for first-person-shooter (FPS) or battle royale games. Simply push to reload, switch weapons, tilt, or open up in-game maps and more with Asus ROG Chakram Core.
SCREW-LESS, MODULAR DESIGN
Asus ROG Chakram Core has a screw-less modular design, with a magnetic cover and buttons, and exclusive push-fit switch sockets and adjustable weight providing loads of customization options to make Chakram Core your own.
FOR THE ULTIMATE EXPERIENCE
Asus ROG Chakram Core is engineered for an exceptional gaming experience, with features that elevate it beyond the competition.
STEALTH, INSTANT SCREENSHOT, AND TARGET FOCUS
Use Armoury Crate to map Stealth, Instant Screenshot, or Target Focus commands onto any button or the joystick in digital mode. Stealth hides all apps and mutes audio for instant privacy, Instant Screenshot lets you capture your moment of glory. Target Focus instantly lowers sensitivity level for more precise sniping.
Specifications:
Connectivity
USB 2.0
Sensor
PAW3335 Optical Sensor
Resolution
100-16,000 DPI
Max Speed
400 IPS
Max Acceleration
40 g
USB Report rate
1000 Hz
L/R Switch Type
Omron (D2FC-F-K) 50M
Button
9 (5 + 4 in digital joystick mode)
AURA Sync
Yes
Shape
Right-handed
Grip style
Palm grip

Fingertip grip

Cable
1.8 m braided cable
OS
Windows® 10
Software
Armoury Crate
Dimensions
132.7 x 76.6 x 42.8 mm
Weight With Cable
97 / 111 g (without cable)
Color
Black
Contents
1 x ROG Chakram Core
1x short joystick
1 x long joystick
1 x joystick socket cover
1 x switch remover
1 x 13.6g adjustable weight
2 x ROG stickers
1 x Quick Start Guide
1 x Warranty Booklet
Warranty
1 Year