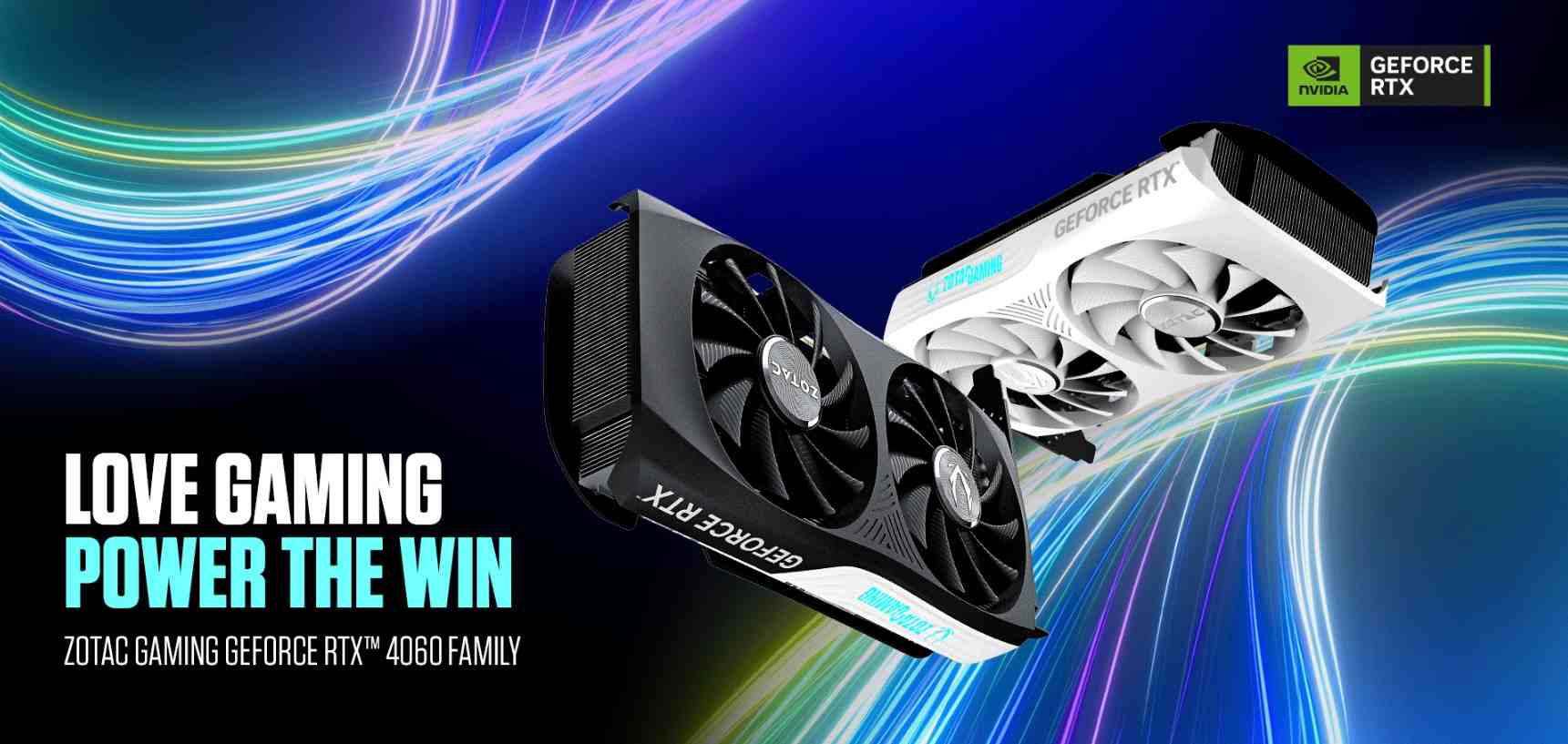 The Zotac RTX 4060 Twin Edge OC  8GB White Edition is a compact and capable graphics card, featuring the NVIDIA Ada Lovelace architecture and an aerodynamic-inspired design. With a reduced 2 slot size, it's an excellent choice for those who want to build a SFF gaming PC capable of smooth framerate and 1080p performance in the latest title releases.
Features of Zotac RTX 4060 Ti Twin Edge 8GB :
Powered by NVIDIA DLSS 3, ultra-efficient Ada Lovelace arch, and full ray tracing
Compact design with 2 Slot footprint
Metal Backplate
Freeze Fan Stop
221.4 mm / 8.7 in length
8-Pin PCIe power connector
All-new FireStorm Utility (DOWNLOAD/ LEARN MORE)
Overview of Zotac RTX 4060 Ti Twin Edge 8GB :
WIDE CASE COMPATIBILITY
The compact design of the Zotac RTX 4060 Twin Edge OC 8GB White make it easier for gamers looking to upgrade. With a slim 2.2-slot width and up to 8.9inch / 225.5mm short length, most PC cases available can easily accommodate with a simple drop-in installation.
STANDARD 8-PIN POWER
A single 8-pin PCIe power connector is all that's needed to power this GPU. A lower 500W minimum recommended power supply (PSU) means that there are potentially less components needed for an upgrade, making it a more appealing upgrade choice.
ADVANCED COOLING
Refined in every aspect, IceStorm 2.0 is our advanced cooling system made to push the limit of GPU performance in even the most graphically demanding PC games.
*Available on select models
COMPOSITE HEATPIPES
Made of composite layers consisting of a thicker envelope and a grooved wick with a multi-channel working fluid, each heat pipe is more efficient at transferring heat.
AIR FLOW
With ample ventilation paths, airflow can maneuver and exhaust from almost every side to minimize trapped heat.
NOISE REFINED
ZOTAC GAMING brings new noise-reducing features to the Zotac RTX 4060 Twin Edge OC 8GB White to enhance immersion when gaming.
FAN STOP
The fans freeze automatically when the Zotac RTX 4060 Twin Edge OC 8GB White GPU is idle. This automatic smart control results in lower noise levels, extended fan longevity, and efficient cooling.
ACTIVE FAN CONTROL
Adjust fan rotations independently via the ZOTAC GAMING FireStorm Utility to apply increased airflow only to where it's needed.
STRONG BACKSIDE
The Zotac RTX 4060 Twin Edge OC 8GB White family's rigidity is achieved with a metal backplate, giving it a strong foundation in durability.
*Available on select models
SPECTRA RGB LIGHTING
ZOTAC GAMING's SPECTRA system enables vibrant RGB LED.
NEW. SIMPLE. INTUITIVE.
The all-new ZOTAC GAMING FireStorm Utility for 40 Series features an entirely re-designed interface that makes complex fine-tuning tasks easier to do. The new software comes with a host of tuning and monitoring options that include clock speeds, GPU memory frequencies, voltage, fan speed, fan curve settings and SPECTRA RGB lighting effects.
Specifications of Zotac RTX 4060 Ti Twin Edge 8GB :
GeForce RTX 4060
3072
8GB GDDR6
128-bit
Boost: 2490 MHz
17 Gbps
4.0 x8
3 x DisplayPort 1.4a (up to 7680×4320@60Hz)
1 x HDMI® Connector*
*Supports 4K 120Hz HDR, 8K 60Hz HDR, and Variable Refresh Rate as specified in the HDMI 2.1a Specification
2.3
Quad Display
500W
115W
1 x 8-pin PCIe
12 Ultimate
4.6
Air Cooled
2 slot
N/A
Windows 11 / 10 (64-bit, v1809 November 2018 or later)
221.4mm x 122.7mm x 43.1mm / 8.7″ x 4.8″ x 1.7″
User Manual