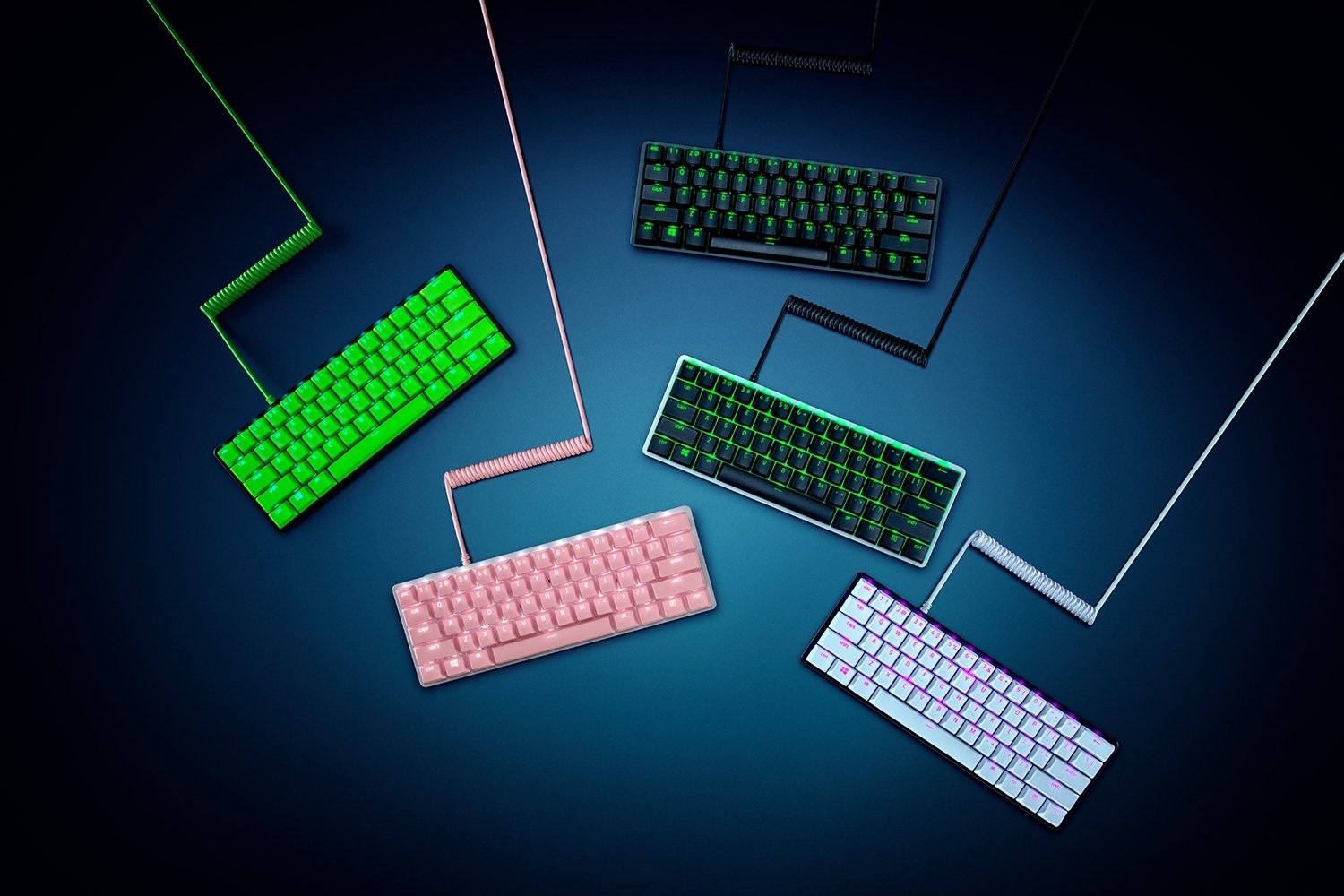 Overview:
THE KEYS TO VICTORY
With the Razer PBT Keycap and Coiled Cable Upgrade Set Razer Green, victory comes in different shades. Now available with a matching coiled cable for more freedom of play, you can finally cap off your keyboard with a truly customized look
DURABLE DOUBLESHOT PBT KEYCAPS
Made of premium PBT plastic, the keycaps have a textured look and feel that won't wear down to a shiny finish with use. Featuring shine-through legends with ultra-thin fonts, their unique doubleshot molding process ensures a design that will never fade over time.
MATCHING COILED CABLE
No keyboard customization would be complete without some slick cable management, which is why the set comes with a cable that does just that. Extendable to up to 2m, it also gives you more flexibility for keyboard positioning.
LAYS FLUSH WITH YOUR DESK
The cable has been specially coiled so both ends remain flat on your desk—a satisfying detail for an even cleaner aesthetic.
TOUGH BRAIDED FIBER EXTERIOR
Protects against abrasion, tearing and fraying, while strain relief at the connectors increase its durability even further.
USB-C TO USB-A
Designed to perfectly fit your USB-C keyboard and replace its existing detachable cable.
YOUR KEYBOARD. YOUR RULES.
Try your hand at keyboard customization with our interactive setup to get a sense of how it'll look like before you make your choice.
UNIVERSAL COMPATIBILITY
The Razer PBT Keycap and Coiled Cable Upgrade Set Razer Green works with Razer's 60%, Tenkeyless (TKL), and Full-sized mechanical/optical keyboards, and consists of 120 keycaps compatible with standard US and UK layouts.
QUICK & EASY INSTALLATION
The Razer PBT Keycap and Coiled Cable Upgrade Set Razer Green includes all the tools and parts you need to conveniently install the keycaps on Razer and other compatible mechanical/optical keyboards.
Specifications:
AT A GLANCE
• Keycap Material: PBT Material
• Keycap Count: 120
• Stem Compatibility: Fits most cross-shaped axis switches
• Layout(s) Supported: Standard bottom row US and UK layout
• Compatible with Razer's: 60%, Tenkeyless and Full-sized Keyboards
• Total Cable Length: 2,000 mm uncoiled (1,150 mm coiled)
• Straight Cable Length: 1,000 mm
• Coiled Length: 150 mm
• Coiled Diameter: 15 mm
• Cable Outer Material: Braided Fiber Cable
• Cable Inner Material: Aluminum Braiding with TPU insulation