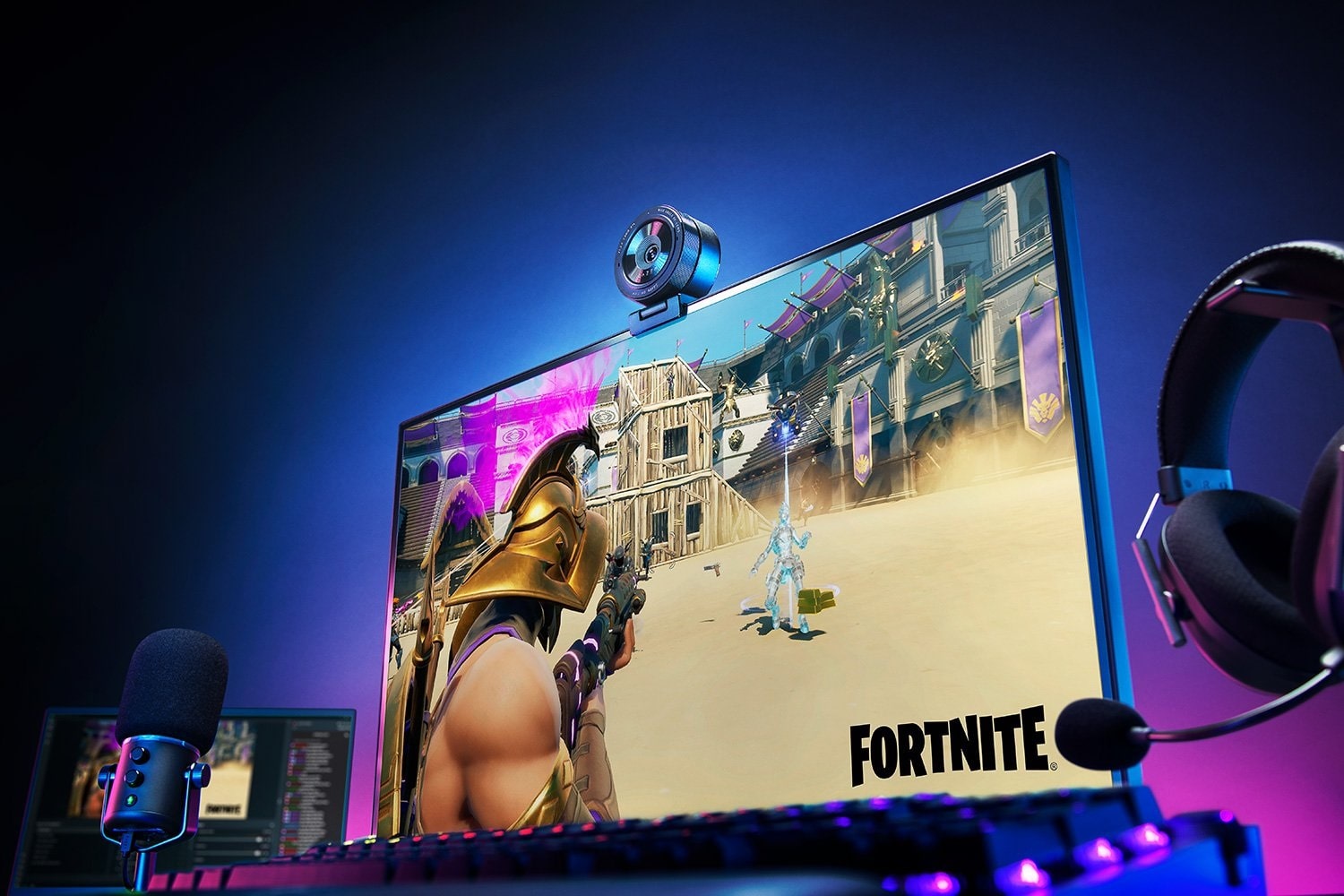 Razer Kiyo Pro USB Webcam USB Webcam with High-Performance Adaptive Light Sensor
Overview:
ADVANCED IMAGING. ABSOLUTE FIDELITY.
Achieve professional video standards for streaming and video conferencing with the Razer Kiyo Pro USB Webcam—an FHD USB webcam that has a high-performance adaptive light sensor, so you can enjoy crisp, clear quality in any setup and lighting condition.
SUPERIOR VISUAL FIDELITY TO 4K WEBCAMS
When it comes to visual fidelity, 4K resolution isn't everything. In fact, achieving superb resolution and accurate color representation quality in any light is dependent on a webcam's light sensor and pixel size. The Razer Kiyo Pro USB Webcam is superior to 4K webcams in these 2 key areas, which means it can provide superior visual fidelity regardless of what lighting setup or condition you have.
ADAPTIVE LIGHT SENSOR
Fitted with a larger Type 1/2.8 ultra-sensitive CMOS sensor with STARVIS™* technology, this FHD USB webcam can detect how bright or dark its surroundings are and adjust accordingly for picture-perfect clarity every time.
UNCOMPRESSED 1080P 60FPS
As an FHD USB webcam, the Razer Kiyo Pro USB Webcam offers a level of visual fidelity that's as sharp as it is smooth, for the most optimal video quality and viewer experience you can get.
HDR-ENABLED AT 30FPS
Make your stream pop with more vibrant colors by activating HDR at 30FPS, which ramps up your video's dynamic range while correcting over and underexposed areas.
WIDE-ANGLE LENS WITH ADJUSTABLE FOV
From showing off more of your setup and surroundings, to capturing more people in your shot, the large aperture, wide-angle lens allows for three field-of-view options selectable via Razer Synapse.
FLEXIBLE MOUNTING OPTIONS
The stable webcam mount can be tilted to the perfect angle as it sits snugly on your monitor or table, but can also be detached if you prefer the webcam to be on a tripod setup.
USB 3.0
With an easy plug-and-play connection, the Razer Kiyo Pro USB Webcam delivers a powerful 5GB/s camera signal to your stream, allowing for maximized video performance with no compression whatsoever.
PRIVACY COVER
The Razer Kiyo Pro USB Webcam comes with a cover that protects the webcam's lens and gives you the assurance of privacy when not in use.
DESIGNED WITH CORNING® GORILLA® GLASS 3
To improve the image quality, durability and longevity of the Razer Kiyo Pro USB Webcam, its lens is designed with damage- and scratch-resistant Corning Gorilla® Glass 3. In lab tests, Gorilla Glass 3 provides up to 4x improvement in scratch resistance when compared to competitive aluminosilicate glasses from other manufacturers.
Specifications:
VIDEO RESOLUTION
1080p @ 60 / 30 / 24 FPS / 720p @ 60 FPS / 480p @ 30 FPS / 360p @ 30 FPS
FIELD OF VIEW
103°, 90°, 80°
IMAGE RESOLUTION
2.1 Megapixels
STILL IMAGE RESOLUTION
1920 x 1080
CONNECTION TYPE
USB3.0
FOCUS TYPE
Auto
VIDEO ENCODING

USB 3.0 : YUY2. & NV12 (uncompressed)
USB 2.0 H264 codec. (compressed)

MOUNTING OPTIONS
L-shape joint and Tripod (Not included)
IMAGE QUALITY SETTINGS CUSTOMIZATION
Yes
CABLE LENGTH
1.5 meters braided cable
AUDIO CODEC
16 Bit 48 KHz
POLAR PATTERNS
Omnidirectional
SENSITIVITY
-38 dB
COMPATIBILITY

PC with a free USB port
Windows® 8 (or higher)
Internet connection
500 MB of free hard disk space*
Compatible with Open Broadcaster Software and Xsplit