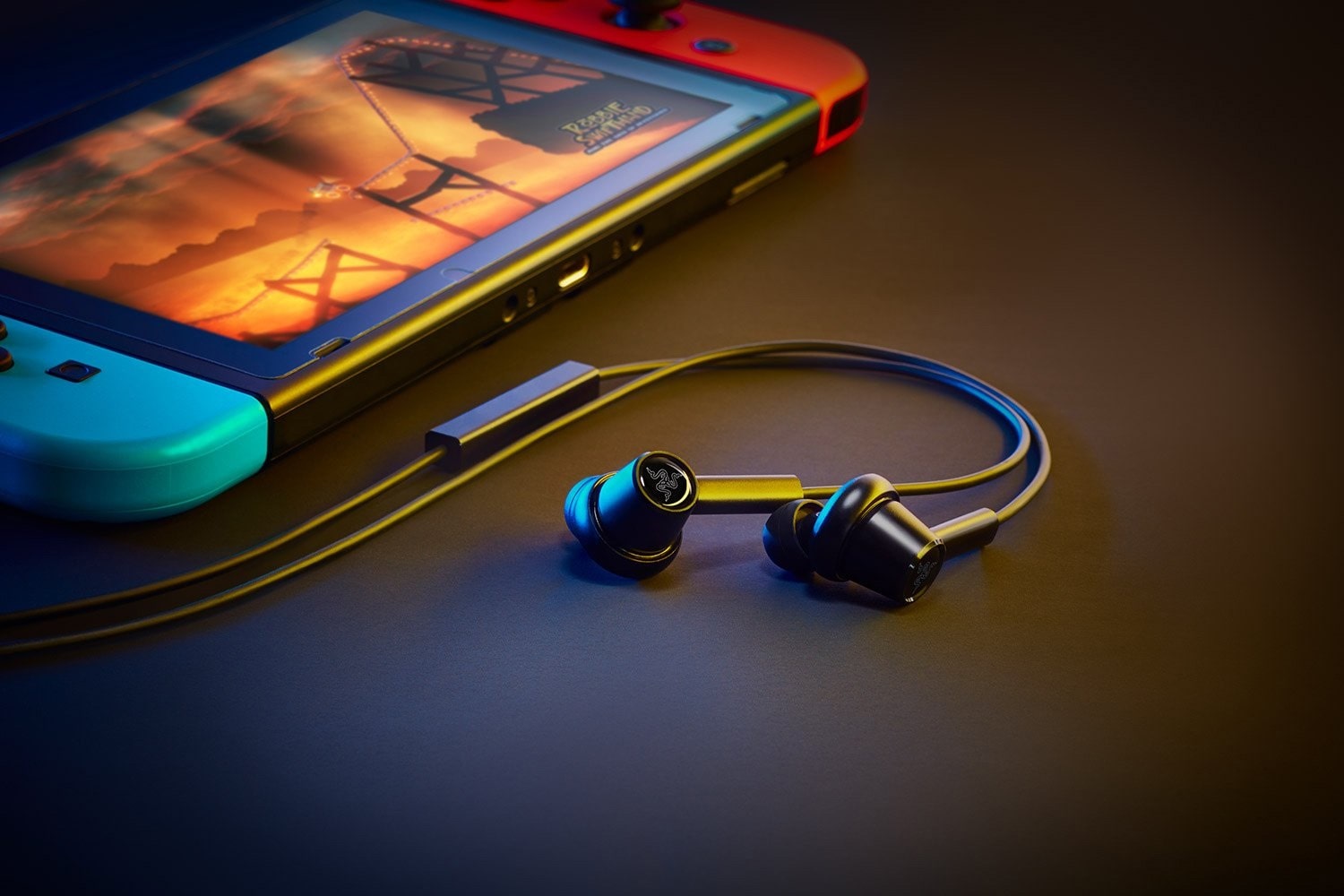 Overview:
DOUBLE THE IMMERSION
On your daily commute, you tune out from your surroundings by tuning in to your favorite music, watching your favorite movies or playing your favorite games. Immerse yourself with Razer in-ear headphones featuring custom-tuned dual driver technology that doubles your entertainment experience on the go.
Meet the Razer Hammerhead Duo.
DUAL DRIVER TECHNOLOGY
What makes dual drivers different from a single driver headphone is the ability to separate deep bass from mid and high frequencies. Dedicated dynamic and balanced armature drivers deliver rich and full range audio for superior clarity, so you'll experience greater immersive sound with music, movies, and games, wherever you go.
UNCOMPROMISED FEATURE SET
1. Three Silicone Tip Sizes
Various size options let you achieve a comfortable and secure fit that effectively reduces unwanted noise.
2. Aluminum Frame & Braided Cables
Its frame is robust to meet the demands of daily use, while the braided cables ensure you don't have to stress over tangling.
3. Inline Control & Mic
Whether it's taking a call on the road or quickly adjusting the volume, the inline control & mic keeps things fuss-free.
4. Analog 3.5mm Jack
The Razer Hammerhead Duo is ideal across multiple platforms, so it works perfectly with your mobile devices and PC.
THE RAZER HAMMERHEAD DUO –
COMPATIBLE WITH THE NINTENDO SWITCH
The Razer Hammerhead Duo also comes in a Nintendo Switch™ edition that brings dual driver technology to console gaming. Featuring braided cables for added durability, a mic with mute switch for on-the fly communication, and a dedicated carry case for convenient and portable storage.
Specifications:
HEADPHONE FREQUENCY RESPONSE
20 Hz-20 KHz
HEADPHONE IMPEDANCE
32 Ω ± 15%
HEADPHONE SENSITIVITY
112 ± 3 dB (Max SPL)
HEADPHONE INPUT POWER
10 mW / 20 mW
HEADPHONE DRIVERS
Dynamic + Balanced Armature
HEADPHONE CONNECTOR
3.5 mm angled jack
CABLE LENGTH
1.2 m
WEIGHT
17 g
MICROPHONE FREQUENCY RESPONSE
100 Hz -10 kHz
MICROPHONE PICK UP PATTERN
Omni-directional
MICROPHONE SIGNAL-TO-NOISE RATIO
≥ 58 dB
MICROPHONE SENSITIVITY (@1KHZ)
-40 ± 3 dB
COMPATIBILITY

Devices with 3.5 mm audio jack
Devices with 3.5 mm audio + microphone combined jack