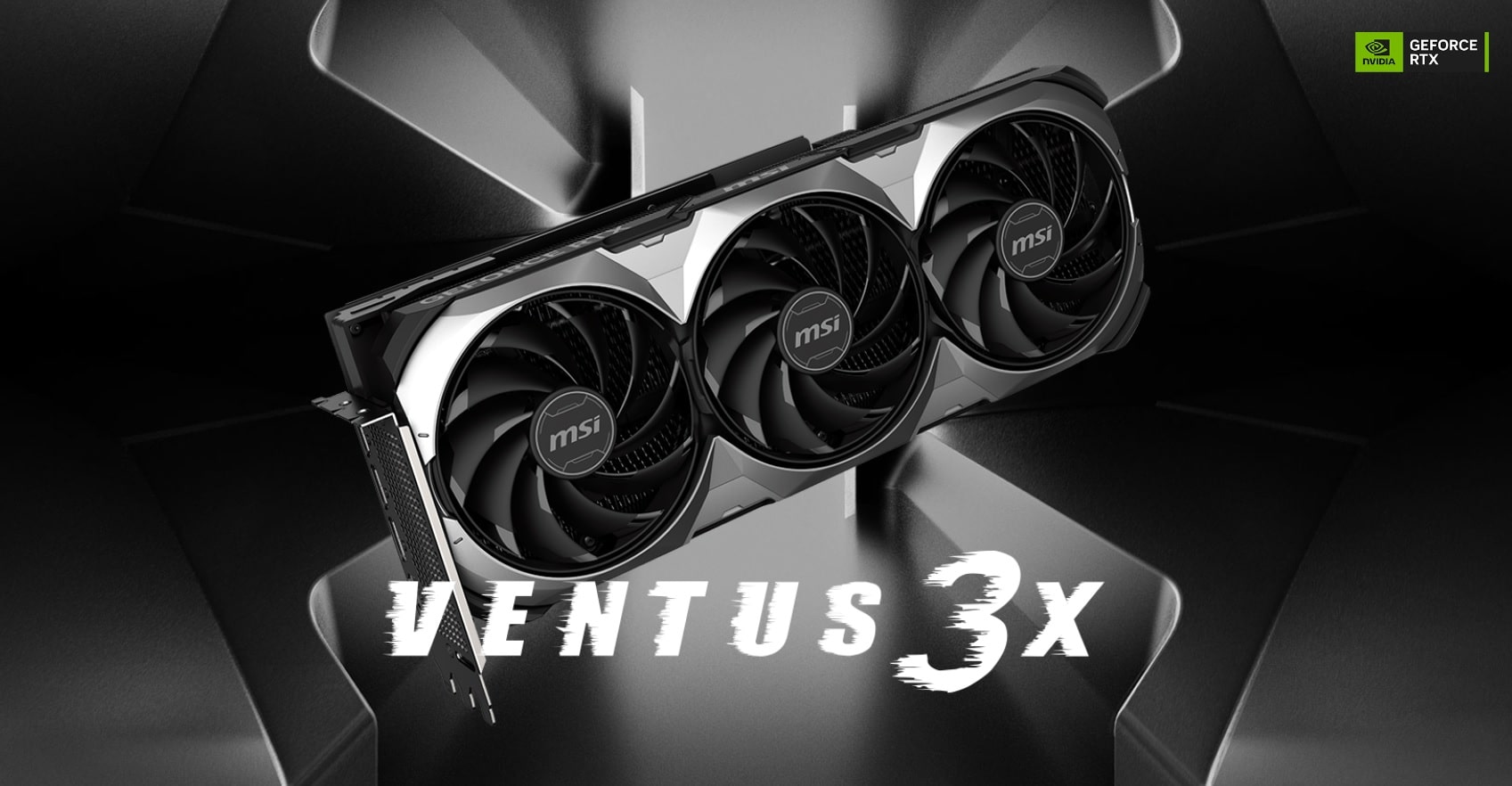 Features :
The MSI RTX 4080 16GB Ventus 3X OC delivers the ultra performance and features that enthusiast gamers and creators demand. Bring your games and creative projects to life with ray tracing and AI-powered graphics. It's powered by the ultra-efficient NVIDIA Ada Lovelace architecture and up to 16GB of superfast G6X memory.
Boost Clock / Memory Speed
Extreme Performance: 2550 MHz (MSI Center)
Boost: 2535 MHz
22.4 Gbps
16GB GDDR6X
DisplayPort x 3 (v1.4a)
HDMI™ x 1 (Supports 4K@120Hz HDR, 8K@60Hz HDR, and Variable Refresh Rate as specified in HDMI 2.1a)
Triple Fan Thermal Design
TORX Fan 4.0: A masterpiece of teamwork, fan blades work in pairs to create unprecedented levels of focused air pressure.
Airflow Control: Don't sweat it, Airflow Control guides the air to exactly where it needs to be for maximum cooling.
Core Pipe: Precision-crafted heat pipes ensure max contact to the MSI RTX 4080 16GB Ventus 3X OC GPU and spread heat along the full length of the heatsink.
Zero Frozr:The fans completely stop when temperatures are relatively low, eliminating all noise.
Metal Backplate
Thermal pads under the sturdy flow-through metal backplate helps with cooling.
MSI Center
The exclusive MSI Center software lets you monitor, tweak, and optimize MSI products in real-time.
Overview :
Take The Essentials
MSI RTX 4080 16GB Ventus 3X OC brings a fundamentally solid experience to users looking for a performance graphics card. A sharp-looking updated design with TORX FAN 4.0 and Airflow Control lets MSI RTX 4080 16GB Ventus 3X OC breeze through any task.
Revolutionary
Triple-Fan Thermal
Three fans on a huge heatsink ensures a cool and quiet experience.
Copper baseplate
Heat from the MSI RTX 4080 16GB Ventus 3X OC GPU and memory modules is immediately captured by a solid nickel-plated copper baseplate and then rapidly transferred to an array of heat pipes. This widening of the thermal transfer systems with highly efficient mechanisms improves overall efficiency.
Corepipe
Core Pipes are precision-crafted to make maximum use of the available space. A squared section of heat pipes fully touch the GPU baseplate to then spread heat along the full length of the heatsink.
Airflow control
Stay stealthy with Airflow Control which improves airflow dynamics. Deflectors provide additional surface area and guide air to where it's needed for maximum cooling.
TORX FAN 4.0
TORX FAN 4.0 is built on teamwork, with pairs of fan blades bound together with a linked outer ring design that focuses airflow into the Triple-Fan cooling system.
Emphasizing Endurance
Double Ball Bearing
The fan core spins TORX FAN for years of intense and lengthy gaming sessions.
Effective Thermal Padding
An abundance of clay-based thermal pads provide additional heat dissipation for board components.
Metal Backplate
MSI RTX 4080 16GB Ventus 3X OC has a sturdy brushed aluminum backplate features a flow-through design that provides additional ventilation.
Hardening Every Detail-Custom PCB
DrMos
DrMOS power stage solutions provide great efficiency with low power loss and enhanced voltage controls.
2 Oz Copper
A thickened copper layer inside the PCB in MSI RTX 4080 16GB Ventus 3X OC increases conductivity which improves heat dissipation and reliability.
Fuse
Additional fuses built into the custom PCB provide additional safeguards against electrical damage.
Sheet-Metal Anti-Bending
A sheet-metal anti-bending plate reinforces the whole card while thermal pads allow cooling to reach critical component underneath.
Support Bracket
A bundled support bracket can be attached to your PC case for additional graphics card reinforcement.
Specification :
MODEL NAME
MSI RTX 4080 16GB Ventus 3X OC
GRAPHICS PROCESSING UNIT
NVIDIA® GeForce RTX™ 4080 16GB
INTERFACE
PCI Express® Gen 4
CORE CLOCKS
Extreme Performance: 2550 MHz (MSI Center)
Boost: 2535 MHz
CUDA® CORES
9728 Units
MEMORY SPEED
22.4 Gbps
MEMORY
16GB GDDR6X
MEMORY BUS
256-bit
OUTPUT
DisplayPort x 3 (v1.4a)
HDMI™ x 1 (Supports 4K@120Hz HDR, 8K@60Hz HDR, and Variable Refresh Rate as specified in HDMI 2.1a)
HDCP SUPPORT
Y
POWER CONSUMPTION
320W
POWER CONNECTORS
16pin x 1
RECOMMENDED PSU
750W
CARD DIMENSION (MM)
322 x 136 x 63mm
WEIGHT (CARD / PACKAGE)
1595g / 2200g
DIRECTX VERSION SUPPORT
12 Ultimate
OPENGL VERSION SUPPORT
4.6
MAXIMUM DISPLAYS
4
G-SYNC® TECHNOLOGY
Y
DIGITAL MAXIMUM RESOLUTION
7680 x 4320
WARRANTY
3 Years