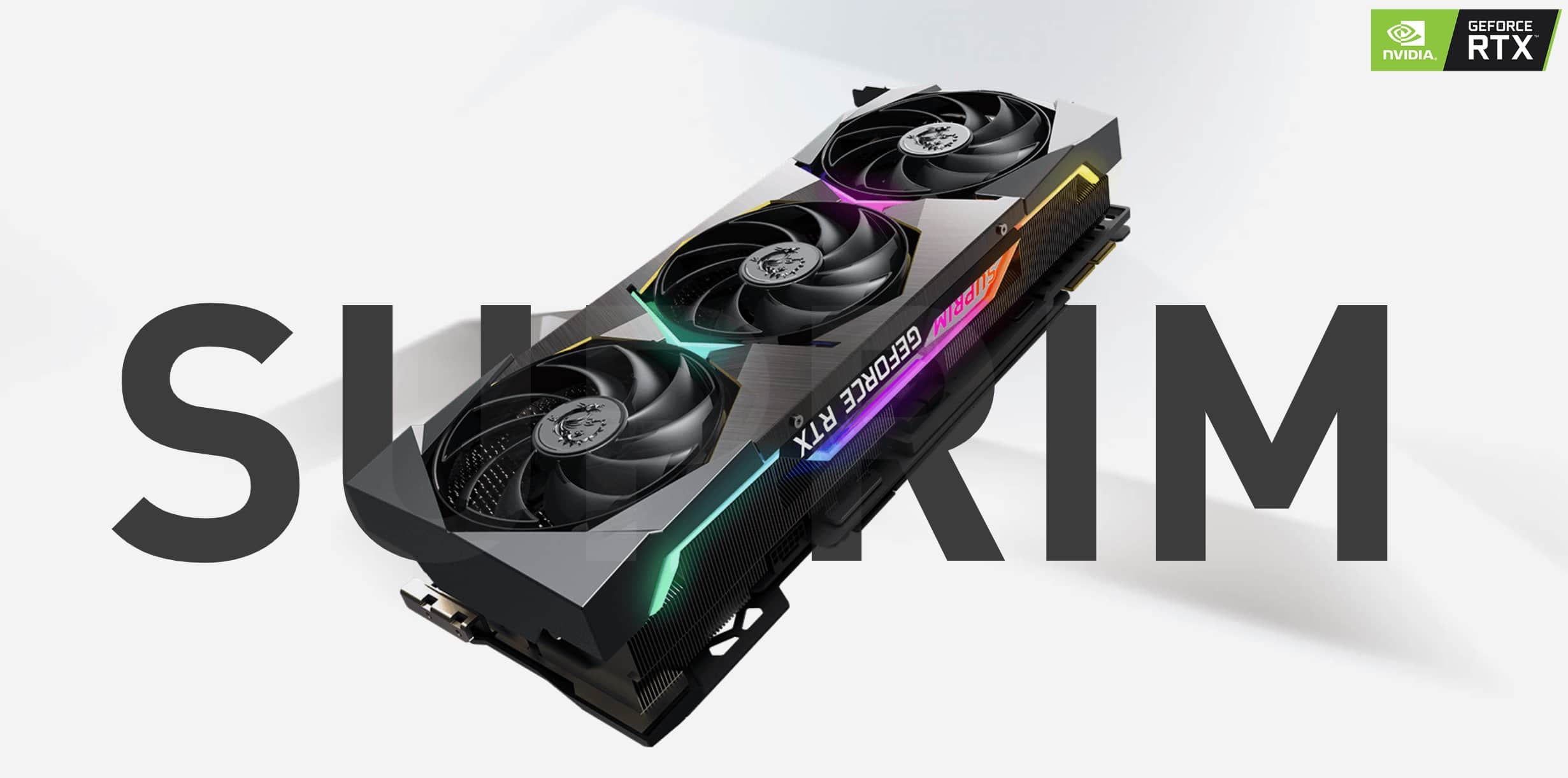 Features :
The MSI RTX 3090 Ti Suprim X 24GB is colossally powerful in every way, giving you a whole new tier of performance. It's powered by the NVIDIA Ampere architecture, which doubles down on ray tracing and AI performance with enhanced RT Cores, Tensor Cores, and new streaming multiprocessors.
Boost Clock / Memory Speed
1950 MHz (GAMING & SILENT Mode) / 21 Gbps
24GB GDDR6X
DisplayPort x 3 (v1.4a)
HDMI x 1 (2.1) (Supports 4K 120Hz HDR, 8K 60Hz HDR and Variable Refresh Rate as specified in HDMI 2.1)
TRI FROZR 2S Thermal Design
TORX Fan 4.0: A masterpiece of teamwork, fan blades work in pairs to create unprecedented levels of focused air pressure.
Core Pipe: Precision-machined heat pipes ensure max contact to the GPU and spread heat along the full length of the heatsink.
Airflow Control: Don't sweat it, Airflow Control guides the air to exactly where it needs to be for maximum cooling.
Copper Baseplate: A solid nickel-plated copper baseplate transfers heat from the GPU and memory modules to all the heatpipes.
Dual BIOS
Dual BIOS gives you the choice to prioritize for full performance in GAMING mode or low noise in SILENT mode.
MSI Center
The exclusive MSI Center software lets you monitor, tweak and optimize MSI products in real-time.
Mystic Light
Controls lighting for both MSI and compatible third-party RGB products.
Overview :
CHANGE THE GAME
20 YEARS IN THE MAKING
While striving for the SUperior gaming experience, our PRofound journey across decades took us to destinations previously thought IMpossible. Across years of high-performance circuit design, MSI is proud to bring its latest masterpiece to life.
MSI RTX 3090 Ti Suprim X 24GB is the next leap in graphic cards design.
CHISELED TO PERFECTION
Built upon two decades of award-winning graphics cards, the time to evolve beyond Gaming has come. A new design philosophy takes shape to pave the way for a new prestigious series.
TRI FROZR 2S
NEVER LOSE YOUR COOL
TRI FROZR 2S stays cool in style. Thermals are kept in check in masterful ways under a sculpted MSI RTX 3090 Ti Suprim X 24GB exterior, letting you focus on enjoying your games in all their glory.
TORX FAN 4.0
TORX FAN 4.0 is a masterpiece built on teamwork, with pairs of fan blades linked together with a revolutionary ring design to focus airflow and air pressure into the heatsink.
COPPER BASEPLATE FACING THE HEAT HEAD-ON
Heat from the MSI RTX 3090 Ti Suprim X 24GB GPU and memory modules is immediately captured by a solid nickel-plated copper baseplate and then rapidly transferred to an array of heatpipes.
This widening of the thermal transfer systems with highly efficient mechanisms starting at the base improves overall efficiency.
CORE PIPES KEEPING THE CORE COOL
Core Pipes are precision-machined for maximum contact over the MSI RTX 3090 Ti Suprim X 24GB GPU and spread the heat along the full length of the heatsink for optimal cooling.
AIRFLOW CONTROL
Don't sweat it. Airflow Control improves airflow dynamics through the heatsink for improved thermals and quieter acoustics. Deflectors provide additional surface area and guide air to where it's needed for maximum cooling.
Wave-curved 2.0 fin edges disrupt unwanted airflow harmonics resulting in reduced noise.
MASTERY OF EVERY DETAIL
Scrupulous attention to detail and an ability to adapt are key to conquering any challenge.
FROZEN IN PLACE
Zero Frozr is the calm before the storm. The fans completely stop when temperatures are relatively low, eliminating all noise when active cooling is unneeded. The fans will automatically start spinning again when the heat is on during gaming.
UTTERLY UNSTOPPABLE
Extremely durable double-ball bearings spin your TORX FANs for years of intense and lengthy gaming sessions in zero noise.
THE FINISHING TOUCH
An abundance of thermal pads provide additional heat dissipation for board components.
COOL ALL AROUND
There's more than meets the eye. Thermal pads beneath the sturdy brushed-finish metal backplate provide additional cooling.
TRUE POWER LIES WITHIN
From its foundations, MSI RTX 3090 Ti Suprim X 24GB is designed to withstand and channel raw power into glorious moments.
POWERING EVERY ADVENTURE
Go Big or Go Stealthy
Dual BIOS in MSI RTX 3090 Ti Suprim X 24GB gives you the choice to prioritize for full performance in GAMING mode or low noise in SILENT mode.
Hardened Defenses
MSI RTX 3090 Ti Suprim X 24GB has Additional fuses built into the custom PCB provide additional safeguards against electrical damage.
Upgraded Foundations
MSI RTX 3090 Ti Suprim X 24GB has thickened copper layer inside the PCB increases conductivity which improves heat dissipation and high-performance reliability.
ANTI BENDING DEFYING GRAVITY
An enclosed rigid metal anti-bending plate provides additional strength to ensure structural integrity with the enlarged heatsink.
UNYIELDING SUPPORT
A bundled support holder provides additional graphics card reinforcement.
AFTERBURNER
MSI Afterburner is the most recognized and widely used graphics card overclocking software in the world. Take full control of the graphics card while monitoring key system metrics in real-time. It's free to use and compatible with most other vendor graphics cards.
Specification :
MODEL NAME
MSI RTX 3090 Ti Suprim X 24GB
GRAPHICS PROCESSING UNIT
NVIDIA® GeForce RTX™ 3090 Ti
INTERFACE
PCI Express® Gen 4
CUDA® CORES
10752 Units
CORE CLOCKS
Extreme Performance: 1965 MHz (MSI Center)
Boost: 1950 MHz (GAMING & SILENT Mode)
MEMORY SPEED
21 Gbps
MEMORY
24GB GDDR6X
MEMORY BUS
384-bit
OUTPUT
DisplayPort x 3 (v1.4a)
HDMI x 1 (2.1) (Supports 4K 120Hz HDR, 8K 60Hz HDR and Variable Refresh Rate as specified in HDMI 2.1)
HDCP SUPPORT
Y
POWER CONSUMPTION
480W
POWER CONNECTORS
16-pin x 1
RECOMMENDED PSU
850 W
CARD DIMENSION (MM)
338 x 140 x 71 mm
WEIGHT (CARD / PACKAGE)
2154g / 3309g
DIRECTX VERSION SUPPORT
12 Ultimate
OPENGL VERSION SUPPORT
4.6
NVLINK SUPPORT
Y
MAXIMUM DISPLAYS
4
VR READY
Y
G-SYNC® TECHNOLOGY
Y
DIGITAL MAXIMUM RESOLUTION
7680 x 4320
WARRANTY
3 Years