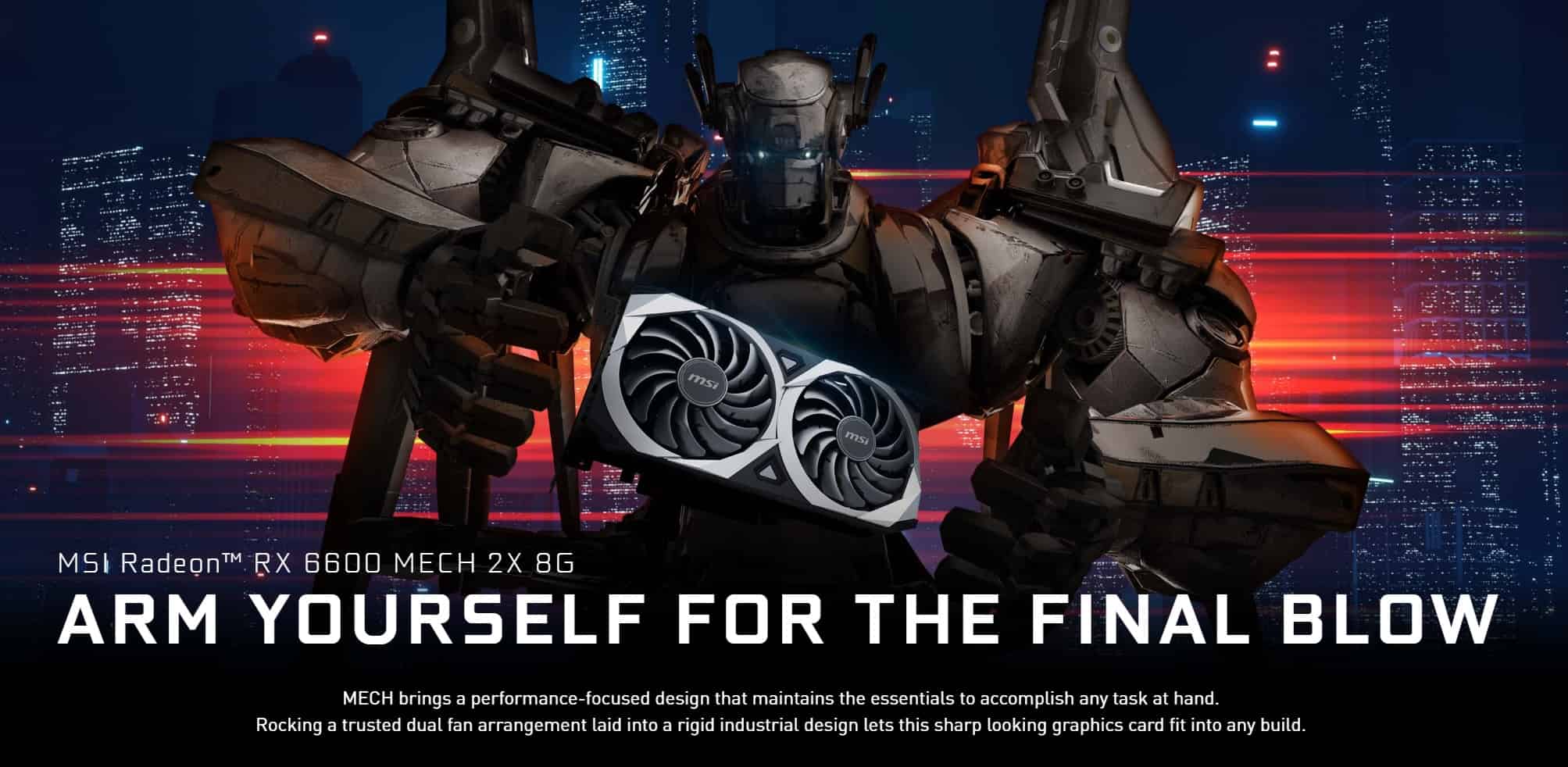 Features :
Gear up for incredible 1080p gaming performance. The MSI Radeon RX 6600 MECH 2X 8GB graphics cards, featuring the breakthrough AMD RDNA™ 2 architecture. Engineered to deliver an incredible 1080p gaming experience, the MSI Radeon RX 6600 MECH 2X 8GB powers the next generation of gaming with vivid visuals and elevated experiences.
Boost Clock / Memory Speed
Up to 2602 MHz / 16 Gbps
8GB GDDR6
DisplayPort x 3 (v1.4)
HDMI x 1 (Supports 4K@120Hz/8K@60Hz and VRR as specified in HDMI 2.1)
Dual Fan Thermal Design
TORX Fan 3.0: The award-winning MSI TORX Fan 3.0 design creates high static pressure and pushes the limits of thermal performance.
Afterburner Overclocking Utility
Supports multi-GPU setups.
OC Scanner: An automated function finds the highest stable overclock settings.
On Screen Display: Provides real-time information of your system's performance.
Predator: In-game video recording.
MSI Center
The exclusive MSI Center software lets you monitor, tweak and optimize MSI products in real-time.
Overview :
ARM YOURSELF FOR THE FINAL BLOW
MSI Radeon RX 6600 MECH 2X 8GB brings a performance-focused design that maintains the essentials to accomplish any task at hand.
Rocking a trusted dual fan arrangement laid into a rigid industrial design lets this sharp looking graphics card fit into any build.
BACKPLATE
A clean-looking brushed-finish backplate reinforces the length of the card.
DUAL FAN DESIGN
The award-winning MSI TORX Fan 3.0 design keeps the limits of thermal performance turning. Fan blades alternate between traditional blades and dispersion blades that focus and accelerate airflow into the heatsink.
CHILLINGLY SILENT
Zero Frozr is the calm before the storm. The fans completely stop when temperatures are relatively low, eliminating all noise when active cooting is unneeded. The fans will automaticatlly start spinning again when the heat is on during gaming.
TOUGH ENOUGH TO BACK YOU UP!
MECH has been crafted to serve you well during intense gameplay. MSI Radeon RX 6600 MECH 2X 8GB legendary item has extra power unlocked through the Custom PCB.
BETTER SAFE THAN SORRY
Additional fuses built into the custom PCB provide additional safeguards against electrical damage.
FORGED FROM ENHANCED MATERIALS
An enhanced PCB material design with 2oz thickened copper increases conductivity, improving heat dissipation, and high-performance reliability.
TRACES OF BRILLIANCE
TAILORED PCB DESIGN
Not all circuit boards are created equal. A custom PCB Design provides greater reliability and beefed up power circuitry for pushing the card to its limits.
PERFORMANCE TO LEVEL UP YOUR GAME
Gear up for incredible 1080p gaming performance on MSI Radeon RX 6600 MECH 2X 8GB. Built on revolutionary AMD RDNA 2 architecture.
Specification : 
MODEL NAME
MSI Radeon RX 6600 MECH 2X 8GB
GRAPHICS PROCESSING UNIT
AMD Radeon™ RX 6600
INTERFACE
PCI Express® 4.0 x8
CORES
1792 Units
CORE CLOCKS
Boost: Up to 2491 MHz
Game: Up to 2044 MHz
MEMORY SPEED
14 Gbps
MEMORY
8GB GDDR6
MEMORY BUS
128-bit
OUTPUT
DisplayPort x 3 (v1.4)
HDMI x 1 (Supports 4K@120Hz/8K@60Hz and VRR as specified in HDMI 2.1)
HDCP SUPPORT
Y
POWER CONSUMPTION
132 W
POWER CONNECTORS
8-pin x 1
RECOMMENDED PSU
500 W or greater
CARD DIMENSION (MM)
235 x 125 x 46 mm
WEIGHT (CARD / PACKAGE)
710 g / 1175 g
DIRECTX VERSION SUPPORT
12 API
OPENGL VERSION SUPPORT
4.6
MULTI-GPU TECHNOLOGY
Y
AFTERBURNER OC
Y
MAXIMUM DISPLAYS
4
VR READY
Y
DIGITAL MAXIMUM RESOLUTION
7680 x 4320
WARRANTY
3 Years