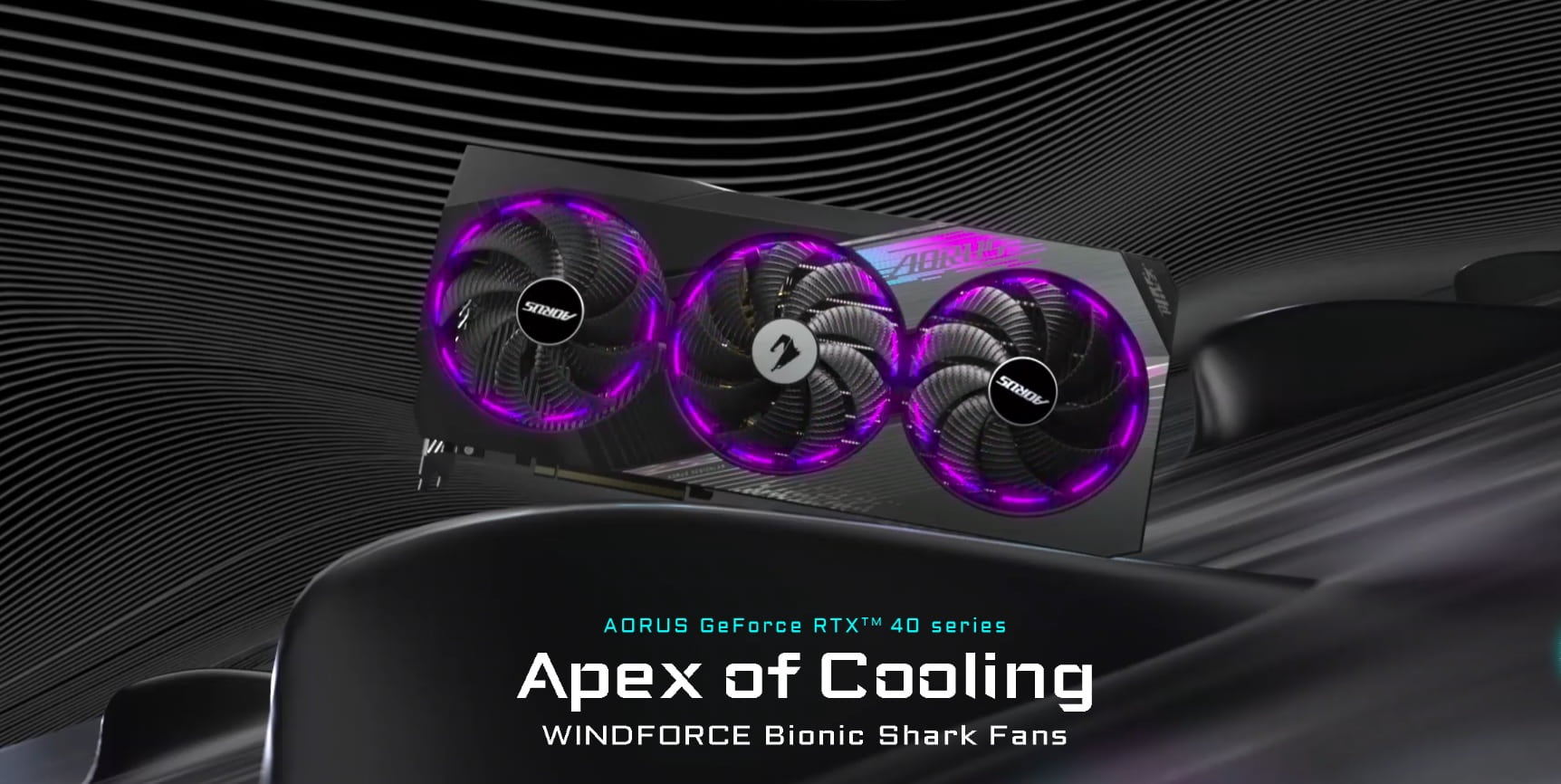 Features :
NVIDIA Ada Lovelace Streaming Multiprocessors:
Up to 2x performance and power efficiency
4th Generation Tensor Cores: Up to 4x performance with DLSS 3 vs. brute-force rendering
3rd Generation RT Cores: Up to 2X ray tracing performance
Powered by GeForce RTX™ 4090
Integrated with 24GB GDDR6X 384-bit memory interface
WINDFORCE cooling system
LCD Edge View
RGB Fusion
Dual BIOS
Protection metal back plate
Anti-sag bracket
4 Years Warranty (Online registration required)
Overview :
WINDFORCE COOLING SYSTEM
THE EVOLVING POWER OF WINDFORCE
The WINDFORCE cooling system features three 110mm newly designed bionic shark fans, alternate spinning, 13 composite copper heat pipes, a large vapor chamber directly touches the GPU, 3D active fans and Screen cooling, which together provide high efficiency heat dissipation.
COOLING, UPSCALED.
AORUS BIONIC FAN TECH
The sharks' dermal denticles surrounding their body grant them significant advantages in fluid dynamics. Now AORUS features new Bionic Fan Tech that mimics the scale micro-surfacing and efficiently increases airflow by reducing micro turbulence in Gigabyte Aorus RTX 4090 MASTER 24GB.
DOUBLE BALL BEARING
The double ball bearing structure has better heat endurance and efficiency than sleeve structure.
CHANNELED AIRFLOW.
ANGULAR FIN DESIGN
The angular and unequal fins height can channel the airflow through the fins and enlarge the contact surface.
DIRECTLY. SO FAST.
LARGE VAPOR CHAMBER & HEAT-PIPE
The large vapor chamber directly contacts the GPU, coupled with the composite heat pipes, which quickly transfers the heat of the Gigabyte Aorus RTX 4090 MASTER 24GB GPU and VRAM to the heatsink.
THE OTHER WAY AROUND.
ALTERNATE SPINNING
Each fan rotates in different direction to the adjacent one. This special mechanism reduces turbulence and increases air pressure by minimizing the offset occurred between airflows.
3D ACTIVE FAN
The 3D Active Fan provided in Gigabyte Aorus RTX 4090 MASTER 24GB has semi-passive cooling, and the fans will remain off when the Gigabyte Aorus RTX 4090 MASTER 24GB GPU is in a low load or low power game.
MAKE ROOM FOR THE AIRFLOW.
SCREEN COOLING
To create more space for airflow to pass through, the heatsink extends over the PCB and therefore increase the ventilation. This Screen Cooling design provides better heat dissipation.
LCD EDGE VIEW
The LCD monitor displays not only graphics card information, but also various favorite texts, pictures, and GIFs. You can also adjust lighting effects via GIGABYTE CONTROL CENTER.
RGB FUSION
Gigabyte Aorus RTX 4090 MASTER 24GB has legendary three-ring lighting provides excellent visual enjoyment. You can choose any lighting effect or synchronize with other devices in GIGABYTE CONTROL CENTER .
EXCELLENT IN ESSENTIAL
DUAL BIOS
The factory default setting is OC mode, which provides users with the best performance. However, switching to silent mode will enjoy a quieter experience.
PROTECTION METAL BACK PLATE
Gigabyte Aorus RTX 4090 MASTER 24GB has metal back plate not only provides an aesthetical shape, but also enhances the structure of the graphics card to provide complete protection.
ANTI-SAG BRACKET
Gigabyte Aorus RTX 4090 MASTER 24GB has new anti-sag bracket is tailored to each graphics card. It provides the optimized reinforcement and better overall visual appearance.
POWER INDICATORS
When experiencing any power supply abnormality, the indicator will alert gamers by flashing light.
PCB COATING
Dust resistant – shields from dust, insects, dropped screws, drill shavings, and abrasion.
Moisture resistant – prevents unwanted conduction paths and board damage.
Corrosion resistant – protects from salt spray, humidity, and corrosion.
BUILT STRONG
EXTREME OVERCLOCKING
The graphics card features excellent power phase design to allow the MOSFETs to operate at lower temperatures and provide a more stable voltage output. Load balancing of each MOSFET can effectively improve the overclocking performance and extend the life of the card.
ULTRA DURABLE
Ultra Durable certified highest-grade metal chokes, lower ESR solid capacitors, 2oz copper PCB, and lower RDS(on) MOSFETs, plus over-temperature design to deliver superior performance and longer system life.
FRIENDLY PCB DESIGN
Fully automated production process ensures top quality of the circuit boards and eliminates sharp protrusions of the solder connectors seen on the conventional PCB surface. This friendly design prevents your hands from getting cut or inadvertently damaging components when making your build.
4-YEAR WARRANTY
We want you to experience the best service you have ever had. This is why, on top of our standard 3-year warranty, we would like to offer you an additional 1 year of protection to your graphics card free of charge. You can enjoy a 4-year warranty by registering on the website within 30 days of purchase.
Specifications :
GeForce RTX™ 4090
2550 MHz (Reference Card: 2520 MHz)
16384
21 Gbps
24 GB
GDDR6X
384 bit
PCI-E 4.0
7680×4320
4
L=358.5 W=162.8 H=75.1 mm
ATX
12 Ultimate
4.6
1000W
16 pin * 1
DisplayPort 1.4 *3
HDMI 2.1 *1
1. Quick guide
2. Warranty registration
3. Anti-sag bracket
4. Anti-sag bracket installation guide
5. One 16-pin to four 8-pin power adaptor
6. AORUS Metal sticker
4 Years