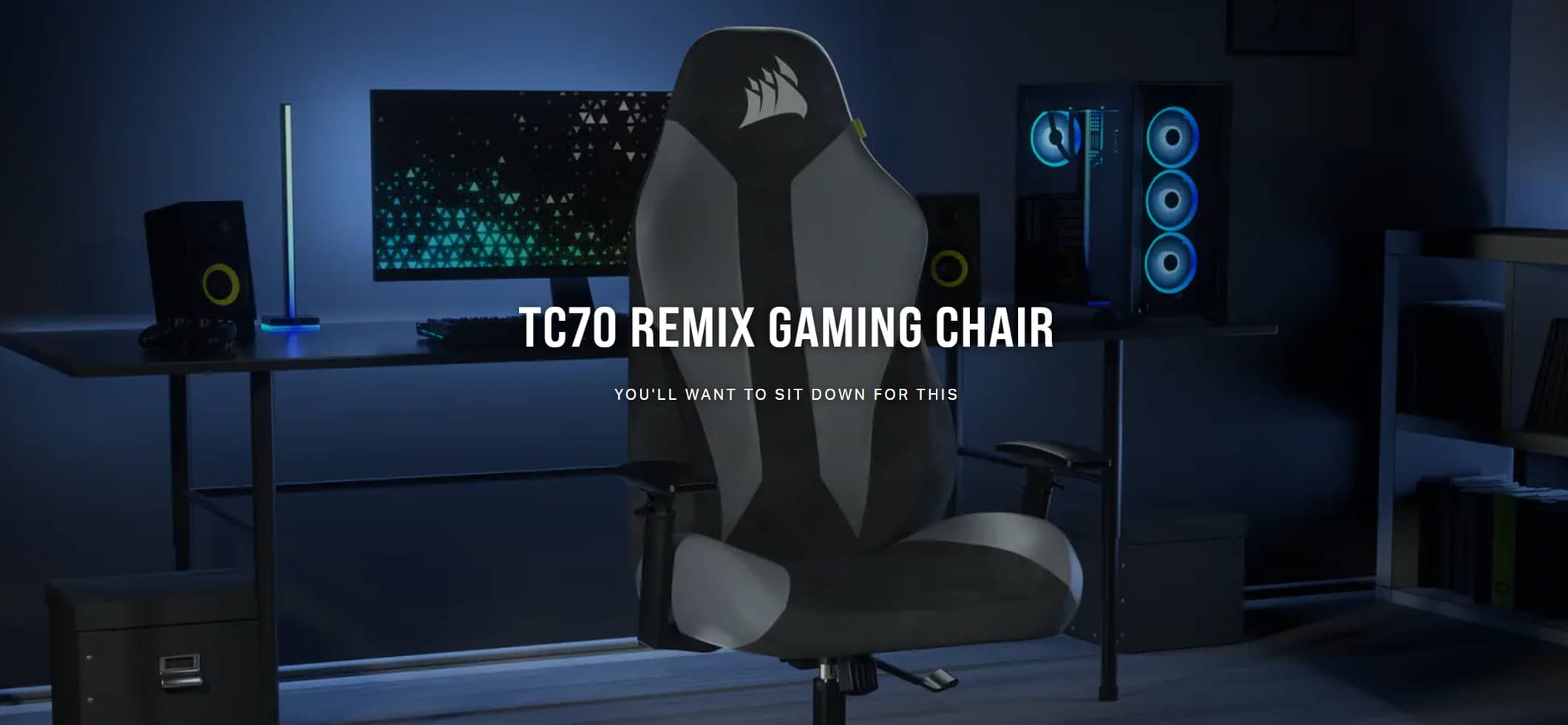 Overview :
FORM-FITTING RELAXATION
The comfortable and stylish racing-inspired design of the Corsair TC70 Remix White delivers the long-lasting support you need to power through combat.
LEATHERETTE AND SOFT FABRIC EXTERIOR
Corsair TC70 Remix White has a combination of materials combine for an exterior that looks great while keeping you comfortable.
COMFORTABLE AND FLEXIBLE
Corsair TC70 Remix White has Highly adjustable armrests move in all three dimensions, 100mm of seat height adjustment, and a 105° reclining seat back with 10° of synchronized seat tilt means you can get comfortable at any angle.
SPLIT-SPOKE WHEEL BASE AND 60MM DUAL WHEEL CASTERS
Increased durability and modern look, glides easily on most surfaces.
EASY ASSEMBLY PROCESS
Get set up and seated fast.
Specifications :
Maximum Seat Height
53.9cm
21.2 in.
Minimum Seat Height
44.2cm
17.4 in.
Maximum Arm Height
35cm
13.8 in.
Minimum Arm Height
27.5cm
10.8 in.
Backrest Height
86.30cm
33.97 in.
Backrest Shoulder Width
52.2cm
20.6in
Package Size
98.5cm x 69.5cm x 37.5cm
38.8 in. x 27.4 in. x 14.8 in.
Net Weight
19.0kg
41.9 lbs
Gross Weight
25.5kg
56.2 lbs
Weight Capacity
120.0 kgs
264.5lbs
Adjustable Lumbar Pillow
No
Adjustable Neck Pillow
No
Chair Base Material
Nylon
Wheel Size
60mm
2.4 in.
Wheel Material
Nylon
Seat Size
57.9cm x 43.5cm
22.79 in. x 17.12 in.
Seat Foam Type
Polyurethane foam (cold foam)
Seat Foam Density
55kg/m³
3.43lbs/ft³
Seat Frame Construction
Wood
Seating Surface Material
Soft Fabric and PU Leather
Seat Back Material
Soft Fabric and PU Leather
Adjustable Armrests
Yes
Armrest Type
3D (Up/Down, Front/Back, Swivel)
Armrest Pad Size
25cm x 9.0cm x 2.2cm
10.0 in. x 3.5 in. x 0.87 in.
Tilt
Yes
Tilt Mechanism Type
Recline with synchronized tilt and four position lock, Height Adjust
Adjustable Tilt Angle
0-10°
Tilt Lock
Yes, synchronized with recline
Tilt Angle Lock
No
Gas Lift Specification
100mm stroking height
Gas Lift Class
Class 3 grade
Recline
Yes
Adjustable Back Angle
105° Range
Height Adjustability
Yes
Color
White
Warranty
2 Years