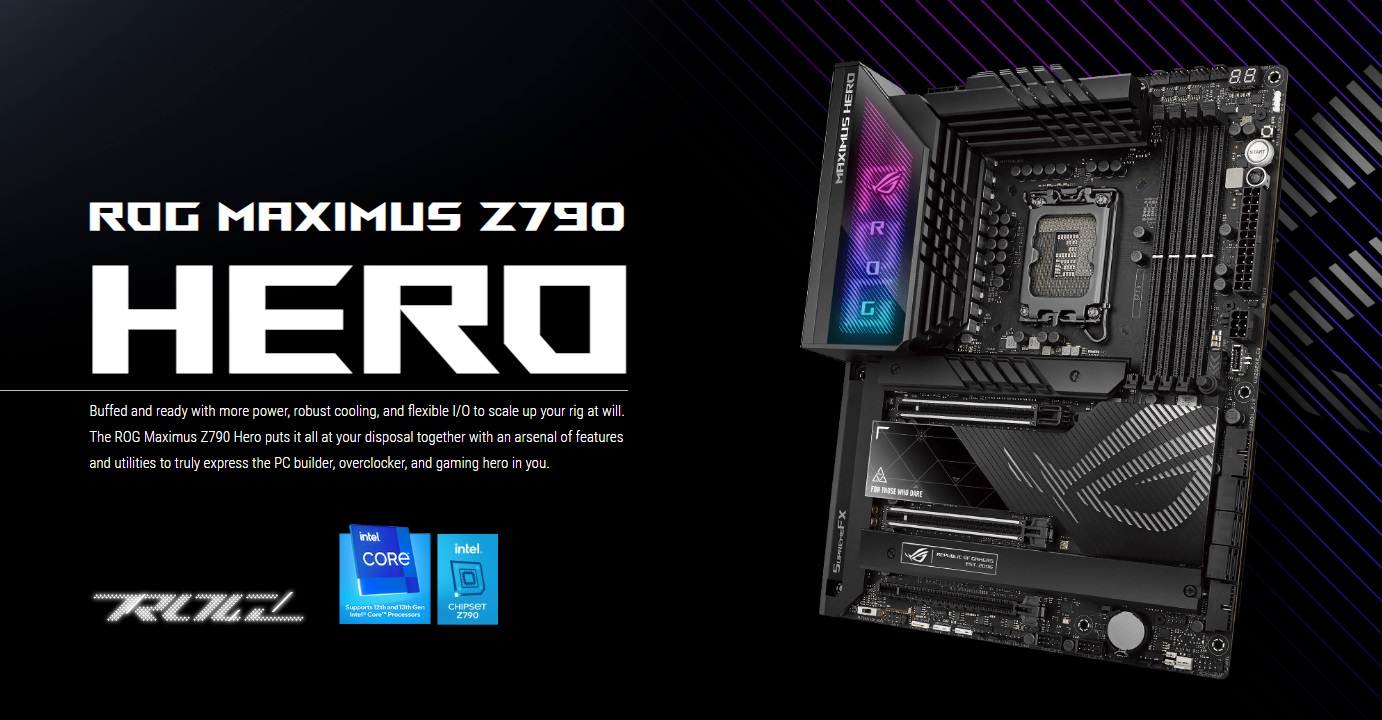 Overview:
ROG OVERCLOCKING TECHNOLOGIES
Psyche up and engage the Hero overclocker in you, with onboard intelligence to scan, predict, and adapt CPU performance parameters, and tools to command and track system vitals.
AI OVERCLOCKING
Tuning is now faster and smarter than ever before. ASUS AI Overclocking profiles the CPU and cooling to predict the optimal configuration and push the system to its limits. Predicted values can be engaged automatically or used as a launching ground for further experimentation
DIFFERENTIAL SENSING
Conventional motherboards use single-ended sensing tapped from a location that isn't ideal, leading to a large disparity between the actual voltage fed to the CPU and the value reported to software. The Asus Rog Maximus Z790 Hero Hero features a differential-sensing circuit and delicate IC that simplify overclocking and tuning by allowing you to track voltages more accurately.
TEAMED POWER ARCHITECTURE
Today's CPU architectures place incredible demands on motherboard power design by transitioning from deep power-saving modes, going from lower-power mode to full load in an instant. The latest ROG VRM architecture rises to the challenge by utilizing teamed power stages to rapidly swing current, while maintaining exemplary thermal performance.
MEMORY
Comprehensive memory tuning options are the cornerstone of ROG motherboards. With the ROG Maximus Z790 Hero, you can extract all of the potential out of your DDR5 modules, regardless of if they're from an extreme-speed kit or an entry-level set that would otherwise be locked.
THERMAL MANAGEMENT
An extensive array of headers line the Asus Rog Maximus Z790 Hero for precise cooling control and monitoring.
Multiple temperature sources
Each header can be set to monitor and react to three user-configurable thermal sensors for workload-based cooling, and all settings can be easily managed by Fan Xpert 4 or UEFI.
4-pin fan headers
In addition to the pair of CPU fan headers, the Asus Rog Maximus Z790 Hero features four chassis headers, and each supports auto-detection of PWM or DC fans.
AIO pump header
An additional PWM/DC fan header offers dedicated control of self-contained water-cooling setups.
ROG WATER-COOLING ZONE
Dual water-temperature headers and a flow-rate header feed information straight into Armoury Crate, allowing you to track coolant temperatures and the flow rate of the entire loop.
Water pump+
A dedicated header can supply over 3 amps to a high-performance PWM or DC water pumps.
Water in/out
A dedicated header enables monitoring of temperatures at the input/output points of any component.
Water flow
A dedicated header enables constant monitoring of flow rate throughout the entire loop.
COOLER COMPATIBILITY
The Asus Rog Maximus Z790 Hero bears the same LGA 1700 socket as the Z690 models, so it is backward compatible with all coolers that supported the previous generation, including all AIO offerings from ASUS and ROG.
PCIE 5.0
Fully embracing the new standard, the Asus Rog Maximus Z790 Hero Hero offers abundant Gen 5 support to give unfettered bandwidth to the fastest SSDs and graphics cards available.
TWO THUNDERBOLT 4 TYPE-C® PORTS
Each port delivers up to 40 Gbps of bidirectional bandwidth for the latest super-speed devices and drives. Both ports can be employed for up to two external 4K displays, and PCIe bandwidth extends to up to 32 Gbps.
USB 3.2 GEN 2X2 TYPE-C® FRONT-PANEL CONNECTOR WITH QUICK CHARGE 4+
USB 3.2 Gen 2×2 adds an additional lane that can boost Type-C data transfers with speeds of up to 20 Gbps. The port also features Quick Charge 4+ technology that can quickly charge devices up to 60W*.
WIFI 6E
Onboard WiFi 6E technology takes advantage of newly available spectrum in the 6 GHz band to provide up to seven 160 MHz channels for ultrafast throughput and better performance in dense wireless environments.
2.5G ETHERNET
Low-latency gaming, speedy file transfers, and high-resolution video streaming are among the many perks of onboard Intel® 2.5 Gbps Ethernet.
SUPREMEFX
ROG SupremeFX audio technology delivers an exceptional 113 dB signal-to-noise ratio on the line-in connection to provide exceptional recording quality. There's also a low-dropout regulator for cleaner power delivery to the SupremeFX ALC4082 codec, and an integrated ESS® ES9218 QUAD DAC capable of reaching -115dB THD+N for superior front-panel output. The combined solution allows for end-to-end 32-bit 384 kHz resolution playback that conveys all the subtlety and nuances of each audio track.
AI COOLING II
Balance the thermals and acoustics of any build with a single click. A proprietary ASUS algorithm slashes unnecessary noise while running a quick stress test, and then monitors CPU temperatures to dynamically adjust fans to optimal speeds
TWO-WAY AI NOISE CANCELATION
This utility leverages a massive deep-learning database to reduce over 5 million types of background noise from incoming or outgoing audio, helping ensure crystal-clear communication in games or calls.
AI NETWORKING
GameFirst VI optimizes networking performance by allocating bandwidth in real time based on application usage scenarios and corresponding learning algorithms. The latest update includes dedicated support for GeForce NOW to ensure the lowest latency possible during intense game streaming sessions.
AI SUITE 3
The AI Suite 3 dashboard contains a set of intuitive controls that boost CPU performance while maintaining system stability.
UEFI BIOS
The renowned ROG UEFI (BIOS) provides everything you need to configure, tweak, and tune your rig. It offers intelligently simplified options for newcomers to PC DIY, as well as more comprehensive features for seasoned veterans.
GROW YOUR GAMING WORLD WITH AURA SYNC
Up your game with complementary Aura Sync enhanced aesthetics, featuring preset lighting effects that can be easily synchronized across compatible ROG graphics cards, monitors, keyboards, and mice to give your setup a unified look.
SONIC STUDIO LINK
Easily apply Sonic Studio effects on all playback devices. Simply press the Sonic Studio Link button to enjoy the effect on any playback device.
ARMOURY CRATE
Armoury Crate is a software utility designed to give you centralized control of supported gaming products, making it easy to tune the look and feel of your system. From a single intuitive interface, Armoury Crate helps you customize RGB lighting and effects for compatible devices and synchronize them with Aura Sync to create a unified lighting scheme across your system. In addition, Armoury Crate's Fan Xpert4 tool provides comprehensive control over fans, water pumps, and all-in-one (AIO) coolers.
AIDA64 EXTREME
The Asus Rog Maximus Z790 Hero includes a one-year AIDA64 Extreme subscription, a tool that provides detailed information about hardware and software, as well as benchmarks to measure the performance of the entire system or individual components. AIDA64 Extreme includes a monitoring and diagnostics feature to detect and prevent hardware issues. All vital system sensors can be tracked in real time, allowing voltage readings, fan speeds, and temperature information to be displayed on the desktop or sent to dedicated displays or to the LCD panels of ROG AIO liquid coolers*.
Specifications:
CPU
Intel® Socket LGA1700 for 13th Gen Intel® Core™ Processors & 12th Gen Intel® Core™, Pentium® Gold and Celeron® Processors
Supports Intel® Turbo Boost Technology 2.0 and Intel® Turbo Boost Max Technology 3.0**
* Refer to www.asus.com for CPU support list.
** Intel® Turbo Boost Max Technology 3.0 support depends on the CPU types.
Chipset
Intel® Z790 Chipset
Memory
4 x DIMM, Max. 128GB, DDR5 7800+(OC)/7600(OC)/7400(OC)/7200(OC)/7000(OC)/6800(OC)/6600(OC)/6400(OC)/ 6200(OC)/ 6000(OC)/ 5800(OC)/ 5600/ 5400/ 5200/ 5000/ 4800MHz Non-ECC, Un-buffered Memory*
Dual Channel Memory Architecture
Supports Intel® Extreme Memory Profile (XMP)
* Supported memory types, data rate(Speed), and number of DRAM modules vary depending on the CPU and memory configuration, for more information refer to www.asus.com for memory support list.
* Non-ECC, Un-buffered DDR5 Memory supports On-Die ECC function
Graphics
1 x HDMI® port**
2 x Intel® Thunderbolt™ 4 ports (USB Type-C®) support DisplayPort 1.4 and Thunderbolt™ video outputs***
* Graphics specifications may vary between CPU types. Please refer to www.intel.com for any updates.
** Support 4K@60Hz as specified in HDMI 2.1.
*** VGA resolution support depends on processors' or graphic cards' resolution.
Expansion Slots
Intel® 13th & 12th Gen Processors*
2 x PCIe 5.0 x16 slots (support x16 or x8/x8 modes)**
Intel® Z790 Chipset
1 x PCIe 4.0 x16 slot (supports x4, x4/x4 modes)
* Please check the PCIe bifurcation table on the support site (https://www.asus.com/support/FAQ/1037507/).
** When ROG Hyper M.2 card is installed on PCIEX16(G5)_1, PCIEX16(G5)_2 will run x8 only and if ROG Hyper M.2 card is installed on PCIEX16(G5)_2, PCIEX16(G5)_1 will run x8 only.
– To ensure compatibility of the device installed, please refer to https://www.asus.com/support/ for the list of supported peripherals.
Storage
Total supports 5 x M.2 slots and 6 x SATA 6Gb/s ports*
Intel® 13th & 12th Gen Processors*
M.2_1 slot (Key M), type 2242/2260/2280/22110 (supports PCIe 4.0 x4 mode.)
Hyper M.2_1 slot (Key M) via ROG Hyper M.2 card, type 2242/2260/2280/22110 (supports PCIe 5.0 x4 mode.)**
Intel® Z790 Chipset**
M.2_2 slot (Key M), type 2242/2260/2280 (supports PCIe 4.0 x4 mode)
M.2_3 slot (Key M), type 2242/2260/2280 (supports PCIe 4.0 x4 & SATA modes)
Hyper M.2_1 slot (Key M) via ROG Hyper M.2 card, type 2242/2260/2280/22110 (suppports PCIe 4.0 x4 mode)**
Hyper M.2_2 slot (Key M) via ROG Hyper M.2 card, type 2242/2260/2280/22110 (suppports PCIe 4.0 x4 mode)***
6 x SATA 6Gb/s ports****
* Intel® Rapid Storage Technology supports PCIe RAID 0/1/5/10, SATA RAID 0/1/5/10.
** When ROG Hyper M.2 card is installed on PCIEX16(G5)_1, Hyper M.2_1 slot can support PCIe 4.0 x4 mode. When ROG Hyper M.2 card is installed on PCIEX16(G5)_2, Hyper M.2_1 slot can support PCIe 5.0 x4 mode. When ROG Hyper M.2 card is installed on PCIEX16(G4), Hyper M.2_1 and Hyper M.2_2 slots can support PCIe 4.0 x4 mode.
*** When ROG Hyper M.2 card is installed on PCIEX16(G5)_1 or PCIEX16(G5)_2, Hyper M.2_2 slot will be disabled. When ROG Hyper M.2 card is installed on PCIEX16(G4), Hyper M.2_1 and Hyper M.2_2 slots can support PCIe 4.0 x4 mode.
**** RAID configuration and boot drives are not supported on the SATA6G_E1-2 ports
Ethernet
1 x Intel® 2.5Gb Ethernet
ASUS LANGuard
Wireless & Bluetooth®
Wi-Fi 6E
2×2 Wi-Fi 6E (802.11 a/b/g/n/ac/ax)
Supports 2.4/5/6GHz frequency band*
Bluetooth® v5.3**
* WiFi 6E 6GHz regulatory may vary between countries.
** The Bluetooth version may vary, please refer to the Wi-Fi module manufacturer's website for the latest specifications.
USB
Rear USB (Total 12 ports)
2 x Thunderbolt™ 4 ports (2 x USB Type-C®)
6 x USB 3.2 Gen 2 ports (5 x Type-A + 1 x USB Type-C®)
4 x USB 3.2 Gen 1 port(s) (4 x Type-A)
Front USB (Total 9 ports)
1 x USB 3.2 Gen 2×2 connector (supports USB Type-C® with up to 60W PD/QC4+)
2 x USB 3.2 Gen 1 headers support additional 4 USB 3.2 Gen 1 ports
2 x USB 2.0 headers support additional 4 USB 2.0 ports
Audio
ROG SupremeFX 7.1 Surround Sound High Definition Audio CODEC ALC4082
– Impedance sense for front and rear headphone outputs
– Supports: Jack-detection, Multi-streaming, Front Panel Jack-retasking
– High quality 120 dB SNR stereo playback output and 113 dB SNR recording input
– Supports up to 32-Bit/384 kHz playback
Audio Features
– SupremeFX Shielding Technology
– ESS® ES9218 QUAD DAC
– Gold-plated audio jacks
– Rear optical S/PDIF out port
– Premium audio capacitors
– Audio cover
Back Panel I/O Ports
2 x Thunderbolt™ 4 USB Type-C® ports
6 x USB 3.2 Gen 2 ports (5 x Type-A + 1 x USB Type-C®)
4 x USB 3.2 Gen 1 port(s) (4 x Type-A)
1 x HDMI® port
1 x Wi-Fi Module
1 x Intel® 2.5Gb Ethernet port
5 x Gold-plated audio jacks*
1 x Optical S/PDIF out port
1 x BIOS FlashBack™  button
1 x Clear CMOS button
*The rear panel Lime (Line out) port does not support spatial audio. If you wish to use spatial audio make sure to connect your audio output device to the audio jack on the front panel of your chassis.
Internal I/O Connectors
Fan and Cooling related
1 x 4-pin CPU Fan header
1 x 4-pin CPU OPT Fan header
1 x 4-pin AIO Pump header
4 x 4-pin Chassis Fan headers
1 x W_PUMP+ header
1 x 2-pin Water In header
1 x 2-pin Water Out header
1 x 3-pin Water Flow header
Power related
1 x 24-pin Main Power connector
2 x 8-pin +12V Power connector
1 x 6-pin PCIe Power connector
Storage related
3 x M.2 slots (Key M)
6 x SATA 6Gb/s ports
USB
1 x USB 3.2 Gen 2×2 connector (supports USB Type-C®   )
2 x USB 3.2 Gen 1 headers support additional 4 USB 3.2 Gen 1 ports
2 x USB 2.0 headers support additional 4 USB 2.0 ports
Miscellaneous
3 x Addressable Gen 2 headers
1 x AURA RGB header
1 x FlexKey button
1 x Front Panel Audio header (AAFP)
1 x Start button
1 x ReTry button
1 x 10-1 pin System Panel header
1 x Thermal Sensor header
1 x CPU Over Voltage jumper
1 x Alternative PCIe Mode switch
Special Features
Extreme OC Kit
– FlexKey button
– ReTry button
– Start button
Extreme Engine Digi+
– 10K Black Metallic Capacitors
– MicroFine Alloy Choke
ASUS Q-Design
– M.2 Q-Latch
– PCIe Slot Q-Release
– Q-Code
– Q-Connector
– Q-DIMM
– Q-LED (CPU [red], DRAM [yellow], VGA [white], Boot Device [yellow green])
– Q-Slot
ASUS Thermal Solution
– M.2 heatsink backplate
– M.2 heatsink
– Steel backplate
– VRM heatsink design
ASUS EZ DIY
– BIOS FlashBack™ button
– Clear CMOS button
– CPU Socket lever protector
– ProCool II
– Pre-mounted I/O shield
– SafeSlot
– SafeDIMM
AURA Sync
– AURA RGB header(s)
– Addressable Gen 2 header(s)
Front Panel USB 3.2 Gen 2×2 with Quick Charge 4+ Support
– Support: up to 60W charging*
– Output: 5/9/15/20V max. 3A, PPS:3.3–21V max. 3A
– Compatible with PD3.0 and PPS
* To support 60W, please install the power cable to 6-pin PCIe power connector or can only support 27W
Software Features
ROG Exclusive Software
– ROG CPU-Z
– GameFirst VI
– Sonic Studio III + Sonic Studio Virtual Mixer + Sonic Suite Companion
– Sonic Radar III
– DTS® Sound Unbound
– BullGuard Internet Security (1-year full version)
ASUS Exclusive Software
Armoury Crate
– AIDA64 Extreme (1 year full version)
– AURA Creator
– AURA Sync
– Fan Xpert 4 (with AI Cooling II)
– Two-Way AI Noise Cancelation
– Power Saving
AI Suite 3
– Easy Optimization with AI Overclocking
– TPU
– DIGI+ Power Control
– Turbo app
– PC Cleaner
MyAsus
WinRAR
UEFI BIOS
AI Overclocking Guide
ASUS EZ DIY
– ASUS CrashFree BIOS 3
– ASUS EZ Flash 3
– ASUS UEFI BIOS EZ Mode
MemTest86
BIOS
256 Mb Flash ROM, UEFI AMI BIOS
Manageability
WOL by PME, PXE
Accessories
Cables
1 x ARGB RGB extension cable
4 x SATA 6Gb/s cables
ROG Hyper M.2 Card
1 x ROG Hyper M.2 Card with heatsink
2 x M.2 screw packages for ROG Hyper M.2 Card
Additional Cooling Kit
1 x Thermal pad for M.2
1 x DDR5 Fan holder
1 x VRM Fan holder
Miscellaneous
1 x ASUS Wi-Fi moving antennas
3 x M.2 backplate Q-Latch package
3 x M.2 backplate Rubber Packages
1 x Q-connector
1 x ROG stickers
1 x ROG key chain
1 x ROG VIP card
Installation Media
1 x USB drive with utilities and drivers
Documentation
1 x User Guide
Operating System
Windows® 11, Windows® 10 64-bit
Form Factor
ATX Form Factor
12 inch x 9.6 inch ( 30.5 cm x 24.4 cm )