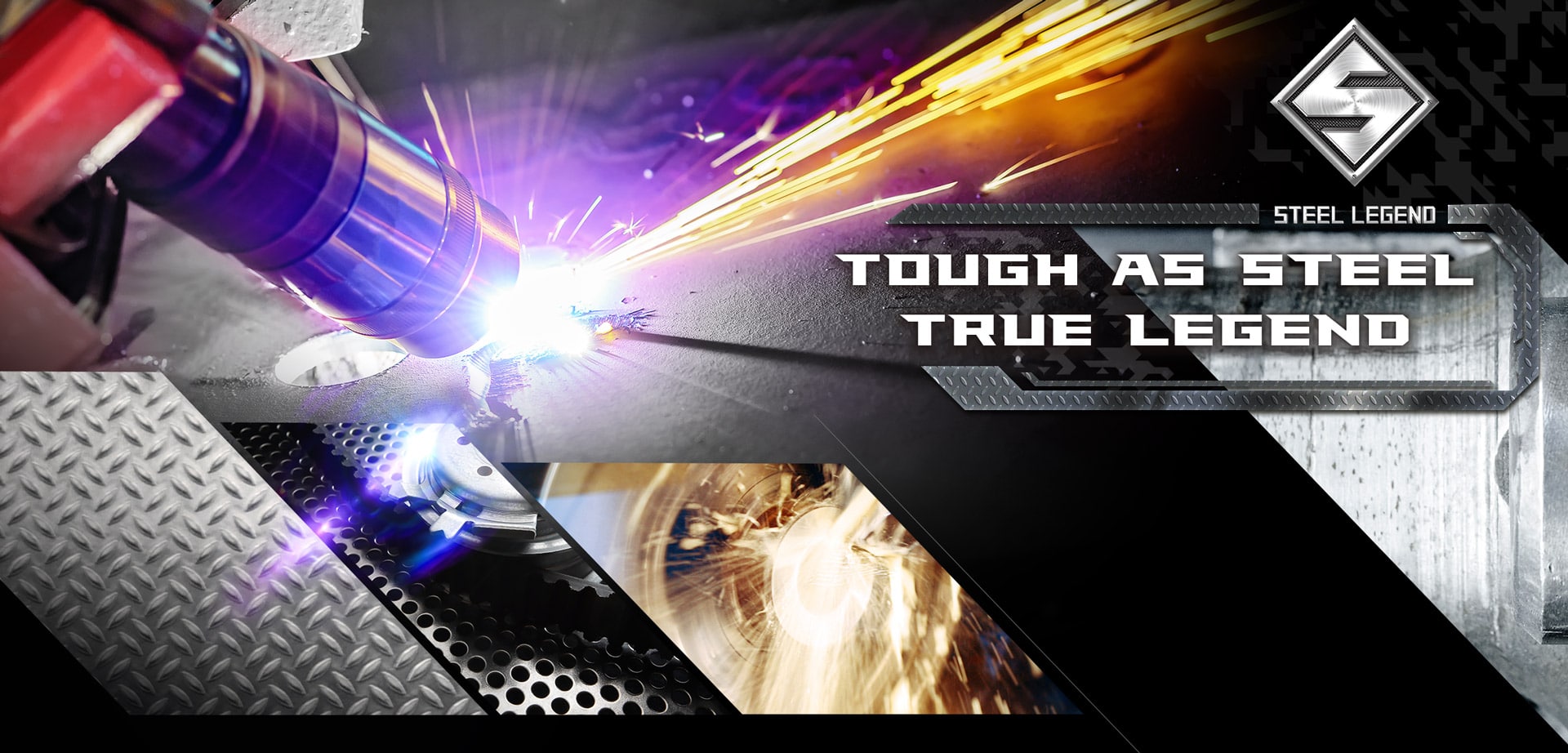 Features:
Supports 10th Gen Intel® Core™ Processors and 11th Gen Intel® Core™ Processors
10 Phase Dr.MOS Power Design
Supports DDR4 4800MHz (OC)
1 x PCIe 4.0 x16, 1 x PCIe 3.0 x16, 2 x PCIe 3.0 x1
1 x M.2 Key-E for WiFi
Graphics Output Options: HDMI, DisplayPort
7.1 CH HD Audio (Realtek ALC897 Audio Codec), Nahimic Audio
6 SATA3, 1 x Hyper M.2 (PCIe Gen4 x4), 1 x Ultra M.2 (PCIe Gen3 x4)
1 x M.2 (PCIe Gen3 x2 & SATA3)
1 x Front USB 3.2 Gen2x2 Type-C (20 Gb/s)
1 x Rear USB 3.2 Gen2 Type-C (10 Gb/s)
6 x USB 3.2 Gen1 (4 x Rear, 2 x Front)
Dragon 2.5 Gigabit LAN
Overview:
Style In Details
Featuring sturdy components as well as more elaborately styled pieces
Dr. MOS
Dr.MOS is the integrated power stage solution that is optimized for synchronous buck-set-down voltage applications! Compared to traditional discrete MOSFETs, it intelligently delivers higher current for each phase, thus providing improved thermal result and superior performance.
Premium 60A Power Choke
Compared to traditional chokes, ASRock's premium 60A power chokes effectively make the saturation current up to three times better, thus providing enhanced and improved Vcore voltage to the motherboard.
Clever Access Memory
Conventional PC systems processors can only access a fraction of graphics memory and limits system performance. With Clever Access Memory, the data channel gets expanded to harness the full potential of GPU memory, removes the bottleneck and increase performance.
6 Layer PCB
The 6 Layer PCB comes with 3 sets of copper inner layers, providing stable signal traces and power shapes delivering lower temperature and higher energy efficiency for memory overclocking! Thus, it's able to support the latest DDR4 memory modules with most extreme memory performance!
PCIe 4.0 High Speed M.2 Solution
This motherboard is capable of accomadating multiple M.2 storage devices, one of which can even support next generation PCI Express 4.0 M.2 SSD, it is capable of performing twice the speed compared to previous 3rd generation, giving a lightning fast data transferring experience.
Dragon 2.5 Gb/s LAN
The intelligent 2.5Gb/s LAN platform is built for maximum networking performance for the demanding requirements of home networking, content creators, online gamers and high-quality streaming media. Boost networking performance up to 2.5X the bandwidth compared to the standard gigabit Ethernet, you'll enjoy the faster and uncompromised connectivity experience for gaming, file transfers and backups.
Specifications:
Unique Feature
ASRock USB 3.2 Gen2
– ASRock Front Panel Type C USB 3.2 Gen2x2 Header (20 Gb/s)
– ASRock USB 3.2 Gen2 Type-C Port (10 Gb/s)
ASRock Super Alloy
– XXL Aluminum Alloy Heatsink
– Premium 60A Power Choke
– 50A Dr.MOS
– Nichicon 12K Black Caps (100% Japan made high quality conductive polymer capacitors)
– Matte Black PCB
– High Density Glass Fabric PCB
2.5G LAN
ASRock Steel Slot
ASRock Full Coverage M.2 Heatsink
ASRock Hyper M.2 (PCIe Gen4x4)
ASRock POST Status Checker (PSC)
ASRock Full Spike Protection (for all USB, Audio, LAN Ports)
ASRock Live Update & APP Shop
CPU
– Supports 10th Gen Intel® Core™ Processors and 11th Gen Intel® Core™ Processors (LGA1200)
– Digi Power design
– 10 Power Phase design
– Supports Intel® Turbo Boost Max 3.0 Technology
Chipset
– Intel® B560
Memory
– Dual Channel DDR4 Memory Technology
– 4 x DDR4 DIMM Slots
– 11th Gen Intel® Core™ Processors support DDR4 non-ECC, un-buffered memory up to 4800+(OC)

*


– 10th Gen Intel® Core™ Processors support DDR4 non-ECC, un-buffered memory up to 4666+(OC)

*


– Supports ECC UDIMM memory modules (operate in non-ECC mode)
– Max. capacity of system memory: 128GB

*

*


– Supports Intel® Extreme Memory Profile (XMP) 2.0
– 15μ Gold Contact in DIMM Slots

*

11th Gen Intel

®

 Core™ (i9/i7/i5) support DDR4 up to 3200; Core™ (i3), Pentium

®

 and Celeron

®

 support DDR4 up to 2666 natively.

10th Gen Intel

®

 Core™ (i9/i7) support DDR4 up to 2933; Core™ (i5/i3), Pentium

®

 and Celeron

®

 support DDR4 up to 2666 natively.

**Due to the operating system limitation, the actual memory size may be less than 4GB for the reservation for system usage under Windows® 32-bit OS. For Windows® 64-bit OS with 64-bit CPU, there is no such limitation.

BIOS
– 128Mb AMI UEFI Legal BIOS with multilingual GUI support
– ACPI 6.0 Compliant wake up events
– SMBIOS 2.7 Support
– CPU Core/Cache, CPU GT, VCCSA, DRAM, VCCIO, VCCIO 1 2, VPPM, VCCIN AUX, VCCST Voltage Multi-adjustment
Graphics
– 11th Gen Intel® Core™ Processors support Intel® Xe Graphics Architecture (Gen 12). 10th Gen Intel® Core™ Processors support Gen 9 Graphics
– Graphics, Media & Compute: Microsoft® DirectX 12, OpenGL 4.5, Intel® Built In Visuals, Intel® Quick Sync Video, Hybrid / Switchable Graphics, OpenCL 2.1
– Display & Content Security: Rec. 2020 (Wide Color Gamut), Microsoft® PlayReady 3.0, UHD/HDR Blu-ray Disc
– Dual graphics output: support HDMI and DisplayPort 1.4 ports by independent display controllers
– Supports HDMI 2.0 with max. resolution up to 4K x 2K (4096×2160) @ 60Hz
– Supports DisplayPort 1.4 with max. resolution up to 4K x 2K (4096×2304) @ 60Hz
– Supports Auto Lip Sync, Deep Color (12bpc), xvYCC and HBR (High Bit Rate Audio) with HDMI 2.0 Port (Compliant HDMI monitor is required)
– Supports HDCP 2.3 with HDMI 2.0 and DisplayPort 1.4 Ports

*

Intel

®

 UHD Graphics Built-in Visuals and the VGA outputs can be supported only with processors which are GPU integrated.

11th Gen Intel

®

 Core™ Processors support HDMI 2.0. 10th Gen Intel

®

 Core™ Processors support HDMI 1.4.

Audio
– 7.1 CH HD Audio (Realtek ALC897 Audio Codec)
– Supports Surge Protection
– Gold Audio Jacks
– 15μ Gold Audio Connector
– Nahimic Audio
LAN
– 2.5 Gigabit LAN 10/100/1000/2500 Mb/s
– Dragon RTL8125BG
– Supports Dragon 2.5G LAN Software
– Smart Auto Adjust Bandwidth Control
– Visual User Friendly UI
– Visual Network Usage Statistics
– Optimized Default Setting for Game, Browser, and Streaming Modes
– User Customized Priority Control
– Supports Wake-On-LAN
– Supports Lightning/ESD Protection
– Supports Energy Efficient Ethernet 802.3az
– Supports PXE
Slots
11th Gen Intel® Core™ Processors
– 2 x PCI Express x16 Slots (PCIE1/PCIE3: single at Gen4x16 (PCIE1); dual at Gen4x16 (PCIE1) / Gen3x2 (PCIE3))

*


10th Gen Intel® Core™ Processors
– 2 x PCI Express x16 Slots (PCIE1/PCIE3: single at Gen3x16 (PCIE1); dual at Gen3x16 (PCIE1) / Gen3x2 (PCIE3))

*

– 2 x PCI Express 3.0 x1 Slots
– 1 x M.2 Socket (Key E), supports type 2230 WiFi/BT PCIe WiFi module and Intel® CNVi (Integrated WiFi/BT)
– 15μ Gold Contact in VGA PCIe Slot (PCIE1)

*

Supports NVMe SSD as boot disks

Storage
– 6 x SATA3 6.0 Gb/s Connectors, support Intel® Rapid Storage Technology 18, NCQ, AHCI and Hot Plug

*


– 1 x Hyper M.2 Socket (M2_1), supports M Key type 2260/2280 M.2 PCI Express module up to Gen4x4 (64 Gb/s) (Socket M2_1 works with 11th Gen Intel® Core™ processors only)

*

*


– 1 x M.2 Socket (M2_2), supports M Key type 2260/2280 M.2 SATA3 6.0 Gb/s module and M.2 PCI Express module up to Gen3 x2 (16 Gb/s)

*

*


– 1 x Ultra M.2 Socket (M2_3), supports M Key type 2260/2280/22110 M.2 PCI Express module up to Gen3 x4 (32 Gb/s)

*

*

*

If M2_2 is occupied by a SATA-type M.2 device, SATA3_1 will be disabled.

**Supports Intel® Optane™ Technology (M2_3)
Supports NVMe SSD as boot disks
Supports ASRock U.2 Kit

Connector
– 1 x SPI TPM Header
– 1 x Chassis Intrusion and Speaker Header
– 2 x RGB LED Headers

*


– 2 x Addressable LED Headers

*

*


– 1 x CPU Fan Connector (4-pin)

*

*

*


– 1 x CPU/Water Pump Fan Connector (4-pin) (Smart Fan Speed Control)

*

*

*

*


– 5 x Chassis/Water Pump Fan Connectors (4-pin) (Smart Fan Speed Control)

*

*

*

*

*


– 1 x 24 pin ATX Power Connector (Hi-Density Power Connector)
– 1 x 8 pin 12V Power Connector (Hi-Density Power Connector)
– 1 x Front Panel Audio Connector (15μ Gold Audio Connector)
– 1 x USB 2.0 Header (Supports 2 USB 2.0 ports) (Supports ESD Protection)
– 1 x USB 3.2 Gen1 Header (Supports 2 USB 3.2 Gen1 ports) (Supports ESD Protection)
– 1 x Front Panel Type C USB 3.2 Gen2x2 Header (20 Gb/s) (Supports ESD Protection)

*

Support in total up to 12V/3A, 36W LED Strip

**Support in total up to 5V/3A, 15W LED Strip

***The CPU Fan Connector supports the CPU fan of maximum 1A (12W) fan power.

****The CPU/Water Pump Fan supports the water cooler fan of maximum 2A (24W) fan power.

*****The Chassis/Water Pump Fan supports the water cooler fan of maximum 2A (24W) fan power.
CPU_FAN2/WP, CHA_FAN1/WP, CHA_FAN2/WP, CHA_FAN3/WP, CHA_FAN4/WP and CHA_FAN5/WP can auto detect if 3-pin or 4-pin fan is in use.

Rear Panel I/O
– 3 x Antenna Mounting Points
– 1 x PS/2 Mouse/Keyboard Port
– 1 x HDMI Port
– 1 x DisplayPort 1.4
– 1 x Optical SPDIF Out Port
– 1 x USB 3.2 Gen2 Type-C Port (10 Gb/s) (ReDriver) (Supports ESD Protection)
– 4 x USB 3.2 Gen1 Ports (ASMedia ASM1074 hub) (Supports ESD Protection)
– 2 x USB 2.0 Ports (Supports ESD Protection)
– 1 x RJ-45 LAN Port with LED (ACT/LINK LED and SPEED LED)
– HD Audio Jacks: Rear Speaker / Central / Bass / Line in / Front Speaker / Microphone (Gold Audio Jacks)
Software and UEFI
Software
– ASRock Motherboard Utility (A-Tuning)
– ASRock Dragon 2.5G LAN Software
– ASRock Polychrome SYNC

*


UEFI
– ASRock EZ Mode
– ASRock Full HD UEFI
– ASRock My Favorites in UEFI
– ASRock Instant Flash
– ASRock Internet Flash

*

These utilities can be downloaded from ASRock Live Update & APP Shop.

Support CD
– Drivers, Utilities, AntiVirus Software (Trial Version), Google Chrome Browser and Toolbar
Accessories
– Fan Tachometer: CPU, CPU/Water Pump, Chassis/Water Pump Fans
– Quiet Fan (Auto adjust chassis fan speed by CPU temperature): CPU, CPU/Water Pump, Chassis/Water Pump Fans
– Fan Multi-Speed Control: CPU, CPU/Water Pump, Chassis/Water Pump Fans
– CASE OPEN detection
– Voltage monitoring: CPU Vcore, VCCIN AUX, DRAM, VCCIO, VPPM, VCCSA, CPU PLL, +12V, +5V, +3.3V
Form Factor
– ATX Form Factor: 12.0-in x 9.6-in, 30.5 cm x 24.4 cm
OS
– Microsoft® Windows® 10 64-bit
Certifications
– FCC, CE
– ErP/EuP ready (ErP/EuP ready power supply is required)
Warranty
3 Years