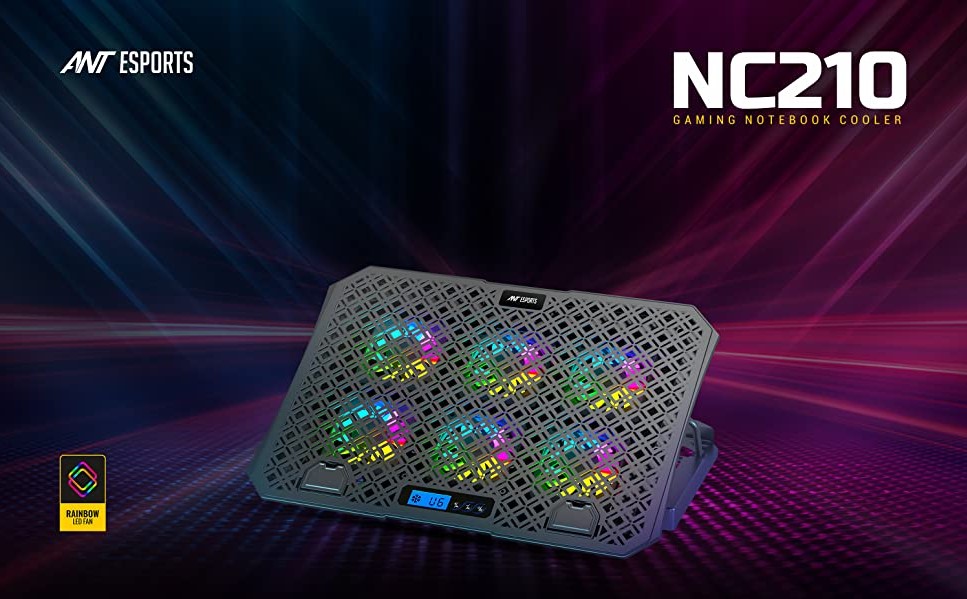 Features:
High Cooling Performance – Equipped with six 60mm RGB fans rated at 1500-2200RPM each, the NC210 provides high flow to keep your gaming laptops cool even under full load.
LED Display – A build in LCD display screen allows you to adjust fan speed from level 1 to level 6 by the button "+" and "-". One press of ON/OFF button to turn on or off the whole cooler, long press 3 seconds to change fan running mode.
Dual USB Ports – No need to compromise on connectivity as the At Ant Esports NC210 comes with two USB ports so you have enough ports to connect all your peripherals like mouse, keyboard, printers or even for charging your cell phone.
Anti-Slip Design – Two sturdy baffles ensure that the laptop does not skid off when you put it at an inclined to give your body a healthy posture without worrying about the safety of your device.
Upto 15.6" Laptop Support – The Ant Esports NC210 can support laptops of upto 15.6" in size ensuring high compatibility with most laptop and notebook models out there.
Overview :
Give your laptop a burst of fresh air flow and bring those temperatures down on your gaming laptop in style with the Ant Esports NC210 Gaming Notebook Cooler. A hexagonal fan arrangement of six 60mm RGB fans provide high air flow to your high TDP gaming laptop to keep those temperatures under control and avoid thermal throttling.
The fans speed can be adjusted with on board buttons or one can choose from three pre-defined modes to find the perfect balance of noise and cooling performance. A full metal construction makes the NC210 highly durable to sustain heavy weighing gaming laptops with ease. Two USB ports ensure that you never run out of connectivity options while you keep the Ant Esports NC210 powered on via your laptop's own USB port. Two durable and sturdy baffles prevent your laptop from sliding down or falling off, it's not just a laptop cooling pad, but also a perfect laptop cooling stand.
With a maximum support for upto 15.6" laptops the NC210 is enough for most laptops but is also highly compact and can be carried around in backpacks wherever you go. Keep a healthy posture thanks to the four available inclination levels. By tilting the keyboard and keeping the screen at eye level, your hands, wrists, arms, back and neck will always have the perfect alignment for the best comfort.
Specifications:
| | |
| --- | --- |
| Product Dimensions | 345x250x28 mm |
| Compatible With | 9 inch to 15.6 inch Laptop |
| Extra USB Ports | One Port For Connection |
| | Extra Port for other Devices |
| Number of RGB Fans | 6 |
| Warranty | 1 Year |