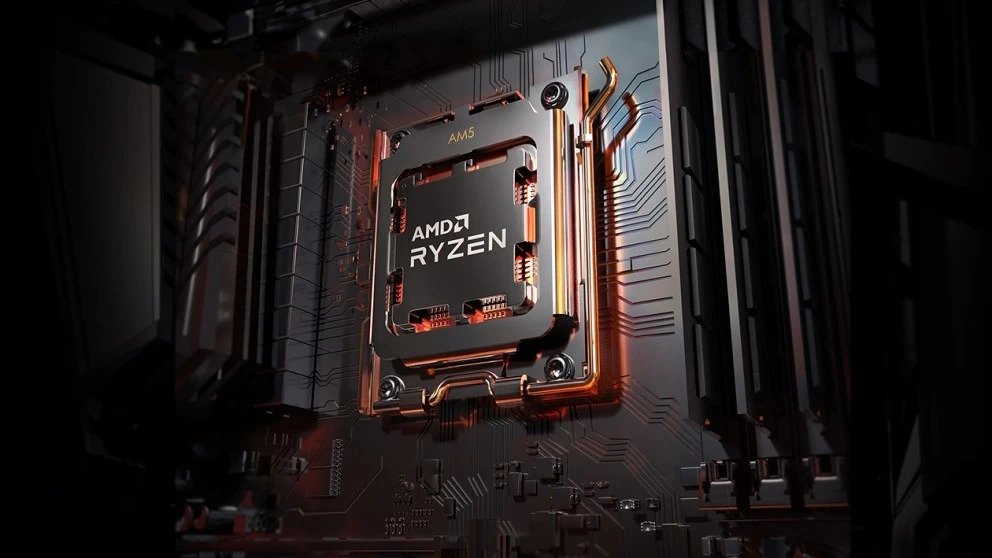 Welcome to the new era of performance. AMD Ryzen 7000 Series ushers in the speed of "Zen 4" for gamers and creators with pure power to tackle any game or workflow on the digital playground. The world's most advanced PC processor1 for gamers and creators extends AMD performance leadership to power your PC.
Overview :
Change How You Game
When your PC has the world's most advanced desktop processor for gamers, you can focus on what really matters: being victorious on the digital battlefield. Whether you're playing the latest titles or revisiting a classic, the AMD Ryzen 9 7950X processor is a gaming powerhouse with high-performance "Zen 4" cores. With up to 16 cores, 32 threads, boost clocks of up to 5.4GHz and up to 80MB of cache, AMD Ryzen 9 7950X processor deliver game changing performance.
The Latest Technologies
Whether you are 3D rendering a high poly scene, exporting massive video files, or visualizing an architectural dream, AMD Ryzen 9 7950X processor is built to beat the clock. With time-saving connectivity like PCIe® 5.0 storage support, ultra-fast WiFi® 6E, AMD EXPO™ technology, up to 32 processing threads, and dedicated video accelerators3, elevate your experience with AMD Ryzen 9 7950X processor.
levate Your Processing Power
AMD Ryzen™ processors have bleeding-edge technologies to support and keep you in the game.
AMD Extended Profiles for Overclocking
Easy Overclocking, Game On
New for AMD Ryzen 9 7950X processor. Get easy DDR5 memory overclocking with Ryzen-optimized profiles for the best performance and experience.
Get in the game faster with AMD EXPO™
The AMD Extended Profiles for Overclocking (AMD EXPO™ Technology) was developed to allow for user-friendly memory overclocking support of all types of memory, giving users an easy path to accelerated power to achieve accelerated memory in their system.
Enhanced Memory Performance (DDR5)
Accelerate your gaming with AMD EXPO™ technology. High memory frequencies and aggressive settings can unlock higher and smoother frame rates in your favorite games.
Overclocking Simplified
Get in the game faster with overclocking1. AMD EXPO™ technology gives users an easy path to accelerated power to achieve accelerated memory in their system.
Know Before You Buy
AMD EXPO™ technology is a transparent and user-friendly approach to memory profiles. Our rich memory testing documents ensure you can verify hardware compatibility, detailed settings, and complete memory specs, making it easier for you to find the right RAM.
Precision Boost 2
Boost performance when you need it
Precision Boost 2 automatically raises processor frequencies for supercharged performance when you need it most.
Precision Boost Overdrive
Making Precision Boost 2 Even Better
Precision Boost Overdrive5 uses your motherboard's robust design to boost clock speeds higher and longer, and lets you overclock2 at the touch of a button.
Unlocked for Overclocking
Control your processing power
Tweak and tune your AMD Ryzen 9 7900X processor for personalized performance using the robust AMD Ryzen Master utility.
The Future Of Ryzen™ Processors
Get fast "Zen 4" performance with AMD Socket AM5 motherboards.
The all-new AMD Ryzen 9 7950X processor is packed with state-of-the-art technologies for an effortlessly modern PC. Highlights include high-speed DDR5 memory, PCIe® 5.0 support, AMD EXPO™ one-touch memory overclocking, and hyper-efficient 5nm manufacturing. Put an AMD Socket AM5 motherboard at the heart of your rig to dominate the games you love today and tomorrow. If your PC needs the latest and greatest capabilities, insist on AMD Ryzen™ processors.
General Specifications :
Platform
Desktop
Market Segment
Enthusiast Desktop
Product Family
AMD Ryzen™ Processors
Product Line
AMD Ryzen™ 9 Desktop Processors
AMD PRO Technologies
No
Consumer Use
Yes
Regional Availability
Global
Former Codename
"Raphael AM5"
Architecture
"Zen 4"
# of CPU Cores
16
Multithreading (SMT)
Yes
# of Threads
32
Max. Boost Clock 
Up to 5.7GHz
Base Clock
4.5GHz
L1 Cache
1MB
L2 Cache
16MB
L3 Cache
64MB
Default TDP
170W
Processor Technology for CPU Cores
TSMC 5nm FinFET
Processor Technology for I/O Die
TSMC 6nm FinFET
CPU Compute Die (CCD) Size
71mm²
I/O Die (IOD) Size
122mm²
Package Die Count
3
Unlocked for Overclocking 
Yes
AMD EXPO™ Memory Overclocking Technology
Yes
Precision Boost Overdrive
Yes
Curve Optimizer Voltage Offsets
Yes
AMD Ryzen™ Master Support
Yes
CPU Socket
AM5
Supporting Chipsets

X670E

X670

B650E

B650

CPU Boost Technology
Precision Boost 2
Instruction Set
x86-64
Supported Extensions
AES, AMD-V, AVX, AVX2, AVX512, FMA3, MMX(+), SHA, SSE, SSE2, SSE3, SSE4.1, SSE4.2, SSE4A, SSSE3, x86-64
Thermal Solution (PIB)
Not included
Max. Operating Temperature (Tjmax)
95°C
Launch Date
9/27/2022
*OS Support

 

Windows 11 – 64-Bit Edition

Windows 10 – 64-Bit Edition

RHEL x86 64-Bit

Ubuntu x86 64-Bit

*Operating System (OS) support will vary by manufacturer.
Connectivity :
USB Type-C® Support
Yes
Native USB 3.2 Gen 2 (10Gbps) Ports
4
Native USB 3.2 Gen 1 (5Gbps) Ports
0
Native USB 2.0 (480Mbps) Ports
1
Native SATA Ports
0
Native PCIe® Lanes (Total/Usable)
28/24
Additional Usable PCIe Lanes from Motherboard

AMD X670E

12x Gen4

AMD X670

12x Gen4

AMD B650E

8x Gen4

AMD B650

8x Gen4

NVMe Support
Boot, RAID0, RAID1, RAID10
Memory Channels
2
Max. Memory
128GB
System Memory Subtype
UDIMM
Max Memory Speed
1x1R

5200 MT/s

1x2R

5200 MT/s

2x1R

3600 MT/s

2x2R

3600 MT/s

ECC Support
Yes (Requires mobo support)
Graphics Capabilities :
| | |
| --- | --- |
| Integrated Graphics | Yes |
| Graphics Model | AMD Radeon™ Graphics |
| Graphics Core Count | 2 |
| Graphics Frequency | 2200 MHz |
| GPU Base | 400 MHz |
| USB Type-C® DisplayPort™ Alternate Mode | Yes |
Key Features :
Supported Technologies
AMD EXPO™ Technology
AMD Ryzen™ Technologies